Experts call for overhaul of the OIO, saying the non-economic incentives NZ accepts makes us look like a developing country and the cumbersome application process puts off foreign investors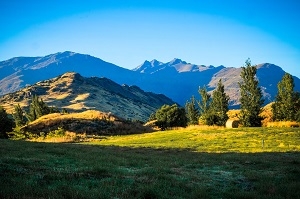 How many iPads does it take to get approval to buy sensitive land in New Zealand?
Yes, this sounds awfully similar to a 'How many 'whoevers' does it take to change a lightbulb' joke.
But no, it is not a joke.
It's possibly the exact question overseas investors keen to buy sensitive land in New Zealand will be asking their lawyers, further to the Overseas Investment Office (OIO) approving a Singaporean investor's application to buy an Arrowtown property on the basis they'll donate $100,000 to Wakatipu High School to buy iPads and laptops.
The OIO on January 10 approved an application from Glenorchy Homestead Limited (GHL) to purchase the 19 hectare property for $2.7 million, with the intention of the buyer staying in it during their visits to New Zealand.
Two of the company's three directors, David Chuang and Lim Len, are reportedly the son and wife of one of Singapore's richest men, John Chuang, of Petra Foods. Their Queenstown lawyer, Elliot Charles, is also a director. The company is owned by Glenorchy Investments Limited, which is registered in the British Virgin Islands. 
As well as providing "financial assistance or hardship allowances" to the students of the decile 10 school, the OIO says the buyer must "consult with the Department of Conservation (DOC) to determine what the Applicant can reasonably do to protect or enhance any existing areas of significant indigenous vegetation or significant habitats of indigenous fauna on the land, and implement (at the Applicant's cost) any environmental protection reasonably recommended by DOC".
If the buyer meets these two conditions, they'll fulfil the Overseas Investment Act's 'substantial and identifiable benefit to New Zealand' criteria.
How creative do investors need to get when identifying 'benefits' to NZ?
A Martelli McKegg Partner, Craig Nelson, explains the Act requires foreigners who want to buy sensitive land to demonstrate the sale will benefit New Zealand.
They need to commit to providing some of the 21 benefit factors the Act outlines. Some of these are economic - building a new irrigation system, creating jobs, or planting a forest for example - while others are non-economic - providing scholarships, undertaking environmental work, etc.
Identifying benefits can be straight forward when an applicant is proposing to run a business from the property. "However where you have a real challenge with OIO consents is where the property doesn't allow that, like lifestyle blocks or homes," he says.
"When you're talking 19 hectares, you're thinking: 'What can I do with it? I can't really run a business. I'm not going to build a hotel or sawmill. So how am I going to meet these benefit factors?'"
This is where those non-economic benefits become crucial to securing approval.
If applicants can't commit to any of the more prescriptive categories of benefits outlined by the OIO, Nelson says they can commit to providing a "consequential benefit", which gives them the flexibility do things like buy schoolkids iPads.
He suspects GHL would've struggled to identify benefits, so came up with something under this broad category.
While this is common practice, Nelson says the unusual part of this case is that GHL only outlined two benefits, while applicants usually provide between four and 10.
This said, he acknowledges the OIO can weigh applications up on a quality over quantity basis.
Does the OIO make New Zealand look like a banana republic?
The BNZ Chair in Business in Asia at Victoria University, Professor Siah Hwee Ang, maintains the system's vagueness "is getting close to becoming a sort of soft corruption".
"I don't want to be extreme and say we are corrupt, but if you start accepting different criteria and different expectations like there aren't any rules, then it'll appear that we're corrupt."
Ang says "it's very difficult to comprehend" a developed country such as New Zealand accepting the sorts of soft benefits the OIO does.
"The more they do this kind of thing, the more it appears that we're unstable and have an unstable system. It becomes very much like what happens in developing countries… It makes us look cheap."
Ang says the OIO needs to have a clearer criteria. He maintains the soft non-economic benefits it currently accepts are as meaningless for investors as they are for New Zealanders. They make the system confusing and difficult to understand.
"The problem with approving things on a case-by-case basis is that once you approve one you probably open a can of worms for others to follow the same route.
"For all we know, in the next case iPads may not be enough and investors have to pledge to donate Mac Book Pros."
Ang recognises the system also risks stigmatising foreign investors, when it's actually the system that lacks transparency, rather than the individuals working within the system.
He has spoken out against the OIO regime in the past, criticising it for last year for permitting a Chinese investor to buy a lifestyle block in Northern Auckland, on the basis he'd give local low-decile schools scholarships.
Is the scheme really putting off investors?
A DLA Piper Partner, who's also the chair of the NZ China Trade Association, Martin Thomson, says: "Donations of that nature are the product of a rigorous regime that's very technical and drawn out."
Yet he says we shouldn't rush to saying the OIO benefits scheme amounts to corruption or bribery.
"We've got pretty shallow capital pools in New Zealand, so we've got to be careful we don't have a mind-set that doesn't appreciate the value that brings to our economy…
"I have concerns we've got a regime that's making it pretty difficult for people to make investments in New Zealand at a time when economically there's pretty strong acknowledgement that we need more investment to drive our economy.
"We are getting into territory where the process is becoming so difficult, that it's potentially acting as a bit of a handbrake on that investment and encouraging overseas investors to contemplate whether they have the stomach for our process, or whether they might prefer to invest in other countries which welcome their money."
Thomson says the rules around foreign investment vary between countries. The thing that sets New Zealand apart from Australia is that we treat investors like they're privileged to have the opportunity to invest in New Zealand, whereas across the ditch, Australia considers itself to be the privileged one benefiting from the investment.
He says the UK is similar with virtually no restrictions on foreign investment.
"There are still plenty of assets you can invest in New Zealand that don't require consent, provided the investment's less than $100m. But in relation to sensitive land investments, it is reasonably onerous," he acknowledges.
Is the regime being applied the way it was intended?
"I don't think the regime was written to be applied as thoroughly and as rigorously as it is," Thomson says.
He maintains the OIO is capturing a number of applicants that shouldn't actually have to go through the process.
For example, it regulates a number of reserves which are actually "just not special at all", as they're often surrounded by commercial areas or front onto estuaries.
"They're just not particularly attractive areas of land, yet we say you've got to go and get consent and establish benefits. In some instances it's just ludicrous. It's ridiculous."
Thomson says the classes of reserves could be modified without changing the legislation. With the OIO constantly under review, he wouldn't be surprised if the classes of reserves are reviewed.
"Then the OIO's resources can be focussed on assets that really warrant the full application process."
Furthermore, he admits the range of applicants operating under the same Act is problematic.
"It brings into question - have we got the mix right in terms of what's actually caught by the regime. Many people would say Lochinver [farm] is an asset that does warrant careful analysis as to whether there will be benefits to New Zealand. But residential property caught by it - how concerned are we really about whether it should be restricted?"
Is there political will to amend the Act or the way it's implemented?
Thomson says: "There's a lot of anxiety around making it too easy for people to invest. The Government doesn't have support to change the legislation. But there is still scope to re-visit, within the existing legislation, how some elements of the Act are applied, and some direction could be given to how certain sorts of applications are handled."
He points out the OIO doesn't have a material influence on property prices, as it doesn't capture regular houses, unless they're on sensitive land.
Rather than being side-tracked by the "investors hiking property prices" rhetoric, he says we should think about how investors could alleviate the under-supply of housing.
See this story for more on the OIO, and how costly and inefficient the director of Pengxin International has found the system.