Peer-to-peer lender Lending Crowd seeking capital to help it grow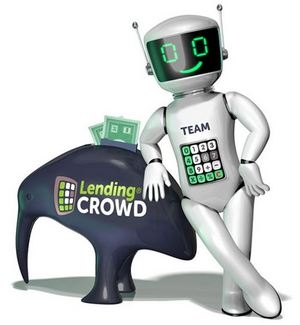 By Gareth Vaughan
Lending Crowd is seeking up to $5 million from financial services sector investors to help the peer-to-peer (P2P) lender build scale and grow loan volumes.
Co-founder Wayne Croad, who majority owns Lending Crowd's major shareholder Finance Direct, told interest.co.nz the P2P lender has hired Greg Anderson of Northington Partners to raise up to $5 million dollars through a capital raise.
"Our focus will be on attracting established banking, finance or technology companies who share the vision of marketplace lending," Croad said.
Funds raised will be used to "assist with growing loan volume by extending marketing and product development initiatives."
Lending Crowd became New Zealand's fourth licensed P2P lender last year, receiving its licence from the Financial Markets Authority. At the time Croad said Lending Crowd would facilitate secured loans of between $2,000 and $200,000 through its website for small and medium sized businesses, vehicles and personal loans for three and five year terms. 
To date Croad said Lending Crowd has received $22 million worth of loan applications, and written $2.5 million worth of loans with 60% of this total comprising personal and motor vehicle loans, and 40% business loans. He said registered non-bank deposit taker Finance Direct has participated in $900,000 of the loans on the Lending Crowd platform on equal terms with retail investors. There are 220 registered retail investors, and 165 active investors. In terms of loan security, Croad said 30% of loans are secured by cars plus a property, 50% are secured by vehicles, and 20% are secured by property only.
"The average weighted return for investors to date has been 12.50% after fees," Croad said.
"We finished our soft launch in May and are happy with the scalability and robustness of the IT platform and its systems. The loan book is performing very well."
Lending Crowd has just released its first financial statements. They show fee and commission income of $18,601 up to March 31, and operating expenses of $39,748, leaving a loss of $17,450.
The financial statements have been prepared on a going concern basis that's dependent on the company increasing its operating income and generating operating profits going forward, and the continuing financial support of Finance Direct.
"The directors of Finance Direct Limited confirm their intention to enable the Company to pay its debts as and when they fall due, should this be required, until at least the end of 18 months from the date of signing these financial statements," Lending Crowd's financial statements say.
Croad said Lending Crowd is debt free and has minimal overheads.
"It [Lending Crowd] has the unique competitive advantage of being able to leverage off Finance Direct's existing infrastructure. The business is proving to be complementary to Finance Direct's overall business, and we are now looking forward to increasing our loan numbers and innovating further to further reduce the origination costs of acquiring new customers," said Croad.
*This article first appeared in our email for paying subscribers early on Wednesday morning. See here for more details and how to subscribe.