Siah Hwee Ang looks at the growing trade relationship and tensions between China and India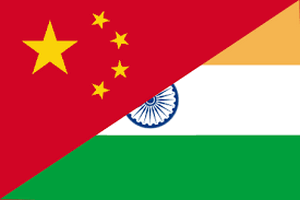 By Siah Hwee Ang* 
China and India are expected to fuel growth in Asia and the world economy for at least the next decade.
There were a lot of expectations resting on China. Now, some of them have shifted over to India.
It would be ideal if this half of the BRIC group were to work in tandem to build on each other's strengths to grow. But the signals are mixed. 
China-India interactions 
India's GDP grew by 7.5 per cent last year, while China's grew by 6.9 per cent. But India's deficit in goods trade with China has been widening. It was less than US$10 billion in 2005, but has risen to US$53 billion in 2015. And yet we are all hoping that as China shifts its manufacturing elsewhere, India will be a major beneficiary. 
That shift in role has not happened. 
While India runs a global surplus in services, its service trade with China is negligible. Chinese consumers are just not purchasing enough Indian goods. The same situation can also be observed in the tourism sector. More recently, however there have been positive signs that good things might still happen. China is assisting India in its struggle to grab more manufacturing space. 
Wanda, Foxconn and Huawei are some major Chinese companies setting themselves up in India. Wanda will develop a US$10 billion industrial park, Foxconn seeks to build a US$5 billion plant, while Huawei has started sourcing and producing through Flextronics International. Further, India is keen for Chinese companies in industries like electrical and electronics manufacturing, and textiles and apparels to move their production to India. Since the initiation of the India-China Strategic Dialogue in 2010, other industries have also been seeking Chinese investments. These include energy, infrastructure and high tech. 
Healthy competition for everyone's gain 
China has not totally exited from manufacturing. So it is still imperative for the country to reserve some advantage in that space. But India's less transparent business environment can pose a challenge even to Chinese firms. The lack of infrastructure results in a higher cost of engaging in India for Chinese firms. But China has been there before. 
For a few decades now, China has been trading and investing in Africa. In fact, the phenomenal growth that many African countries have been experiencing can be partially attributed to this. Perhaps the influx of Chinese engagements in India will do the same. However, the relationship is not one-sided.  
India's biggest SUV maker Mahindra is seeking joint investment in China's electric vehicle market. 
The governments seek to establish a China-India Technology Park in Hainan, and work together on a couple of major railway projects. The Indian government also plans to study China's coastal manufacturing zones in order to develop one for itself. 
India's trade will improve over the next years as its first two transshipment ports will be launched in 2018 and 2020. The country's upward growth trend is there.
Interestingly though in the weeks leading up to Diwali at the end of October, India's social media has spread messages around boycotting Chinese-made lights and decorations. 
Despite all this, the Diwali decoration items imported from China still did well as they were cheaper than Indian products! 
Further, Chinese products still experience good returns in the market. Most notably, Chinese smartphone brands are setting sales records. 
At the end of the day, India's imports from China only constitutes 2.7 per cent of China's exports but 15.8 per cent of India's imports. The trade is markedly imbalanced. Thus, for the time being, healthy competition between the two countries makes sense. 
India's rise cannot be distanced from its largest trading partner, largest source of imports, and fourth largest export market.
--------------------------------------
*Professor Siah Hwee Ang holds the BNZ Chair in Business in Asia at Victoria University. He writes a regular column here focused on understanding the challenges and opportunities for New Zealand in our trade with Asia. You can contact him here.