ANZ NZ posts $1.275 bln 9-month profit and says net interest margins have stabilised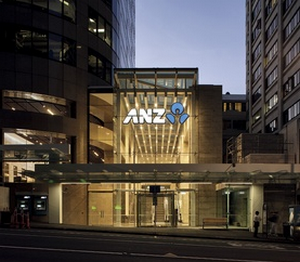 ANZ New Zealand, the country's biggest bank, has recorded a 7% rise in nine month profit as income rose, expenses fell and credit impairments more than halved.
ANZ says its unaudited net profit after tax for the nine months to June 30 rose $82 million, or 7%, to $1.275 billion from $1.193 billion in the same period of the previous year.
The bank's operating income rose $159 million, or 5.5%, to $3.052 billion, and its operating expenses fell $100 million, or 8%, to $1.085 billion. ANZ's credit impairment charge dropped to $50 million from $105 million.
"Lower levels of credit losses reflect improvements in credit quality in the commercial and agri portfolios, partially offset by new provisions," ANZ said.
Net interest income rose $31 million, or 1%, to $2.298 billion, and the bank said net interest margins have recently stabilised after a period of contraction, which was blamed on higher funding costs and customers preferring fixed-term loans over more lucrative floating rate loans.
"Other" operating income surged $128 million, or 20%, to $754 million, which ANZ attributed to higher trading income and valuation gains on derivatives. Nine-month profit from ANZ's institutional business surged $121 million, or 76%, to $281 million. Profit from its retail arm rose $41 million, or 6%, to $751 million.
Over the nine months ANZ said customer deposits increased $6.569 billion, or 7%, to $97.589 billion, and gross lending rose $4.363 billion, or 4%, to $124.550 billion. The bank now has total assets of $164.071 billion.
Over the nine months to June ANZ NZ paid $765 million worth of ordinary dividends, down $25 million from the equivalent period of the previous year.
Here's ANZ NZ's press release.
And here's parent the ANZ Group's third quarter trading update, and comments from group CEO Shayne Elliott.