Workplace Relations and Safety Minister Iain Lees-Galloway unveils start of 'progressive' programme for changes to workplace relations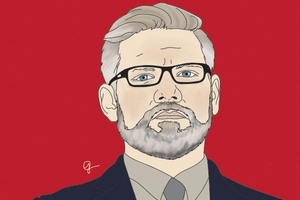 Workplace Relations and Safety Minister Iain Lees-Galloway has unveiled government plans he says are aimed at providing greater protections for workers, and strengthening workplace collective bargaining.
The Employment Relations Amendment Bill amends the Employment Relations Act, which dates from 2000. Lees-Galloway describes it as an important step towards creating a high-performing economy that delivers good jobs, decent work conditions and fair wages.
"Making life better for working New Zealanders is a fundamental value for the Labour-led Government," says Lees-Galloway. "Too many working New Zealanders are missing out on the benefits of economic growth under the current employment relations system."
"Good employment law strikes a balance between employers and workers. Under the previous Government the balance tipped away from fair working conditions for workers. We will restore that balance." 
"Many of the changes in the Bill are focused on lifting wages through collective bargaining.  Wages are too low for many families to afford the basics. This Government believes everyone deserves a fair day's pay for a fair day's work," he says.
Lees-Galloway says the Bill is the first step in the Government's commitment to creating a highly skilled and innovative economy that provides good jobs, decent work conditions, and fair wages.
"This is the start of a progressive programme in workplace relations which includes the passing of historic Equal Pay legislation, lifting the minimum wage to $20 by 1 April 2021, and the creation of a framework for Fair Pay Agreements," he says. 
"The legislation is expected to have its first reading in early February and I encourage everyone interested in this important legislation to have their say at the select committee process," says Lees-Galloway.
Below is a summary of the Bill provided by the Government.
Employment Relations Amendment Bill Summary
Rights for employees
These modifications are largely roll-backs of the previous Government's changes which weakened employees' rights at work:
 Restoration of statutory rest and meal breaks. These will be subject to a very limited exception for workers in essential services who cannot be replaced (such as air traffic controllers).
 Restriction of 90 day trial periods to SME employers (less than 20 employees). This balances the insecurity of 90 day trials to workers against keeping barriers to hiring low for small businesses.
 Reinstatement will be restored as the primary remedy to unfair dismissal. This was infrequently used but recognises that in some circumstances the best outcome is for the employee to return to work.
 Further protections for employees in the "vulnerable industries" (Part 6A). These changes repeal the SME exemption from coverage, provide more time for employees to decide whether to transfer to a new employer, and provide greater safeguards on transfer of inaccurate information.
Collective bargaining and union rights
Most of these modifications are roll-backs of the previous Government's changes:
 Restoration of the duty to conclude bargaining unless there is a good reason not to. This is complemented by repeal of the process to have bargaining declared over.
 Restoration of the earlier initiation timeframes for unions in collective bargaining.
 Removal of the MECA opt out where employers can refuse to bargain for a multi-employer collective agreement.
 Restoration of the 30 day rule where for the first 30 days new employees must be employed under terms consistent with the collective agreement.
 Repeal of partial strike pay deductions where employers can garnish wages for low level industrial action. Employers have deducted pay for actions such as wearing t-shirts instead of uniforms.
 Restoration of union access without prior employer consent. Union access will still be subject to requirements to access at reasonable times, and places having regarding to business continuity, health and safety.
New proposals are:
 A requirement to include pay rates in collective agreements. This is based on recent case law. Pay rates may include pay ranges or methods of calculation.
 A requirement for employers to provide reasonable paid time for union delegates to represent other workers (for example in collective bargaining)
 A requirement for employers to pass on information about unions in the workplace to prospective employees along with a form for the employee to indicate whether they want to be a member.
 Greater protections against discrimination for union members including an extension of the 12 month threshold to 18 months relating to discrimination based on union activities and new protections against discrimination on the basis of being a union member.
Here's a response from Business NZ.
Changed employment relations rules will mean increased compliance for employers but are reasonably pragmatic regarding pressures on small firms, says BusinessNZ. The Government plans to amend the Employment Relations Act to alter the rules around 90 day trials, unfair dismissals, meal and rest breaks, collective agreements and collective bargaining. 

BusinessNZ Chief Executive Kirk Hope said many of the changes related to collective agreements and bargaining procedures, which would mostly affect larger businesses. He said most larger businesses would be equipped to cope with the changes that reverse some bargaining and collective agreement rules introduced by the previous Government. 

Other changes more directly affected small business, he said. 

90-day trial periods 

Restricting the availability of 90 day trial periods to small businesses is a better outcome than removing them altogether, Mr Hope said. 

"Trial periods allow opportunities for an untried employee while reducing the 'unfair dismissal' risk to the employer of it not working out. This is a very real issue for small businesses. 

"This decision shows the Government has an understanding of the needs and pressures facing small businesses and has been willing to alter policy to reflect those needs." 

Unfair dismissals

At the same time, the Government has decided to change the rules around unfair dismissals, with reinstatement to again be the primary remedy to an unfair dismissal. "This will restore an onus on employer and employee to work positively together following a challenged dismissal process - perhaps a good discipline on both parties following an employment relations breakdown," Mr Hope said. 

Meal and rest breaks 

The current system - allowing employers and employees to mutually agree on when meal and rest breaks can be taken, depending on the needs of the business - will be changed to a system of statutory breaks with flexibility allowed only in essential services. 

"Business has appreciated the flexibility of the current system. Changing to a more regulated approach isn't ideal for business agility, for example in manufacturing operations." 

Mr Hope said BusinessNZ was encouraged by the Government's willingness to continue dialogue on the changes.
Here's a statement from Federated Farmers.
New employment legislation renews confidence around employing new staff 

Federated Farmers says new employment legislation will give farmers renewed confidence in employing staff with small businesses retaining the right to use a 90-day trial. The Government announced today that smaller businesses can continue to use the 90-day trial rule for new employees, with larger businesses (20 or more employees), bound by the provision for employees to lodge a personal grievance for unfair dismissals. 

Chris Lewis, Federated Farmers Employment Spokesperson, says the while the new Government had been clear about making changes to the current 90-day trial law, the change of heart was a welcome surprise. 

"It's good to see Labour has listened to some of the concerns of the business community and consulted with their key coalition partner, New Zealand First. Winston [Peters] has made the pledge to look after farmers' interests and we acknowledge his support. 

"The decision is especially good for small businesses. The vast majority of farming businesses are in this category and they will appreciate the rationale. 

"Many employ few staff but because of the small size of the business, they simply can't afford the situation or inconvenience when new staff aren't suited for the job or can't fit in," says Chris. 

The number one concern for farmers regarding employment, especially in the dairy industry, is the lack of available, motivated staff. 

"Farmers need the confidence to take a chance on a potential employee who may have no demonstrated experience or who may have had previous social or addiction problems.

"Retaining the 90-day trial for small businesses gives the vast majority of farmers some assurance towards hiring future employees, " says Chris.
Here's what National Party workplace relations spokeswoman Amy Adams has to say. 
Employment changes will reduce job opportunities 

The Labour-led Government's employment law changes announced today can only slow down New Zealand's high-performing job market, National Party Workplace Relations Spokesperson Amy Adams says.

"These changes will only reduce job opportunities and wage growth, especially for those vulnerable workers on the edges of the labour market. They also mean workers will have less flexibility to get their job done," Ms Adams says. 

"The law as it stands encourages all businesses, small and large, to grow their workforces and take a chance on new workers and long-term unemployed people. 

"While Labour have now partially backed down and allowed small businesses to continue with 90 day trials, they've still closed those trials off to the bigger businesses that take on many of these vulnerable workers. Those workers will have fewer opportunities. 

"If 90 day trials are okay for small businesses, then why shouldn't they apply to larger businesses as well?" 

Ms Adams says that with New Zealand's world-leading performance in job creation over the last few years, the onus was on the government to justify the need for the reforms. 

"Under current employment law New Zealand has added a mammoth 245,000 jobs in the last two years and has the third highest employment rate in the developed world. Nearly 80 per cent of New Zealand workers are in full-time jobs and wages have been growing at twice the rate of inflation. 

"These changes will only damage that track record. So why are they actually needed? 

"New Zealanders will rightly suspect they are a random union wish list. People will be asking exactly how much influence these unions have in the current Government. 

"These reforms will further damage business confidence and take New Zealand backwards. They will only disrupt New Zealand's settled and successful employment law. 

"That's not good news for jobs or wages for New Zealanders.
And here's First Union's take. 
Employment law changes: "a good first step" 

The government's proposed changes to employment law are a good first step in restoring balance and fairness to the employment relation system, according to FIRST Union General Secretary Dennis Maga. 

"The fact that there are so many changes and most of the changes are reverting back to the original Employment Relations Act highlights the "death by a thousand cuts" approach of the previous National Government over the last 9 years," said Maga. 

"We're pleased with the role our union played in those nine dark years, helping make many of National's regressive changes inoperable." 

"For example when we publicly exposed Cotton On for attempting to withdraw tea and meal break provisions we put a halt on other companies doing the same," said Maga. 

"We've also been able to keep 90 day trial provisions out of 98% of the Collective Agreements that we negotiate. We highlighted the absurdity of the partial strike penalties when St John and Bunnings tried to dock workers' wages for wearing a non-standard tee shirt or removing a company apron." 

"It's disappointing that the current government doesn't yet have the numbers to completely get rid of the 90-day trial provisions. However the removal of it in firms of 20-plus workers is a first step and we are sure that the proposed research will convince NZ First that the provision can be removed completely without any negative impact on small business." 

"FIRST Union is also pleased with some of the new provisions, especially the requirement to include wages in a Collective Agreement. Our union has been battling with South Island Foodstuffs (and their Pak'nSave and New World stores) and Mitre 10 for some time to achieve this crucial right for our members," said Maga. 

"FIRST Union will use the opportunity in the select committee process to present one or two more provisions that could be incorporated in the Bill to further restore balance and fairness in New Zealand's employment relations system."