New Zealand heaved under the grip of Rugby World Cup fever. To celebrate the event the French gifted two sculptures. They were paid for with stolen money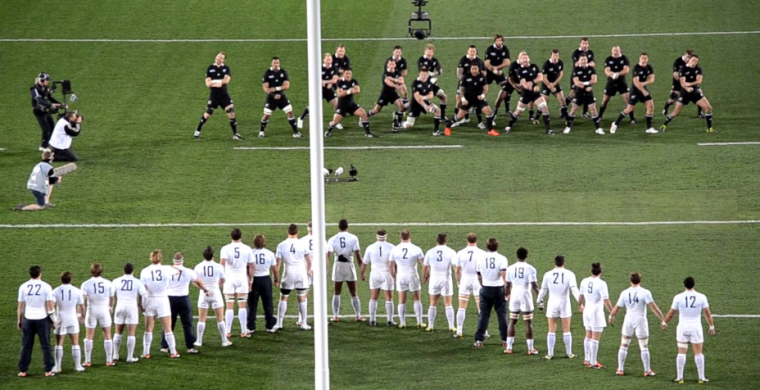 New Zealand heaved under the grip of Rugby World Cup fever. To celebrate the event the French gifted two sculptures. They were paid for with stolen money. The French government is now trying to distance itself from the role it played, Denise McNabb* reports.
It's a sunny Saturday on October 1, 2011 and New Zealand Rugby Union officials, the French ambassador, French rugby supporters and the deputy mayor are gathered in downtown Wellington to unveil a large metal and white bronze rugby sculpture, a gift from France.
The presentation to the New Zealand Rugby Union (since rebranded NZ Rugby) is to mark the 2011 Rugby World Cup and to celebrate a long-standing friendship between France and New Zealand, intense rivalry on the rugby field notwithstanding.
The seventh Rugby World Cup is in full throttle with France about to play Tonga later in the day. The French would suffer a shock 14-19 defeat, but for now its supporters, their faces painted red, white, and blue are all smiles at the sculpture inauguration.
NZ Rugby (NZR) chief executive, Steve Tew makes an introductory speech. Deputy mayor, Ian McKinnon and French ambassador Francis Etienne pull the cover from the sculpture "Les contre-valuers du rugby" (the opposites of rugby values).
Its sculptor, Nice-based Stėphane Cipre, also in attendance alongside his friend and the event's organiser, former French XV a-side rugby captain Jean François (Jeff) Tordo, proudly holds up a tee shirt sporting All Blacks signatures. A Maori speech, a blessing of the sculpture, a waiata and a photo session wrap up the event.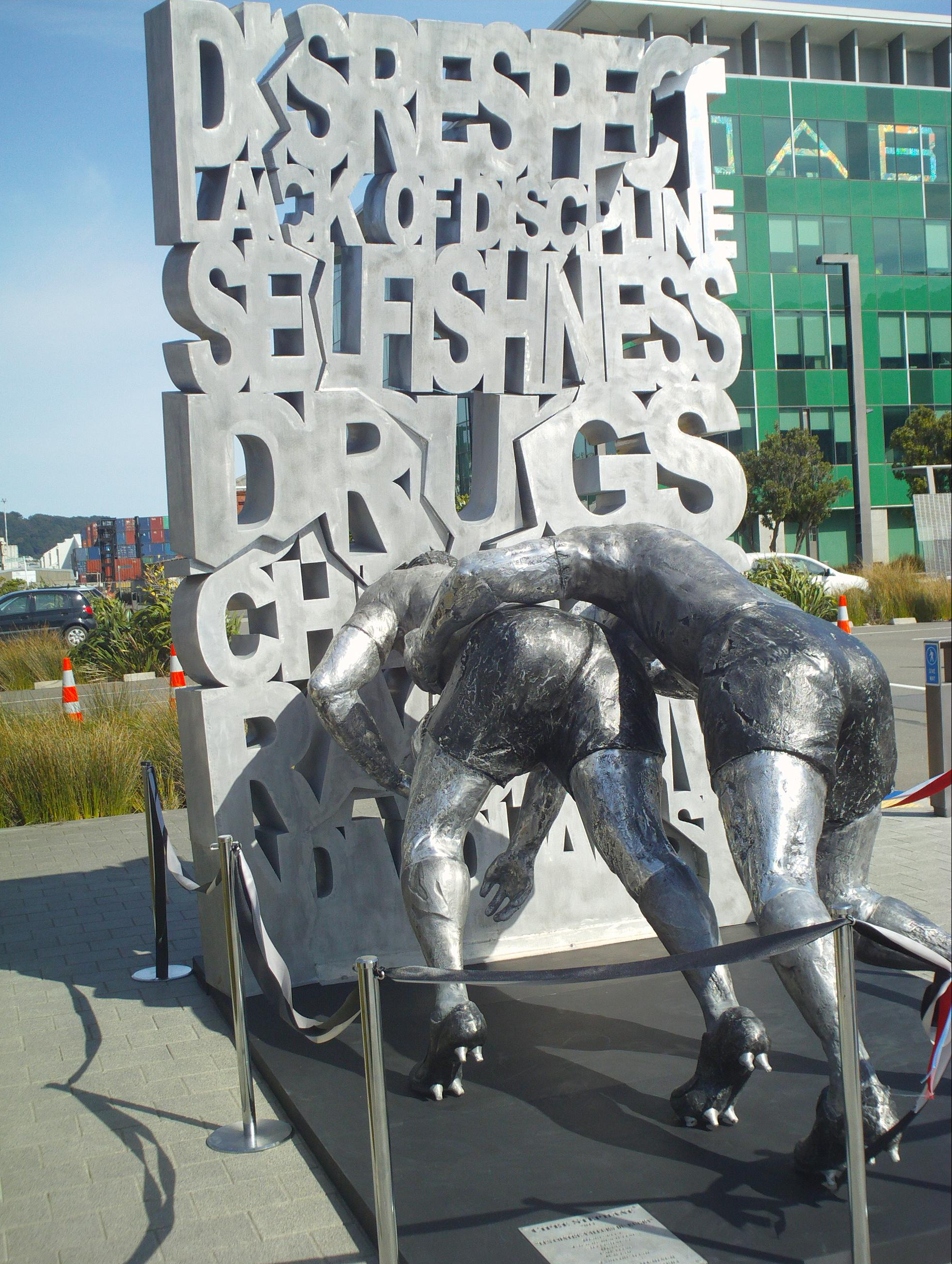 The 3.6 metre high sculpture, weighing two tonnes, depicts two rugby players in a scrum against a wall of large words illustrating everything rugby is opposed to  - disrespect, lack of discipline, selfishness, drugs, racism, cheating and individualism.
After the event it is installed on the corner of Hinemoa Street and Waterloo Quay, a stone's throw from the former NZ Rugby headquarters in central Wellington.
Search failure
Fast-forward to March 2017 and German engineer and IT coder, Tilman Reissfelder, 43, is in New Zealand with his family on holiday. In 2008 he had become a man of substantial wealth after receiving his share from the sale of the Virtual Tourist website he and J.R. Johnson co-founded to Expedia for $US85 million.
Reissfelder has put Wellington on the holiday itinerary for a special reason -to have his photo taken in front of the French rugby sculpture.
He's not a rugby fan but €120,579 ($NZ203,921) had been illegally siphoned from his Boavista International Ltd  bank account through a Swiss asset management firm, Hottinger & Partners S.A. to pay Cipre for the sculpture  twice –first in 2010  to Cipre's French bank account then in May 2011 to his Swiss and French bank accounts.
Reissfelder left Los Angeles after the Virtual Tourist sale and deposited $US10 million ($NZ13.83m) with Hottinger for investment on the advice of a Californian lawyer who knew one of its managing partners, Fabien Gaglio. Gaglio would later be revealed as a French fraudster who stole it all in a $US100m Ponzi scheme using  clients' money.
The sculpture was visible on a Google map at the end of Hinemoa Street but when Reissfelder visited the location it wasn't there. He headed over to NZR's new headquarters in Molesworth Street but the only sculpture outside that building was a bronzed effigy of former Prime Minister, Sir Keith Holyoake. Construction workers pointed him towards Westpac Stadium but it wasn't there either so he left town, none the wiser as to its whereabouts.
 The reason it had gone was because NZR had put it into storage in June 2016 due to the risk of earthquake damage; the same reason NZR had moved its offices from Hinemoa Street in 2012.
So, thanks to the advice of a US lawyer Reissfelder found he unwittingly owned a sculpture he paid for twice over that was nowhere to be seen.
Fraud alert
NZR's executives have known since March last year that the sculpture was swept up in fraud. That's when Dr Ingo Malcher, a journalist at German business magazine and its online publication, Brand Eins International, wrote to NZR alerting it to the fact it could be dragged into Switzerland's biggest financial fraud. He got no response. Malcher had been poring through thousands of documents gathered by Swiss forensics investigator Dr Andrea Galli as evidence to present in Reissfelder's case against Gaglio for embezzling his money. The illicit sculpture payment was in the dossier.
Malcher tried ringing NZR but again, got nowhere so wrote the article anyway, using an assumed name for Reissfelder at that point. Reissfelder now speaks under his own name but keeps where he lives private for the personal security of his family and himself.
NZR's senior media advisor, Juli Clausen, who was at the 2011 sculpture presentation, could not explain why Malcher's inquiries went unanswered.
Chief strategy and operations officer, Nigel Cass, NZR's tournament services general manager during the 2011 Rugby World Cup, has now made a statement.
"We are happy to cooperate fully with any authorities with an interest in this matter. To date we have not been contacted by any authorities about this," he said.
He also confirmed the sculpture was still in storage, and that NZR had no plans to display or move it.
The reason NZR has not been contacted by authorities yet is that the sculpture payment is but one on a very long list of thefts detailed in actions against 39-year-old Gaglio that are either lumbering through or being processed for hearings in courts in Italy, Switzerland, France and Luxembourg. Swiss authorities are looking at alleged fraud, forgery, misappropriation of funds and money laundering against Gaglio. These are expected to take years to be heard because of the sheer volume of transactions that need to be examined and it would appear because of the lapse in time the impetus for prosecutions has slowed.
 Gaglio used his position at Hottinger & Partners S.A. where he was managing partner, as a cover for embezzling clients out of $US100m. It has been reported he focused on nine particularly wealthy clients, Reissfelder included, who he developed personal relationships with.
He created fictitious accounts for the affluent clients that showed their investments were prospering. In reality he was stealing their money and shuffling their remaining funds between clients when withdrawals were requested.
Gaglio's actions proved to be the straw that broke the camel's back at Hottinger & Partners' depositary bank, Hottinger & Cie, a Swiss institution that has been around since the 18th century. It had its own taxation and liquidity issues at the time but the Ponzi scheme accelerated it into bankruptcy and it was wound up.
Dubbed a mini-Gallic Madoff by Galli, Bloomberg recently reported how Gaglio brazenly walked into a Paris police station on January 23, 2013 and confessed to taking the money, claiming it had all gone. The court ordered him to pay back  €150,000.
Documents Galli gathered show that stolen client funds were spent on lavish holidays, including on an entourage of friends and associates for a trip to the 2011 New Zealand Rugby World Cup. Gaglio told Reissfelder he went to New Zealand for the World Cup.
He bought artwork, leased private jets, lavished gifts and large amounts of money on friends and relatives and used stolen money to schmooze clients, unbeknown to them, from their own funds. Gaglio lived a lifestyle of such excess that he has been likened to F. Scott Fitzgerald's Jay Gatsby and the notorious Wolf of Wall Street.
His January  2013 confession has so far earned him a five-year jail sentence, reduced to four years after he appealed. He served one year in a Luxembourg jail because its authorities were quickest to charge him with the crimes of forgery, fraud and money laundering he did in that country. In Europe it is a central element of penal systems  to parole prisoners for up to half the time of the actual sentence. While Gaglio has been on parole he has been living with his wife, Fanny and children in a luxurious home on the French Riviera and working as an olive farmer. He declared to the court his parents were paying for his living expenses. He is supposed to go back to jail soon to serve his remaining year but no date has been set yet.
Ulterior motive
Reissfelder says paying $US1m to Galli for his vast amount of time and work gathering and interpreting thousands of pages of documents, bank accounts, invoices and memos (now also seen by interest.co.nz) in 88 folders of evidence obtained under discovery has been worth every cent in his pursuit of Gaglio and the funds he stole.
When cross-referencing the thousands of documents from the Geneva Prosecutor's Office and elsewhere Galli quickly deduced that Gaglio's mea culpa at the Paris police station was more than likely a pre-emptive strike to stymie a probe into a much grander scheme he was operating than the Hottinger Ponzi.  
Everything pointed to a money laundering ring funnelling funds in excess of €250m through a sprawling global network of shell companies, including three registered in New Zealand over a 15 year period that started before Gaglio and de Clermont Tonnere set up Hottinger. Gaglio had worked prior to Hottinger at private wealth firms such as Rothschild so had a healthy file of rich contacts.
Companies created by shady shell company incorporators are peppered through the documents, including some from the infamous GT Group, headed by Geoffrey Taylor whose Auckland-based SP Trading Ltd orchestrated what transpired to be a botched North Korean arms smuggling mission to Iran in breach of United Nations sanctions in 2009.
Circled in this document (below), for instance, is a 100,000 Swiss franc ($NZ146,428) transaction in Gaglio's accounts laundered via Ostek Group Ltd (struck off by the New Zealand Companies Office in July, 2011) under the guise of a payment for crockery. On the same day 99,970 Swiss Francs (CHF) of that total landed in Gaglio's Belize-registered Glendale Portfolio Inc., a repository for many millions funnelled out of Gaglio's clients' accounts and transaction fees.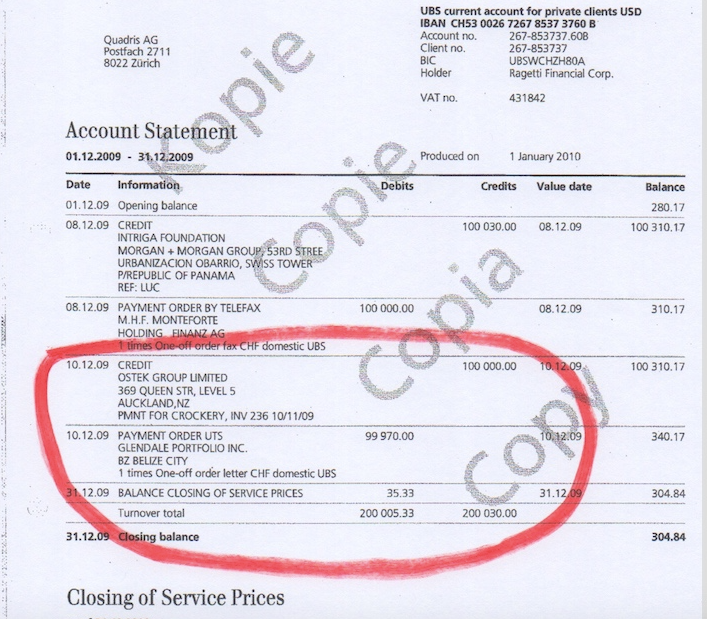 Companies registered in New Zealand by Latvian stooge director, Erik Vanagels, also feature. The accounts also show other New Zealand connections, including a starring role by Asiaciti Trust New Zealand Ltd, another shell creator with a history of dubious transactions and players as noted in an investigation of Asiaciti published last month by the International Consortium of Investigative Journalists.
Another reason it appears Gaglio chose to give himself up in France even though most of his criminal activities were outside the country was because France doesn't allow its citizens to be extradited to other countries unless they agree to the extradition.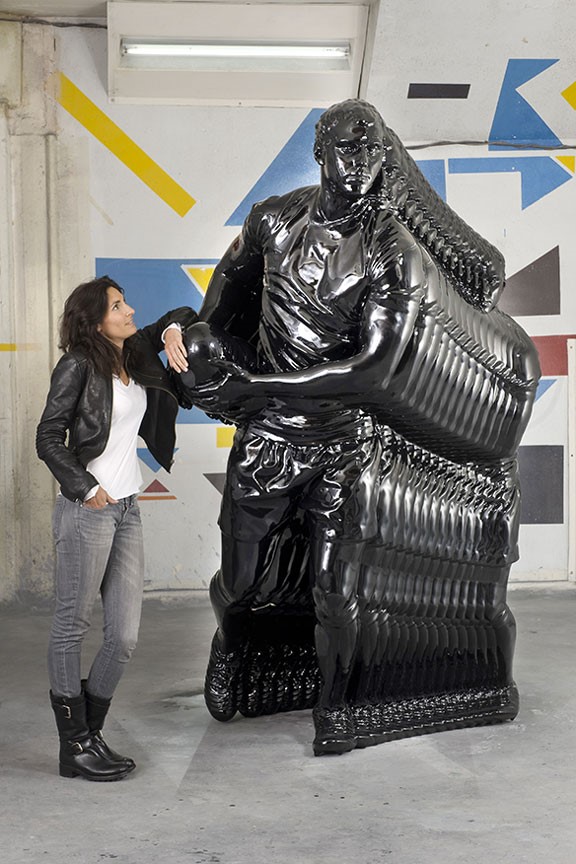 Another "gift"
The Wellington rugby sculpture wasn't the only one connected to Gaglio that was shipped to New Zealand during the 2011 Rugby World Cup. On October 20, 2011 France's then Minister for Sports, David Douillet "officially presented" a two metre-high black resin sculpture L'enjeu (At Stake) to the Crusaders team at its Rugby Park  headquarters as a way of empathising with the people of Christchurch after the city's devastating earthquake.
The same group as the Wellington event were on hand and the sculpture, created by Laurence Bonnel (pictured above standing beside it), is today still on display at the end of the park.
The Crusaders chief executive, Hamish Riach was part of that presentation and said he has never considered the sculpture as anything but a gift from the French government. He said the fact that the French sports minister presented the sculpture endorsed that view.
A press release distributed at the time, and still on the French Embassy website, mentioned Douillet was there on behalf of an association, Les Amoureux du Rugby (Rugby Lovers) but no explanation appears to have been given about what or who this group was.
Douillet told those assembled that day that he was honoured to show France's ongoing support to Canterbury.
"Relations between France and New Zealand have gone far beyond rugby," he said.
The Christchurch honorary French consul, Martine Marshall Durieux was also there and Riach met Bonnel, who was among the guests.
"Christchurch didn't have a World Cup event in 2011 because of the earthquake damage," Riach said.
"The city was going through a tumultuous time and we gratefully received this sculpture, both because it was linked to the World Cup and because it marked the generosity of another country.
"This news about its funding is a complete surprise to me.
"Like NZR, we also haven't been contacted by authorities but we will fully co-operate if contacted."
Government shrugs
How French government representatives came to officiate at both presentations in what were essentially privately initiated events is not known.
For its part, the French Embassy in Wellington is distancing itself.
In a brief statement it said: "This embassy was only involved in the unveiling ceremonies, taking advantage of the presence of the Minister for Sports at the time in New Zealand for the Rugby World Cup."
Francis Etienne, the French ambassador who participated in both the Wellington and Christchurch sculpture unveilings, was posted to Kazakhstan in 2013.
Sculptor with connections
According to Galli's document dossier, Bonnel received at least one unauthorised payment of €30,031.50 for the Christchurch sculpture from the bank account of a Californian dermatologist, another of Gaglio's clients. Court documents show that in 2012 an air ticket was paid for her by a Gaglio account for her to travel with his family and others to Madrid and Costa Rica. The ticket cost 2,520 CHF (Swiss francs). In 2015 Bonnel married French three-star Michelin chef, Yannick Allėno, a good friend of Gaglio's who has been implicated in his thefts and money laundering.
The Rugby Lovers LLC (also known as Les Amoureux du Rugby) is not an association as was erroneously written at the time of the Christchurch presentation, but it is integral to the sculptures saga. The company was registered in California on May 2, 2010 by Thomas M. Giordano-Lascari, a Los Angeles income tax and transactional attorney who joined law firm Karlin & Peebles in 2014 as a specialist in international matters for high net worth individuals.
That firm's principal, Michael Karlin also features in the documents linked to Reissfelder's stolen funds. Payments from his Boavista account totalling €120,000 were made to Invertigo Dance Theatre, a Los Angeles dance theatre company founded by Karlin's daughter Laura Karlin. Michael Karlin is also a lawyer for the LA dermatologist whose money was used to fund the Christchurch sculpture.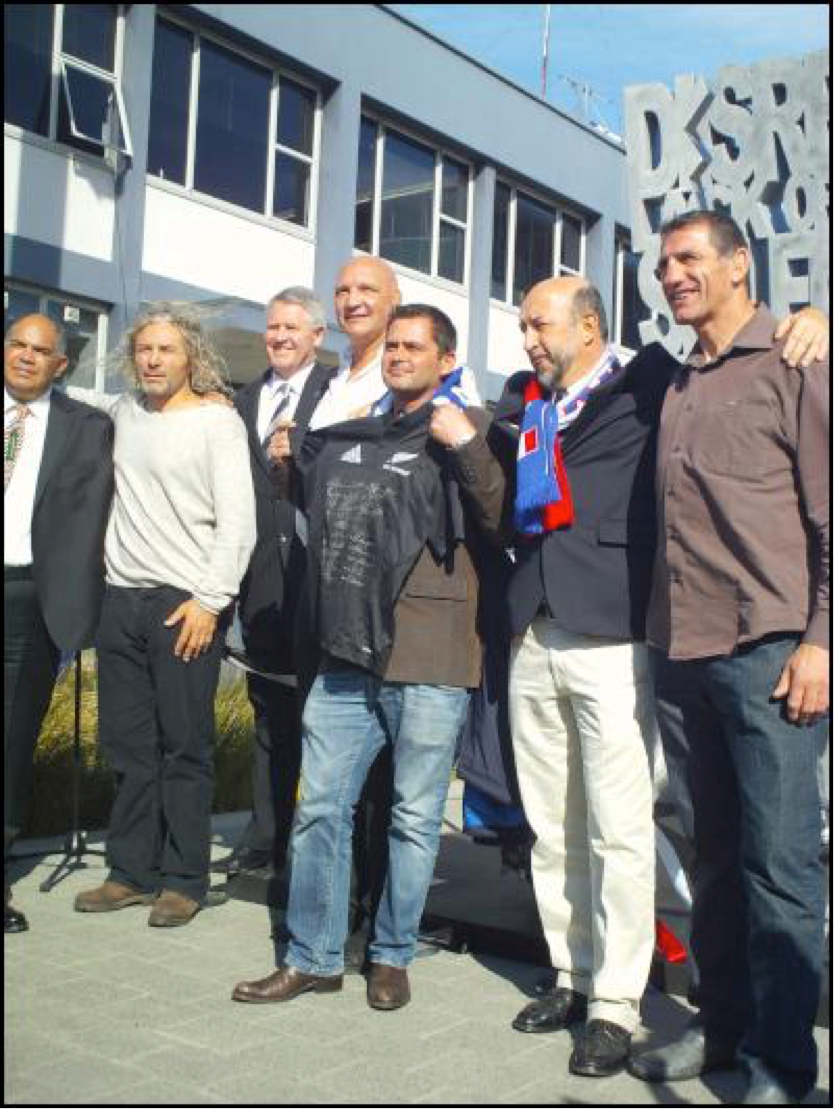 Photo: Scoop

Rugby Lovers LLC was owned by Gaglio and overseen by his friend, the former rugby captain, Jeff Tordo who is second from left in this photo in front of the Wellington sculpture after the presentation. NZR chief executive, Steve Tew is next to him at the back; Cipre is in front holding the signed tee shirt and French ambassador, Francis Etienne is second from the right.
Invoices in the Galli files, some with fake or overvalued amounts reveal a trail of lavish spending by Rugby Lovers LLC during the 2011 Rugby World Cup. There were business class air tickets for Tordo's wife, and other friends and associates of Gaglio. There was a dinner for 45 people, payment to Nadau, a folk group from the Bėarn region of southwest France for its performance in New Zealand during the event, and non-itemised supplementary costs. In all, the event, excluding the payment for the sculptures, gouged €1.5m from Hottinger & Partners S.A. clients' accounts, including Reissfelder's.
Tordo has not responded to questions sent by interest.co.nz asking about his role in the Gaglio imbroglio. Both he and his wife, Pascale were close friends of Gaglio and his wife, Fanny. Documents show Tordo was tied up with Cap SUD, a Gaglio-linked company that installs and manages photovoltaic power plants.
Tordo ran a humanitarian and environmental foundation, Association Pachamama in Madagascar with another Gaglio associate, Stéphane Gilli. The Michelin-starred cook Allėno (Bonnel's husband) was also involved in this foundation and it had several bank transactions with Hottinger. Pachamama was placed in judicial liquidation in January last year.
Another key player in the rugby saga is Groupe Eventeam SAS, a French agency that specialises in corporate hospitality, events and ticketing for major sporting events. It organised Gaglio's French entourage's trip to New Zealand for the 2011 Rugby World Cup, commissioned under the auspices of Rugby Lovers LLC.
Gaglio owned a 33 per cent stake in its 100 per cent affiliate Eventeam SAS until 2014 via two companies, Luxembourg-registered Sigma Private Equity SA and Cyprus-registered Sigma Venture Capital Ltd.  Before both Sigma companies were dissolved by voluntary liquidation in 2016 records show Gaglio used them to siphon millions of Euros from several clients, Reissfelder included.
Between October 2010 and February 2011 an illicit transaction from Reissfelder's Boavista account for €660,00 was transferred to Eventeam SAS, including fake invoices from The Rugby Lovers LLC for the New Zealand spend-up, for example.
Ian McKinnon, a former Chancellor of Victoria University, who attended the Wellington sculpture unveiling in his capacity as deputy mayor of Wellington, says he remembers the day well. He says it was all a bit of a rush but recalls plenty of French rugby supporters whose smiles that day would have been wiped from their faces when the All Blacks beat France 9-8 in the final to clinch the Rugby World Cup.
As to the future of the New Zealand rugby sculptures, Reissfelder says he feels bad about the whole thing even though it wasn't his doing.
"If they [NZ Rugby] were to return the money I would take part of it and make a donation with the rest but I don't want them to think this is an expectation," he said.
Still to come: Part II, How New Zealand played its part in Fabien Gaglio's global laundromat.
------------------------------------------------------
*Denise McNabb is a New Zealand freelance journalist. You can reach her here: dmcnabb98@gmail.com
*This article was first published in our email for paying subscribers early on Tuesday morning. See here for more details and how to subscribe.