Company with a website where access is by invitation only, that claims to both manage US$11 bln of oil & gas assets & have expertise in blockchain technology, eyes NZX IPO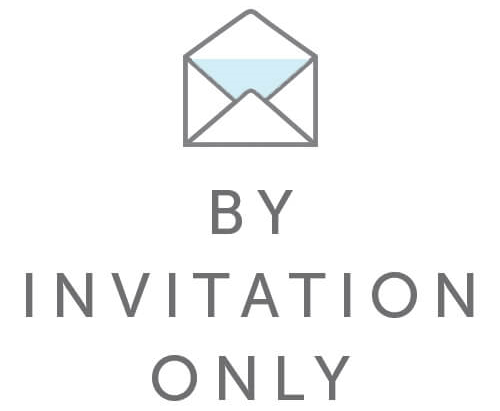 By Gareth Vaughan
Capital Trust Group, which says it's planning an initial public offering (IPO), is distancing itself from a claim that it has an investment banking licence but won't provide details of the more than US$11 billion of assets it claims to have under management.
Two press releases issued on behalf of Capital Trust Group in late March describe the firm as a New Zealand financial technology advisory services provider that's working on blockchain token and initial coin offering (ICO) projects. They also say Capital Trust Group has appointed law firm Bell Gully to advise on a proposed NZX listing and IPO, including liaison with overseas law firms for offers of securities to be made in other jurisdictions.
Capital Trust Group has a website that allows access by invitation only. Incorporated in June 2011, the company was also registered on NZ's problematic Financial Service Providers Register (FSPR) between July 2011 and November last year. A Companies Office spokesman said Capital Trust Group was deregistered from the FSPR because the firm was found to not be providing financial services, although its books and records did comply with the Companies Act.
Companies Office records show an extensive list of shareholders based in Thailand , Hong Kong, London, and Singapore. The biggest shareholder is the Hong King domiciled W Ventures Ltd. Capital Trust Group's directors include the NZ-based Saifon Chairungruang, with two other directors based in Thailand.
A press release about Capital Trust Group issued last October suggests the company has a NZ "full investment bank licence", and more than US$11 billion in assets under management. (See below). 

A Financial Markets Authority spokesman confirmed there's no NZ licence category for "full investment bank."
"All forms of licence issued by the FMA are set out on our website. There is no licence category for 'full investment bank.' As our report into the FSPR published last year noted, being registered on the FSPR does not mean that a business or individual is licensed, monitored or supervised by regulators in New Zealand or another jurisdiction," the FMA spokesman said.
A Capital Trust Group spokeswoman acknowledged the announcement saying the firm has a "full investment bank license" makes a false claim. She said it was not posted by Capital Trust Group. 
"We tried our best to remove this content from the internet. But we have appointed Alphapoint [which also features in the press release] as our technology provider," the Capital Trust Group spokeswoman said.
She said Capital Trust Group is a New Zealand company that provides its services to offshore clients and entities at this stage.
Asked whether Capital Trust Group has more than US$11 billion in assets under management, and if so whose assets these are, what are they, and where they are, the spokeswoman referred to the website of Petroleum Agency SA. Petroleum Agency SA regulates South Africa's onshore and offshore oil and gas exploration and production activities. Asked repeatedly for specific details of the assets, the spokeswoman has not provided any, referring to Capital Trust Group's status as a private entity.
Below is what Capital Trust Group's website looks like. 

'Consulting fees for providing blockchain turnkey services'
On the IPO plans, the spokeswoman said the plan is for Capital Trust Group shares to be offered via an NZX listing, with the fourth quarter of this year the targeted timeframe. Wholesale investors, from NZ and overseas, are the target market, not retail investors.
She said Capital Trust Group's "key revenue" will come from consulting fees for providing blockchain turnkey services.
"We plan to make money from fees for each asset that we tokenize in the form of cash and tokens, or equity interest."
"We do provide advisory services relating to blockchain turnkey solutions. Blockchain exchange is a matching engine trading platform technology that we provide on an advisory basis to business clients e.g. private/listed firms, financial institutions that want to have their own private/public blockchain exchange ecosystem to benefit their business network. It is a similar technology to a stock exchange or SWIFT that use this technology for settlement systems," said the Capital Trust Group spokeswoman.
She said Capital Trust Group has three potential backlog ICO projects to provide ICO services for, with each asset digitisation project at concept development stage to prepare for a professional global offering through wholesale investment via private placements.
"Our blockchain advisory service could potentially help as an alternative for any business owner to raise funds or get project finance," she said.
"Capital Trust Group proposes a Distributed Ledger Platform, powered by Alphapoint Technology, to enable the creation of asset-backed tokens for the prospective 20,000 wholesale clients of Trust City [a fintech hub], and also targets to provide asset backed token or ICO consulting services to factories in China via strategic partnerships and for an oil and gas concession of Silver Wave Energy Pte Ltd, a leading oil and gas explorer based out of Singapore."
Capital Trust Group's press releases refer to "two asset-backed token projects," and a separate "mixed martial arts global fighters token project."
"We aim to use blockchain technology to help these professional [mixed martial arts] fighters to have a better alternative financial support and increased life security. The concept is similar to Michael Owen, an English footballer [who has] issued his token."
In terms of the website, the Capital Trust Group spokeswoman said the company's in "the transition stage of developing [a] new website page."
"Also Capital Trust Group operates under [a] non-solicit policy and access requires [an] invitation. Our business strategy is that any businesses which want to have blockchain turnkey advisory services from Capital Trust Group, are required to be introduced by our qualified strategic partners e.g. Morison [sic] KSi members, global consulting group or other cooperation based business associations from each region. These strategic partners have the appointed team to do due diligence of asset details, which supports the feasibility study and selection of our clients."
'The FMA has no information about whether or not Capital Trust Group has US$11 billion of assets under management'
The FMA spokesman said the regulator has not been contacted or received any information about a planned Capital Trust Group IPO. Additionally he said the FMA has no information about whether or not Capital Trust Group has US$11 billion of assets under management. 
"Capital Trust Group was registered on the FSPR, which as noted above, does not mean that it is licensed, monitored or supervised by regulators in New Zealand or another jurisdiction. When an entity is licensed by us, information on the financial strength of a firm is available to us as part of our supervision and monitoring process," the FMA spokesman said.
"All [FMA] advice for investors on cryptocurrencies and Initial Coin Offerings can be found on our website here."
Meanwhile, an NZX spokeswoman said the sharemarket operator "does not comment publicly on the pipeline of companies it is engaging with in regards to listing."
The picture below, supplied by Capital Trust Group, shows - from left to right - Saifon Chairungruang Capital Trust Group director, Tae Hyung Ha legal advisor for Battlefield FC, Cho Minchul general manager of Battlefield FC, Jo Coughlan the managing partner of PR firm Silvereye Communications, and Bell Gully partner Dean Oppenhuis. (Battlefield FC is a South Korean entity that reportedly took more than a year to pay mixed martial arts fighters who competed at its inaugural event).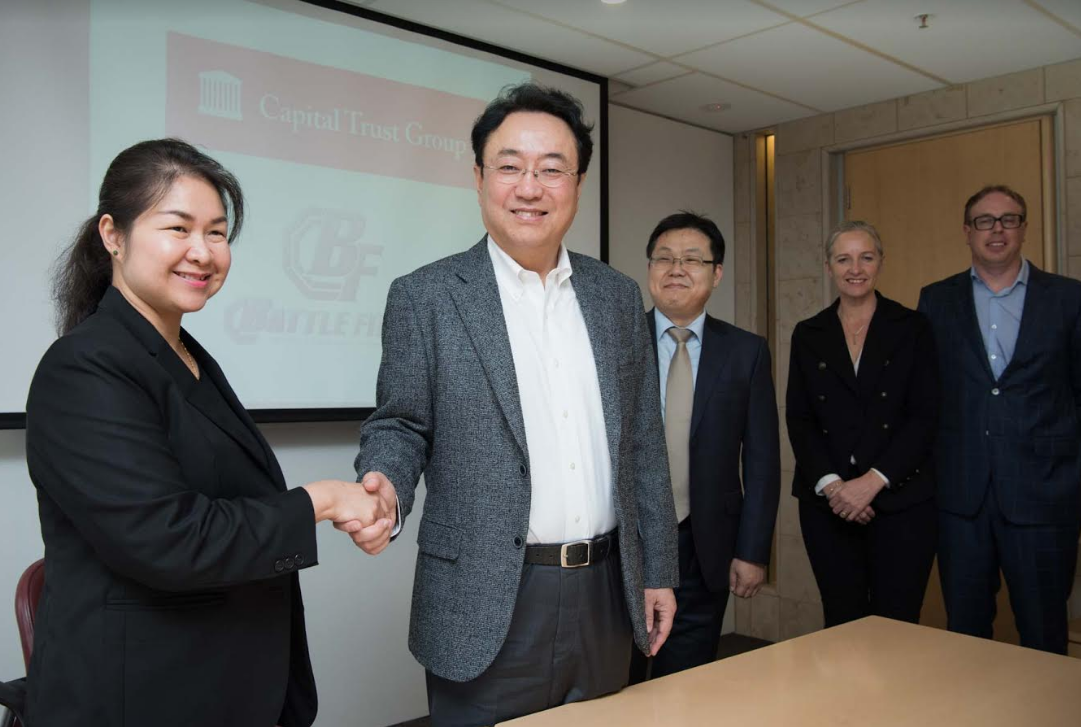 *This article was first published in our email for paying subscribers early on Monday morning. See here for more details and how to subscribe.