The Productivity Commission on what we need to do to ensure we have enough electricity to power those electric vehicles and clean industrial heaters as we move to a low-emissions economy
New Zealand needs to generate up to 65% more electricity in the next 30 years as the economy transitions away from fossil fuels.
The Productivity Commission, in its final Low-emissions economy report, says electrification across the economy, specifically in transport and process heat, means electricity generation needs to increase by between 45% and 65% by 2050. Transpower puts this figure at 100%.
While the Commission says additional demand will likely be met by a mix of renewables - hydro, wind, geothermal and solar - it can't say exactly what this mix will look like and how wholesale electricity prices will be affected.
"In the most favourable scenarios, prices fall; while in other scenarios, they rise," the Commission says.
All the scenarios it considered involve substantial increases in wind and geothermal generation, modest additional investments in hydro and a modest-to-moderate increase in solar generation.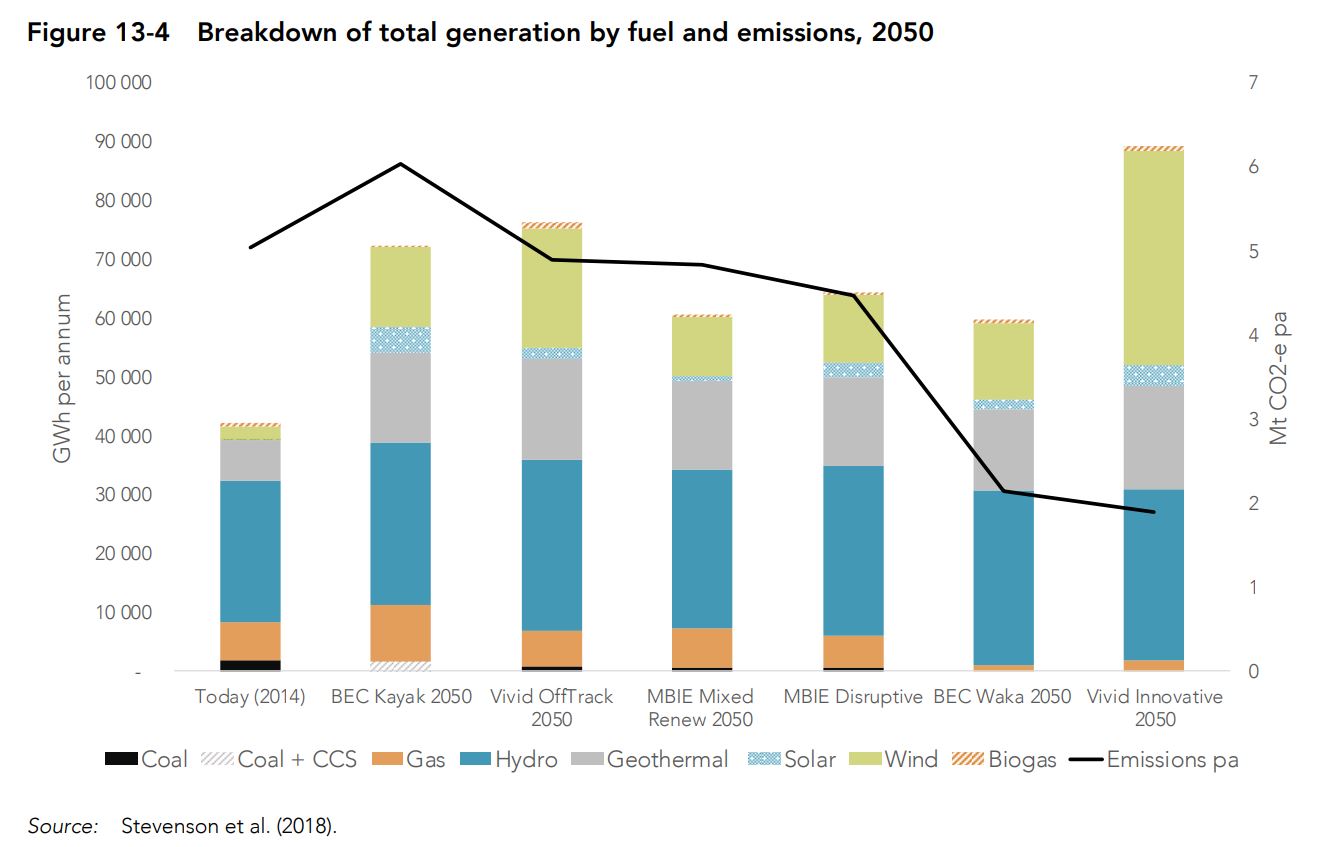 With "resource adequacy" (ensuring we can meet demand both over a long period of time and during surges) being the biggest challenge posed by a move to a low emission electricity system, all scenarios include some gas generation while some include coal. Gas and coal emit more carbon than renewables but give the system flexibility as they provide energy on demand.
The Commission acknowledges wind is relatively dependable over extended periods of time, but cannot be relied on to supply energy in a particular half hour.
Solar energy can't provide capacity as demand peaks at night in winter for example, however it can be stored in batteries.
Hydro reservoirs are currently used to shift flows between seasons and geothermal energy can be provided on call at a cost.
Consenting changes needed
Looking to the future, the Commission says we will need more storage space to ensure hydro energy can be relied on regardless of the weather.
Specifically, it recommends: "The Government should issue a new National Environmental Standard for Renewable Electricity Generation that sets out the conditions under which renewable energy activities are either permitted, controlled, restricted discretionary or non-complying activities under the Resource Management Act 1991.
"This should be drafted to increase the speed, and lower the cost and uncertainty for obtaining resource consents for a significant proportion of renewable electricity generation projects that have only minor environmental and social impacts."
The Commission points out the uncertainty that exists around water rights, saying this could dissuade further investment in maintaining hydro-electric generating capacity.
Looking at wind energy, the Commission also notes, "many of the current consents for unbuilt wind farms will expire over the next decade, and, in any case, more efficient technology may require consents for taller turbines than covered by the original consent.
"The costs of consenting for smaller community-scale wind farms are high relative to the economic benefits, and difficulties may easily stymie a project."
Market should be driven by emissions pricing
The Commission says a raft of other electricity generation and storage options will become more economical in the next 10 to 20 years; the cost of wind and solar already falling to a point they're competitive with fossil-fuelled generation. We should therefore look beyond the technology before us, as we consider possibilities for the future.  
Some of these possibilities include replacing coal with bioenergy, relying on batteries with better storage capacity to smooth daily electric demand, producing hydrogen by the electrolysis of water (see more here about a New Zealand company that's received government funding to do this), using tidal electricity generation, and connecting to international transmission grids.
Finally, the Commission says there are ways of managing demand to help reduce the need for for the likes of coal and gas to be used to plug the supply gap when demand peaks. For example consumers can contract to reduce their loads for a set time under defined circumstances.
All in all, the Commission says, "Given rapid changes in electricity-generation technology and potential effects of rising electricity prices on adoption of low-emissions technology in other parts of the economy, the Government should not use subsidies or regulation to favour particular technologies that generate low-emissions electricity.
"The Government should rely on an effective emissions-pricing system as the main instrument to achieve an efficient trade-off between emissions reductions in electricity and emissions reductions in other parts of the economy."
The Commission recommends New Zealand's emissions price is hiked from about $21 to at least $75 a tonne of carbon dioxide equivalent, and possibly over $200 a tonne, over the next 30 years.
For more on this, see the story interest.co.nz did on the Commission's draft report in April.