Warning bells rung loud and clear over oil/gas exploration ban adding pressure to an already stressed energy sector. Govt gives OMV more time to drill in Great South Basin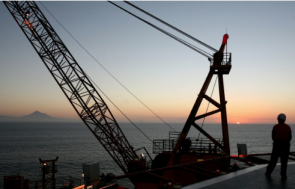 The Government has granted OMV a two-year extension on the conditions of its permit to explore in the Great South Basin.
The Austrian company, which will become the country's largest upstream operator and gas producer once its purchase of Shell's New Zealand assets is settled (likely by the end of the year), now has until mid-2021 to drill its first well off the south coast of Dunedin.
However OMV New Zealand's head of commercial and legal, Patrick Teagle, warns the New Zealand energy sector is at a "watershed moment". 
Presenting the company's submission on the Crown Minerals (Petroleum) Amendment Bill at an Environment select committee on Tuesday, Teagle stressed that banning new offshore oil and gas exploration would exacerbate existing concerns over the future of New Zealand's energy supply.
He clarified that as things stand, we only have enough gas to see us through the next 10 years at best, or seven years according to a model using a 90% level of certainty.  
"Demand will outstrip supply soon and so we are heading towards a gas supply gap in New Zealand," Teagle said.
No commercial discovery, no further investment
OMV in its written submission went on to explain: "The reality is that, absent a discovery or the ability to explore new permit areas, it will be extremely challenging to continue further offshore exploration drilling after 2020.
"OMV currently operates over one third of the total offshore exploration area of roughly 100,00km2. If the planned exploration drilling campaign over 2019/20 in offshore Taranaki and GSB [Great South Basin] results in no commercial discovery, it is almost certain that no further investment will be made.
"Further, given that the Minister has made it clear that the Bill is a precursor to wider reviews of the Crown Minerals Act 1991, OMV sees little scope to rely on the Government's current position to justify additional investment."
Keeping in mind the fact OMV entered into its US$578 million sale and purchase agreement with Shell less than a month before the Government on April 12 announced its exploration ban, Teagle told the committee of the globally competitive environment for funding OMV NZ was in.  
He went on to say: "With the withdrawal of Shell in New Zealand and us [OMV] taking up the end of life assets – Maui and Pohokura – the current climate will actually be discouraging to other investors coming in.
"So we are at a watershed moment in terms of taking forward this industry and ensuring we have a security of supply of energy in this country."
Stressed energy system posing 'immediate risk' to economy
Woodward Partners energy sector analyst, John Kidd, is using equally as strong language as OMV to describe the state of the energy sector.  
In a report sent to clients on Tuesday, he detailed how the energy sector as a whole (not just oil and gas) was "creaking and groaning," posing an "immediate risk" to the economy.
Kidd noted two unrelated outages over the past six months had halved the output of Pohokura, New Zealand's largest gas field.
He said Methanol producer and major gas user, Methanex, is "doing the heavy lifting in providing the demand-side response to meet supply shortfall".
As for crude oil, Kidd noted geopolitical tensions hiking prices; the weak New Zealand dollar only adding to the cost of importing oil.
He pointed to "solid international refining margins" and higher fuel taxes increasing the price of refined oil products, or petrol at the pump.
Turning to coal, Kidd said global markets remain strong, causing "high import-parity pricing".
As for electricity, Kidd said: "Hydro storage has fallen from 128% at the start of winter to sit currently at 74%.
"Storage at each of the major lake and river systems is materially below average for this time of year. Firm demand on a cold close to the winter season in August and September saw operating margins remain taut.
"Restrictions on fuel and asset availability are constraining operating and dispatch decisions.
"The pending restart of Tiwai Point's fourth potline, which is now underway, will make for further demand pressure."
Market intervention not the way to go
Kidd concluded: "While most of the recent attention has focused on consumer response to surging petrol pump prices, the reality is that the pain stretches far deeper and involves nearly every fuel type consumed domestically."
He said the environment provided a "timely reminder that taking affirmative policy action to change behaviour is not costless".
"The physical shortages and cost pressures the sector is currently experiencing in our view serve as a helpful prompt to remind stakeholders across the economy that market interventions by governments to screw the scrum to incentivise "good" and/or disincentivise "bad" sources of energy risks can attract a significant economic and financial cost."
By way of background, here are a couple of graphs showing the make up of New Zealand's energy supply.