Consortium of Auckland businesses pushes for the opportunity to manage the development of a waterfront stadium & redevelopment of Eden Park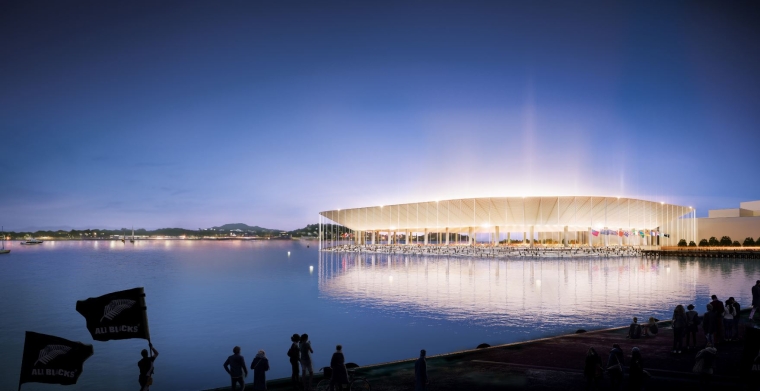 The consortium behind the latest Auckland waterfront stadium proposal says their plan comes at "zero cost" to ratepayers and taxpayers, but they're yet to talk to potential developers or financiers.
The Auckland Waterfront Consortium, featuring an array of companies, would not build the stadium themselves. Rather the group has devised a concept and wants to find a key developer and a key financier to present to Auckland Council.
The Consortium wants to facilitate the project and manage the transaction, and get paid for bringing the deal to the Council, as well as receive professional services fees once a developer is in place.
They say the stadium would be paid for by the allocation of development rights on the publicly owned land around Bledisloe Wharf and Eden Park. The idea is both sites would remain in public ownership, leased out over 120 years as the Wynyard Quarter is.
The cost of the stadium is estimated at between $2 billion and $3 billion, about a third of the overall project cost, which would make it New Zealand's biggest ever infrastructure project.
A 50,000 seat stadium with a roof could be upsized for major events to 65,000, or downsized for smaller events, the Consortium says. The stadium would be sunk into the seabed alongside Bledisloe Wharf, with about four hectares including the stadium redeveloped. Eden Park would be developed for residential and potentially community use.
The proposed development would require the Ports of Auckland's car importing operations being shifted from Bledisloe Wharf. The Consortium suggests a new Bledisloe Quarter could feature about 2,500 dwellings, with commercial areas accommodating about 6,000 staff.
Dave Wigmore, chairman of the Auckland Waterfront Consortium, says the project will require leadership, vision and support from Auckland Council and the Government. Wigmore, who is also managing director of The Property Strategists Ltd, says Auckland could have an "iconic" waterfront stadium within a decade.
The Consortium, which has been working on the proposal for 18 months, plans to continue talks with a range of stakeholders including Ngati Whatua, before undertaking a feasibility study and putting a proposal together designed to attract a lead developer and investor.
"We believe there is a strong public sentiment in favour of a waterfront stadium for Auckland if it is affordable and doable. Our proposal delivers that," says Wigmore.
The concept of an Auckland Waterfront Stadium was first floated about 10 years ago ahead of New Zealand hosting the 2011 Rugby World Cup. Ultimately Eden Park was redeveloped, with taxpayer funding, at a cost of about $190 million.
Consortium Members
 ENGEO Limited – Engineering.
 Jones Lang Lasalle – Real estate feasibility and business case.
 Ernst & Young – Economic impact and business case.
 Simpson Grierson – Legal.
 Peddle Thorp – NZ-based architecture, master planning. (Peddle Thorp has a subcontract arrangement with HOK, international stadium architects based in the USA). 
 Planning Focus – Resource management.
 Phil O'Reilly Design Limited – Initial concept and creative consultant.
 Rider Levett Bucknall Limited – Construction costs and project planning.
 The Property Strategists – Real estate feasibility.
 Buildmedia – architectural 3D visualisation imagery.
Here's the press release & a factsheet provided by the Auckland Waterfront Consortium.
Below are images provided by the Auckland Waterfront Consortium of what the stadium could look like, and where it would be.