Deloitte Access Economics takes a deeper dive into some key regional opportunities as part of their Slice of Heaven series and the key industries: tourism, agribusiness, advanced manufacturing, and food processing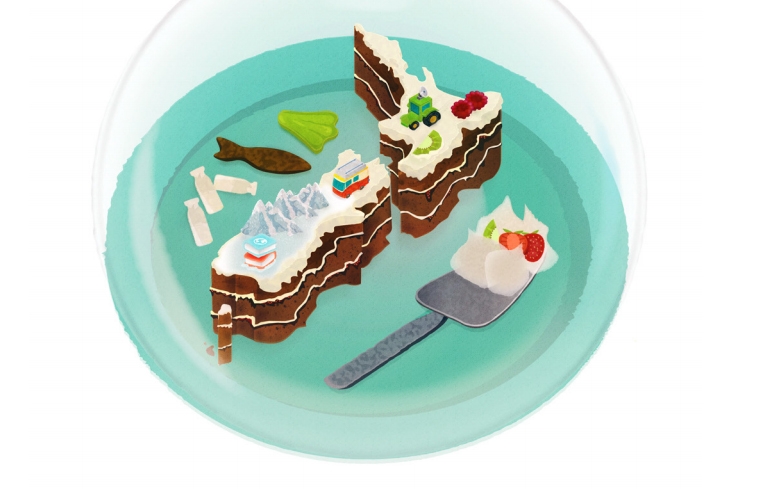 The Shaping our slice of heaven series is designed to promote debate across business, industry associations, government and the media on issues facing the New Zealand economy.
Our aim is to shine a spotlight on the challenges we face as a country to improve our overall prosperity and wellbeing, and in doing so ask some hard questions about what we are doing to rise to these challenges.
----
The regions of opportunity narrative
Welcome to the second edition of the Shaping our slice of heaven series, entitled 'Regions of opportunity'.
In the first edition of the series, we focused on the economic opportunities presented by export industries that are predicted to experience above average global economic growth and are industries in which New Zealand has comparative advantages. We developed a national prosperity map identifying five industries of opportunity for New Zealand: tourism, agribusiness, advanced manufacturing, food processing and international education.
In this second report, we move away from the national view and take a deep dive into our regions. We examine how increasing exports in four of these industries of opportunity (we've left out international education as the data is either too complex or missing) can contribute to the economic growth of some of our country's diverse regions, both individually and together, for a more prosperous outlook overall.
New Zealand has plenty of goods and services exports to offer world markets but the country's full export potential hasn't yet been realised. The diverse nature of its landscapes, towns and cities means New Zealand shouldn't be treated as a monolith – to overlook our regional variety and the particular opportunities that come with each is to miss a crucial chance to substantially change economic development for the better.
New Zealand already has a welldeveloped narrative projecting to the world why it should not be overlooked both as a destination for inward investment and a place to source goods and services. But while this outwardly focused narrative is vitally important on the world stage, we believe there is further value to be unlocked by telling the 'within New Zealand story' that lies beneath. In this report, we examine our four industries of opportunity across five regions – Auckland, Waikato, Hawke's Bay/Gisborne, Wellington and Canterbury – to develop our 'regions of opportunity' narrative. We deliberately chose a mix of five urban, provincial and mixed urban/ provincial regions to demonstrate the differences. These five regions are home to over two-thirds of the total population and account for three-quarters of the nation's gross domestic product (GDP).
Economic impact of increased exports
Using our Deloitte Access Economics in-house computable general equilibrium (CGE) model, we assessed the potential economic impact of increasing exports across these four industries in the five regions chosen. Our analysis aims to understand how growth in key industries can result in quite different outcomes for the different regions, depending on their unique characteristics.
The key question we are asking is what role can different regions play in supporting our overall economic success, driven by export growth? Or to put it another way, how can our regions build a pathway to prosperity, and what role do exports play in this picture?
To answer this question, we have measured the economic impact of scenarios under which each of the four industries exports grow at a rate necessary to reach industry or government targets. Our economic model simulates how the economy will respond and re-adjust to increased export growth, over the period from 2019 to 2040. The model is sufficiently dynamic to estimate the impact across all regions in New Zealand, including any inter-regional trade.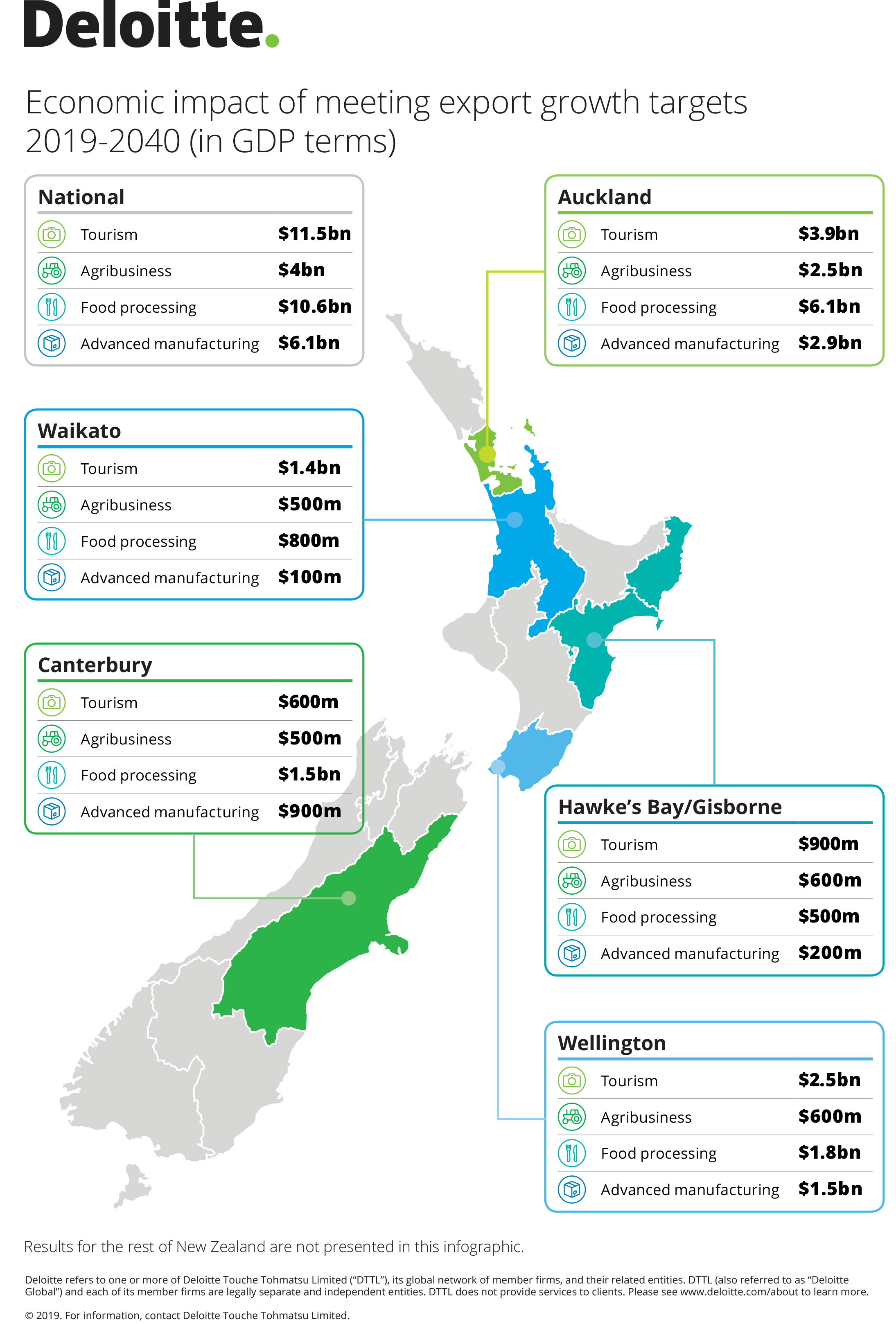 National economic impact
Our modelling reveals our hypothesis to be sound – namely that export growth in these industries can result in significant benefits for each of our regions of opportunity, and in turn for the country. Across all five regions analysed, in aggregate, our modelling shows that:
• Over the period 2019 to 2040, the economy would be $11.5 billion (4.3 percent) larger in real terms if our five regions of focus grow at the national export growth target set for tourism. In addition, there is a boost in employment of an additional 23,100 full-time equivalent (FTE) jobs.
• The additional national GDP, as a result of the five regions growing at the national export growth target for agribusiness, equals approximately $4 billion over the period and there would be 6,500 FTE additional jobs created.
• If the regions we modelled grew to meet national export growth targets for food processing, national GDP would increase $10.6 billion and employment would grow by around 23,200 FTE jobs.
• Achieving the national research and development (R&D) target by growing advanced manufacturing exports would add an additional 39,500 FTE jobs and increase GDP by $6.1 billion.
Some more of the insights gained from the economic modelling of our scenarios unearth a range of interesting insights at the regional level. Moving geographically from north to south, they are as follows.
Regional results
Auckland
The model results for Auckland show that growth in all of these industries would result in a significant economic impact.
The potential economic impact from increased exports in food processing is particularly pronounced, with the regional economy projected to be $6.1 billion (6 percent) larger relative to regional GDP than would otherwise be the case between 2019 and 2040. In addition, the advanced manufacturing, tourism and food processing industries would all experience substantial employment gains, growing by 27,300 FTE, 13,500 FTE and 12,200 FTE respectively by 2040.
Our analysis reinforces the need for Auckland's focus on infrastructure improvement to continue. This is vital for Auckland to continue to be able to function, let alone flourish.
Waikato
Our modelling reveals some surprising results for Waikato. Notably, the tourism industry offers almost three times as much potential economic benefit as agribusiness, the region's most wellknown industry. The potential economic impact from increased exports in tourism is projected to be $1.4 billion (6.1 percent) larger from 2019 to 2040, while increased exports in agribusiness would drive $500 million (2.2 percent) growth in regional GDP. Food processing provides the greatest opportunity in terms of employment growth with our modelling showing job growth of almost 3,000 FTE by 2040.
Our results highlight the importance of sustainability, and keeping ahead of regulatory change, for the future of the agribusiness sector in Waikato. This will require hard conversations around the transition to a lower emissions economy, the use of bio-technologies, access to water and competition for land.
Hawke's Bay/Gisborne
For the purpose of our analysis, we have grouped Hawke's Bay and Gisborne together. This allows us to form a more robust picture of the effects of our scenarios on provincial regions.
As a small economy with some emerging sectors, this region stands to gain the most in relative terms from increasing exports across the four industries. For example, increasing tourism exports have the potential to make the economy nearly 10 percent larger between 2019 and 2040. Similarly, agribusiness and food processing offer substantial opportunity for regional growth, despite agribusiness already being the region's dominant industry.
While modelling for the advanced manufacturing industry shows increased exports driving a $200 million (2.1 percent) increase in regional GDP, interestingly the impact on regional employment is very modest or even slightly negative.
However, as the region's advanced manufacturing industry emerges, it is well placed to specialise in servicing its strongest agribusiness subsector – horticulture. This could provide differentiation for the region as a place where new horticulture technologies are developed and tested.
Wellington
The model results for Wellington show that the potential economic impact of growth in tourism is particularly pronounced, with the regional economy projected to be 7.0 percent, or $2.5 billion dollars, larger relative to regional GDP than would otherwise be the case.
The Wellington region would also experience considerable economic impact from increased export growth in both food processing and advanced manufacturing, of $1.8 billion and $1.5 billion respectively. In terms of employment, advanced manufacturing provides the greatest opportunity for the Wellington region with a projected increase in regional employment of 4,800 FTE jobs by 2040.
These results may seem counterintuitive at first, but the signs have been apparent for some time that the region has opportunities to increase economic growth and add jobs outside of the public sector. In our view Wellington must look to its other competitive advantages, which may be found in the synergies between the film and creative, food and beverage, and tourism sectors.
Canterbury
The Canterbury region is well-known for its agriculture and food processing industries. Therefore it's not surprising that our modelling shows food processing provides the greatest opportunity in terms of GDP, growing by $1.5 billion (4.3 percent) over the period from 2019 to 2040.
Untapped potential in value-add food processing should be seen as a significant opportunity for the region, leveraging its agribusiness sector. And further consideration of how best to grow Canterbury's advanced manufacturing sector should take into account the region's natural resources and wealth of business services.
A key question is how Canterbury can diversify these sectors to increase its national and global share. Examples include moving towards precision agriculture, diversifying food processing and expanding the electronic manufacturing hub in Canterbury.
Next steps
While all of New Zealand's regions stand to benefit from key export industries, such as tourism, both the opportunities and the benefits will not be evenly distributed. Some regions may be better placed investing in other industries that draw on their strengths, including existing business clusters, natural advantages or logistics connectivity.
In our view it is not enough to develop regional economic development plans region by region, without considering how the regions link together, and where each region's competitive advantage lies. So how do we build a strong platform for economic success across all our regions? For our regions to thrive and take advantage of the opportunities presented to them, some important questions need be addressed. They include:
• How do we get regions working together to support a more coordinated 'within New Zealand' regional economic development strategy
• How can we ensure that local government and economic development agencies are appropriately equipped to support strategies for growth that embrace regional differences?
• How do we ensure that growth in Auckland – New Zealand's economic powerhouse – does not shrink or have negative effects on the regions?
• How can we build on our regional differences to increase our overall economic resilience to respond to external shocks?
• And as New Zealand transitions to a lower carbon economy, how can we ensure that the learnings from Taranaki's Just Transition programme are shared and applied across other regions?
By starting conversations to address these questions now, we can preserve and enhance the future prosperity of our regions of opportunity, and by extension, New Zealand as a whole.
---
This is the executive summary of Deloitte's report: "Shaping our slice of heaven: Regions of opportunity". The full report is here. This article is reproduced with permission.
We will run the full regional chapters separately over the next week or so.