AMI's financial strength rating slashed to A- from A+ after quake; AM Best says AMI still on negative outlook as capital raising plans unclear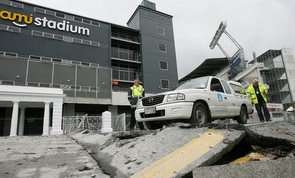 By Bernard Hickey
Insurance credit rating agency A.M. Best Co. has downgraded the financial strength rating of Christchurch-based mutual AMI Insurance Ltd by two notches from A+ to A- after the February 22 earthquake.
It also downgraded AMI Insurance's issuer credit rating to A- from AA-.
A.M. Best said it was keeping the rating on negative outlook while AMI was still discussing plans to raise capital.
"The downgrades reflect A.M. Best's view of the negative impact on AMI's capitalization, due to the latest loss development from the recent Canterbury earthquake in February 2011," it said in release.
"In addition, A.M. Best is concerned with AMI's risk management in relation to its aggregate catastrophe exposures," it said.
"A.M. Best understands that capital raising initiatives are being pursued by AMI's management; therefore, A.M. Best has put the ratings under review with negative implications while discussions continue with management regarding back-up capital plans."
AMI's chief executive John Balmforth told interest.co.nz Friday that AMI was "not in a position to share its thinking as it was commercially sensistive."
"There are a number of options open to us each of which need careful consideration."
Stella Ng, associate director with A.M. Best, said confidentiality restrictions also prevented her from discussing AMI's capital raising plans.
"We will be talking with the company on a regular basis and monitoring the situation."
Ng said AMI's status would be subject to a review for about a one month period pending an action plan to deal with a potentially crippling cash shortfall caused by a second wave of earthquake related claims.
The company, with 30% market dominance in residential insurance in Christchurch, was hit with 12,000 claims from the Sept.4 earthquake alone.
Following the latest quake, Balmforth reiterated the firm's position that it was able to withstands the financial impacts.
Interest.co.nz reported on March 11 that AMI Insurance had NZ$1.1 billion of assets and reinsurance, but faced potential earthquake claims of around NZ$1 billion.
See Amanda Morrall's story from March 11 here.
RBNZ monitoring closely
Finance Minister Bill English, asked whether Government was worried about the downgrade said AMI would be under the supervision of the Reserve Bank.
"They'll [the Reserve Bank] deal with any concerns that there are there."
Reserve Bank spokesman said the Reserve Bank was putting its prudential regime in place.

"We consider the insurance sector is sound," he said.

"We are monitoring this situation closely."
(Updates with further comments from A.M. Best,Finance Minister Bill English, AMI CEO John Balmforth, Reserve Bank)