AA Insurance lifts house insurance premiums by an average of 50%; AMI to follow suit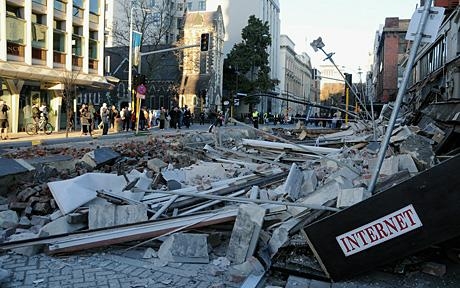 By Amanda Morrall
House insurance premiums charged by the country's third largest insurer are going up an average of 50% -- an extra NZ$200-$300 a year for householders-- a move that is expected to have a ripple effect on rates nation wide.
AA Insurance confirmed Tuesday premium hikes will take effect as early as next month or when policies begin to renew. Customer notices to that effect are in the mail.
Suzanne Wolton, head of corporate affairs, said the move was necessary to offset seismic reinsurance hikes triggered by the combined impacts of flooding in Australia, back to back earthquakes in Christchurch and also Japan.
"We're seeing reinsurance go up by at least 100%, 500% in some cases so what we're doing is we're putting home insurance up about $200 to $300 on average, which is about a 50% increase on average,'' said Wolton.
Wolton said the premium increase would only apply to house insurance policies held by AA Insurance but would affect its customer base across the country.
"Despite what's happening in Canterbury, reinsurers look at New  Zealand as a whole and we all know New Zealand is a country where we are subject to earthquakes and volcanoes. Canterbury's been unlucky but the rest of New Zealand is the place that reinsurers are going to worry about.''
A spokesperson for IAG, the country's largest residential insurer by market share, said Tuesday it was too soon to tell whether its premiums would be going up. 
However, an official with AMI confirmed it would also be raising premiums in line with AA Insurance.
AMI's chief customer officer Richard Hutton said details were still being worked.
"We see ourselves being in line with what's been announced. We're still refining it and will have a better idea of that by early June," said Hutton.
Hutton revealed that premium increases would not be restricted to house policies and would likely apply across the board and include increases on deductibles, the amount a customer is required to pay to collect the insurance.
"They'll be increasing across all product line but obviously some will be greater than others.''
Wolton said reinsurance increases were so high that it would be virtually impossible for insurers not to pass along those costs in the form of premium hikes.
"If your house insurance premiums aren't going up substantially you need to ask your insurer why. You don't want your insurer to be taking additional risk and reducing the size of their reinsurance programme or going with reinsurers who are less credit worthy in order to give you a lower premium because we've all seen what the result of that.''
Wolton's comment was in reference to AMI Insurance, whose hefty exposure to the residential insurance market in Christchurch (and inadequate reinsurance programme) forced the Government to put a NZ$500 million backstop to keep the mutual company afloat.
While average house premiums will be increasing 50%, Wolton said the range would be vast.
"There will be people who pay less and a significant number who pay more depending on where their house is and what their house is made of. "
Competition brewing
With contents and vehicle insurance premiums remaining unchanged at AA Insurance, Wolton suggested it was an ideal time for customers to shop around to make sure they were getting the most competitive rate possible, bearing in mind what they got for the policy in return.
"This is a good opportunity to challenge this notion that you need to keep all your insurance in one bundle with one provider. You need to shop around for specific insurance using different criteria.''
(To see comparative rates and policies on contents insurance see our insurance section here.) To see comparative rates and policies on car insurance, click here.) For an explanation of interest.co.nz's scoring system click here.
Insurance Council of New Zealand chief executive Chris Ryan cautioned customers concerned about premium increases not to cancel their insurance, emphasising the risk of going without.
"The worse thing you can do is not be insured in a high risk world. It's not just earthquakes, it's all risks."
Ryan admitted that rising insurance premiums, on top of expected EQC levy hikes, GST, a potential fire service levy, and a host of other consumer pressures, could make insurance a luxury many can no longer afford.
He said the upside of current market pressure was that it could stimulate competition.
"There's a lot of competition for good policies and good risks and the last thing insurers will want to do is price themselves out of the market.''
Ryan encouraged customers to shop around and also, if they were using a broker, to ask hard questions of them.
"Not only on what commissions are being paid and what you are insured for but what you are not insured for. Because that appears to be one of the things that is causing problems. People are told what they're insured for but they're not aware of what they maybe should have considered.''
While insurance relief isn't on the horizon in the near future Ryan said it was possible premiums could settle in a few years time, as was the case following September 11, 2001.
"That was a huge loss and immediately after there was a strong increase in insurance and reinsurance but over the five to seven years they returned to long-term average on the basis of competition.''