Banks, insurers, homeowners sifting through quaqmire of information over red-zone pay-outs and insurance claims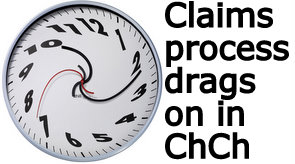 By Hannah Lynch 
One week after Government's offer to buy-out the worst affected property owners in Christchurch, homeowners, insurers and banks are no further ahead as sort through a morass of information.
SBS communications co-ordinator Melissa Chilton (based in Christchurch) said the South Island bank was preparing an information package to help customers make an informed decision about which option to take and how to proceed.
Chilton said the bank had not yet worked through a red-zone buy-out offer for any of its customers and was focusing its efforts on developing supportive tools for them.
BNZ's Chris Gourley said the bank had set up its own earthquake team in Christchurch to work alongside Government. 
Gourley, head of retail for Southern region, said the bank was "geared" and "ready to go" after having received the NZ$100,000 EQC insurance pay-outs from earlier quake damage.
"The cheques got posted to us." 
Banks have rushed to the fore hoping to capitalise on the cash-flow. (See banking and finance editor Gareth Vaugah's piece of discounted mortgage offers for earthquake affected residents.)
AA Insurance head of corporate affairs Suzanne Wolton said insurers were ready to move on the red-zone pay-outs, but that home owners would first have to establish which option would be in their best interest.
"It's very much dependant on individual circumstances.''
After months of uncertainty about rebuilding prospects in some of the worst hit areas, Government last week announced an offer to buy up to 5,100 houses at 2007 values as part of a  NZ$1.5 billion support package. 
Homeowners have two-options: one where the Crown buys the entire property and assumes all insurance claims; the other where the Crown would purchase the land only, leaving homeowners to work out the rest with insurance matters on their own.
Which offer would be most attractive would depend largely on when the home was purchased. Homeowners who bought at the height of the market would find that the GV values would fall short of what they had invested in the home.
Red zone remedy?
Some affected homeowners aren't hopeful Government's red-zone remedy will ease their financial pain.
Interest.co.nz commenter "Chris J" is one of them.
In an opinion piece published last week, he pointed out that there were hundred of homes in the red zone area with little or no damage.
Those homeowners, would be forced to accept a buy-out at the 2007 GV values (because they we're not getting replacement insurance pay-out). In many cases, the GV bore no relationship to market value.
"Even worse some will benefit because of their GV's are whereas a large number will be much worse off.''
He said frustrations were mounting particularly with EQC insurance pay-outs in other areas still not having been received.
'Process complicated'
The EQC spokesman Gordon Irving said the commission was moving was quickly as possible to finalise claims but the process was complicated as a result of continuing seismic activity.
"Many claims cannot be closed as some homeowners have multiple claims for multiple events and have up to three exposures on each claim – building, contents and land. All damage must be linked to a specific event for insurance purposes and this is a complex and time consuming business."
Irving said the EQC fund was sufficiently capitalised that the commission's pay-outs were from its own reserves on not reinsurance at this stage.  Almost NZ$1 billion has been paid in earthquake claims since September 4 which equates to more than NZ$3 million in payments per day since the original 6.3 magnitude quake 10 months ago.
High court action
Among the many complications involved in insurance pay-outs is a dispute between EQC and insurers about second-round claims. In cases where pay-outs where already made, and insurance reinstates, EQC has agreed to accept subsequent claims. But for those parties who had submitted a claim but were not yet paid out, EQC had disputed to fold their claims into one.
The issue is to be heard by the High Court in Wellington in August.
The EQC deadline for logging a claim is 3 months after the event has taken place. 
Once EQC has agreed on an assessment then what happens with the payment depends on the nature and value of the damage.
For all claims under NZ$10,000 (except for structural and/or chimney damage) and all contents claims up to EQC's limit of NZ$20,000 + GST, the registered owner will be sent a cheque.
Building claims between NZ$10,000 and NZ$100,000 + GST are being referred to EQC's project manager at Fletcher Construction. 
EQC will pay them once the repairs are carried out.
Where a claim is estimated to be in excess of the maximum payout of NZ$100,000 + GST, then what happens to the payment depends on whether or not the claimant has a mortgage.
If you have a mortgage, the EQC payment for your house will be paid to your mortgagee not your insurer.  For further information see EQC's claims process.
If there is no mortgage the settlement will be paid to the registered owner. If there is a mortgage on the property, payments over NZ$100,000 + GST are paid to the homeowner. For damage above over the EQC cap of $100,000 (plus $20,000 for contents) insurers make up the difference.
For further information on basic claims see EQC's claims process.
For details on private insurance over the EQC cap click here.  
Other useful links on EQC insurance:
See interest.co.nz columnist Janine Starks piece on land value and home equity.
See also Janine's casestudy on under-insurance in Christchurch.
See also Janine's "7 reasons to stay insured" on a damaged property.
See insurance columnist Andrew Hooker's piece on reasons for caution with cash settlements
See also Andrew Hooker's piece on why EQC has dropped the ball