Janine Starks looks at the EQC fine print around land value and claims coverage in the context of long-term commitment in Christchurch. Your view?
By Janine Starks* (email)

From my mail bag:
We are red stickered and expect that our section will be condemned, so we may not be able to rebuild. The big question is what will we get from EQC for the value of our section? We have the City Council valuation of 2007 but we expect the value should be 12.5 percent higher, because we are right by a river in a picturesque spot. Are we dreaming? Will EQC give us a fair market value for our lost section?
 Hmmm. That was a yes-and-no 'hmm'.
The issue of whether your land will even be 'condemned' was the first thing that crossed my mind. Remember we've gone from sweeping statements that 10,000 homes could go, to more conservative theories that only pockets of land, or a street here and there will be written off.
While you live by a river (and that must increase the likelihood of this fate), make sure you prepare yourself for either option. Expect the unexpected, as you never know what recommendation the geotechnical experts might make.
Everyone's patience is being sorely tested as no one can think ahead or plan their lives. Things have ground to a halt as we wonder "will I stay, or will I go?"
Those words bring back memories of the 1980s British punk band, The Clash, whose lyrics could almost become an anthem for the liquefied suburbs of Christchurch; "so you got to let me know, should I stay or should I go". If only EQC could tell us.
Fair market value?
When it comes to the value of your land and whether this will be a 'fair market value', there is good news and bad news.
The good news is that EQC's literature states "claims for land will be based on a professional valuation" and "EQC appoints a registered valuer." You can't get fairer than that, so it does keep the dream alive.
Do you have a question for Janine? You can email her starkadvice@gmail.com, subject line: Financial Agony Aunt. Anonymity is guaranteed.  
No doubt there will be a level of negotiation required and some homeowners may be tempted to get their own independent land valuations to double check. So it seems clear that the valuation techniques should be fair, but you have to read the fine print of the rules to work out what size section will be covered.The unknown question is how granular those valuations are going to be. One would hope that they don't apply a rate to an entire street, when we all know one end of a street or certain spots within it, can be far more desirable than others.
The bad news is as follows: 
a) For many homeowners, they will receive a valuation on a smaller sized section than they actually own.
b) There is an excess deducted of 10% of the value of the land (minimum excess of $500 and maximum $5,000).
c) When it comes to valuing retaining walls, bridges or culverts on your land, EQC only pay out an 'indemnity' value (a depreciated value which accounts for age)
What land does EQC cover?
Take a look at the diagram below. EQC will only cover damage to certain areas of your section; the land that sits directly under your home; the land within eight metres of your home; and the land on the main accessway up to 60 metres from your home, including retained areas (but not the driveway surfaces like asphalt or concrete).
This means there could be sizable areas of your section which are not taken into account. Plus, brace yourself as there's a second round of bad news.EQC does not cover trees, plants, lawns, fences, drains, paths or retaining walls more than eight metres from your house.
If your section is condemned and can't be rebuilt on, the area detailed above could shrink even further when it comes to a valuation.
Devilish details
The devil is always in the detail, and this little gem can be found under Part 2 Section 19 of the EQC Act.
The payout will be based on the value of the smallest area listed below:
1. The area of a minimum sized section allowed for in the district plan.
2. An area of land of 4000sqm (about an acre)  
3. The area of land that is actually lost or damaged.
In the list above, note the use of the word 'smallest'. For most people in the suburbs, it will mean the payout is based on item one.
In Christchurch the minimum lot size is 450 square metres for those zoned 'Living 1' and 330 square metres for those who are 'Living 2'.
On Banks Peninsula it's 400 square metres, with the exception of Diamond Harbour at 600 square metres. The result will depend on where you live, so phone the council and ask what applies to your location.
In addition, the indemnity value of any retaining walls, bridges or culverts will be added on to your payout.
On a happy note: In a previous column on earthquake insurance confusion, I wrote about a couple who had under-insured themselves and were desperately worried about the consequences. Just as an update, they have now met with State Insurance and the outcome has been very positive.
I won't divulge the exact details, but well done to State for acting so fairly in this case, and well done to our reader for coming forward and facing up to the problem with their insurer.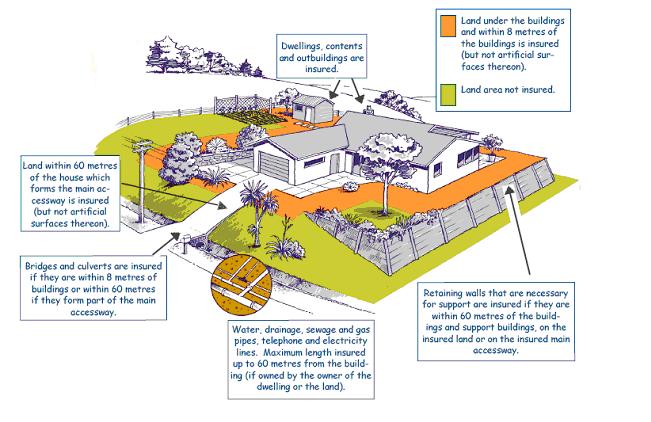 Do you have a question for Janine? You can email her starkadvice@gmail.com, subject line: Financial Agony Aunt.  Anonymity is guaranteed.   
*Janine Starks is Co-Managing Director of Liontamer Investments. Opinions in this column represent her personal views and are not made on behalf of Liontamer.  These opinions are general in nature and are not a recommendation, opinion or guidance to any individuals in relation to acquiring or disposing of a financial product.  Readers should not rely on these opinions and should always seek specific independent financial advice appropriate to their own individual circumstances.
(Updated with EQC illustration)