A look into the size of the hole smoking can burn in your back pocket when it comes to health insurance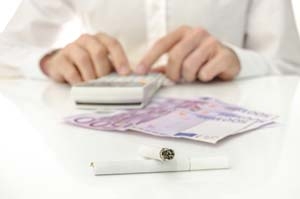 Smoking will typically increase the amount you pay for health insurance by just under 20%.
Most health insurers increase their premiums by between 16% and 20% to account for the higher likelihood of smokers experiencing costly health problems compared with non-smokers.
Interest.co.nz has compared premium prices between seven insurers, for basic health cover, with an excess of $500.
In the study, aimed at providing a simple snapshot of how much being a smoker can cost you, interest.co.nz has used the profile of a single male aged 25, 35, 45, 55 and 65.
Findings show most insurers take a similar approach, formulating a pricing structure to accommodate for the greater risk smokers pose compared with non-smokers.
ANZ, Partners Life and Sovereign increase their premiums for older smokers slightly more than they do for younger smokers. A 25-year-old smoker for example pays 16% or 17% more than a non-smoker, while a 65-year-old smoker pays 19% more.
Nib and Accuro increase premium prices by the same portion no matter how old their customers are, 20% and 11% respectively.    
Nib's prices for both non-smokers and smokers are in the middle of the range of insurers compared in this study, while Accuro's are on the cheaper side.
Monthly health insurance premium prices for non-smokers vs smokers
Age 
25
35
45
55
65
Non-smoker/smoker
NS
S
NS
S
NS
S
NS
S
NS
S
 
 
 
 
 
 
 
 
 
 
 
Accuro
37.99
42.21
46.63
51.83
66.07
73.41
105.11
116.82
193.38
214.88
AIA
52.34
59.55
76.09
119.54
225.59
ANZ OnePath
49.54
58.15
52.65
61.90
74.75
88.42
123.56
147.02
210.26
251.09
nib
42.20
50.64
43.94
52.72
61.17
73.14
112.11
134.54
206.70
248.04
Partners Life
49.10
56.92
50.86
59.04
70.54
82.66
115.85
137.03
183.70
218.45
Southern Cross
41.14
50.97
70.63
105.44
257.93
Sovereign
44.92
52.14
46.95
54.57
66.16
77.61
109.48
129.59
188.72
224.14
AIA and Southern Cross on the other hand don't increase premiums at all for smokers.
Smokers who insure with AIA pay premiums that are fairly on par with smokers who insure elsewhere. Non-smokers however pick up the cost, paying higher premiums than non-smokers who insure elsewhere.
It's a slightly different story for Southern Cross. The premium price for a 25-year-old is lower than that offered by other insurers. The difference closes in a little for 35, 45, and 55-year-olds, while 65-year-old Southern Cross customers pay higher premiums than even smokers who insure elsewhere.
Southern Cross says new members may be eligible for its Healthy Lifestyle Reward, which gives them a 10% discount for their first two years, if they don't smoke, and do eat at least five servings of fruits and vegetables a day, do 30 minutes of moderate physical activity most days of the week and drink less than two (for women) or three (for men) glasses of alcohol a day.
Once this reward expires, Southern Cross customers may be eligible for a 10% discount if the claims paid to them over the previous two years are below a defined threshold for their age and policy type. Their eligibility for this Low Claims Rewards is re-accessed every year.
Change in premium price between non-smokers and smokers at each age (%)
Age
25
35
45
55
65
 
 
Accuro
'<------------  11  ---------->
AIA
none 
ANZ OnePath
17
<------  18  ------>
19
nib
20
Partners Life
<----16 --->
17
18
19
Southern Cross
none
Sovereign
16
17
18
19
Across the board, insurers will do what they can to encourage healthier living to reduce the likelihood of their customers getting sick and making claims.
Nib chief executive Rob Hennin says: "We also encourage our customers to improve their lifestyles through benefits for quit smoking programmes, weight-loss management programmes and gym memberships on a number of our health cover products."
An ANZ spokesperson points out OnePath clients who have been smoke-free for at least a year can be eligible to have their premiums reduced to non-smoker levels. 
Note: This investigation doesn't factor in the depth of cover different insurers provide. See this story to compare what you get for what you pay between different health insurers.
Premium prices were sourced from www.lifedirect.co.nz on April 8, 2015 and are subject to change.