Citi analysts argue NZ's largest general insurer may have to top up its provisions to cover Christchurch earthquake claims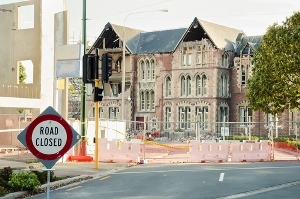 Analysts say New Zealand's largest general insurer, Insurance Australia Group (IAG), is underestimating the amount of money it needs to put aside to finish settling Canterbury earthquake claims.
Research done by Citigroup, ahead of the release of IAG's full year results on August 21, argues the company has indicated it isn't expecting to top-up its Canterbury quake provisions anytime soon.
This is despite IAG (which owns State, AMI, NZI and Lumley in NZ) having used up nearly all its reinsurance cover for the quakes.
As at the end of last year, IAG had used 97% of the $4 billion in reinsurance cover it had to pay for the February 2011 quake.
Citi says this suggests that it only had around $100 million to $120 million of cover left to settle the remaining 30% of claims it had received that were still outstanding.
Note this percentage is different to the portion of properties repaired/rebuilt, as there may be a number of claims related to one property.
It's also likely the more complex, and thus expensive, claims are the ones still outstanding.
Furthermore, in December IAG reported it expected its final claims cost in relation to the quakes to increase by between $750 million and $1 billion.
Citi therefore maintains IAG might have to top up its provisions to cover quake claims soon.
It says, "We believe there remains a reasonably significant risk of a further top-up in time".
IAG topped up its catastrophic reinsurance cover by $220 million in the middle of last year, after the Reserve Bank pulled it up for not having enough cover to meet its licence requirements.
Warren Buffett to the rescue
On the upside, Citi notes the A$500 million partnership IAG has entered into with Warren Buffett's Berkshire Hathaway will further boost the "already reasonably well capitalised company".
IAG last month announced that Berkshire Hathaway had bought a 3.7% stake in the company. It bought 89.9 million new shares, and has taken a 20% share of IAG's insurance business over 10 years.
IAG said the deal would reduce its capital requirements by about A$700 million by 2020; with A$400 million of this captured in 2016.
It said it would also reduce its need for more reinsurance cover.
IAG turning to policyholders as well as shareholders
Citi's predications and observations align with a Credit Suisse report released in April, which said insurers were turning to both shareholders and policyholders to keep them afloat, as they ran out of reinsurance.
The Citi analysts expect IAG's upcoming annual results to show 17.2% growth in gross written premiums.
Citi also expects IAG's end of year report to show a 20% group drop in core earnings, mainly due to "adverse perils and lower investment earnings on shareholder funds".
Citi also highlights how IAG has its sights set on expanding throughout Asia.
It says, "Recent developments such as the agreement with Berkshire Hathaway, establishing a national presence in China and the recent Free Trade between China and Australia all give fuel to potential M&A [merger and acquisition] speculation and we will be interested to see whether IAG further clarifies its intentions alongside its result".