Youi says it's part of its 'business practice' to keep writing new insurance policies in most cases in disaster struck areas, even if its competitors don't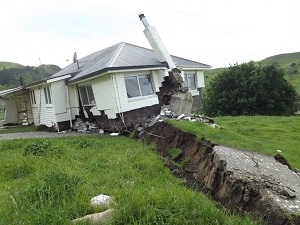 Youi is bucking the trend of its competitors and not enforcing an insurance freeze in parts of the country affected by the November 14 earthquake and aftershocks.  
The South African insurer is continuing to write new home insurance policies for properties from North Canterbury to Wellington, provided they have come through the quakes unscathed.
It is also allowing its existing customers in these regions to increase their sum-insured, irrespective of whether their homes have been damaged.
As for contents insurance, Youi is continuing to write new policies and allow its customers to increase their cover, irrespective of whether they've suffered quake damage.
Youi's position differs to the rest of the industry, which has put a widespread embargo on new home insurance and is declining requests from existing customers to increase their cover.
Different insurers are taking different approaches to contents policies, with some implementing restrictions on policyholders in, or moving within quake affected areas, but not those moving from other parts of the country to the likes of North Canterbury and Wellington.   
The Insurance Council of New Zealand's chief executive, Tim Grafton, says insurers are treading cautiously to minimise their losses, in order to meet their reinsurers' needs. They also need to make "prudent decisions to minimise the risks they take on in an uncertain environment".
He says insurers are starting to narrow their restriction zones, as they establish where losses are concentrated. However in the worst hit areas this will take longer depending on the settling down of seismic activity.
Freezes remained in place for up to two years after the 2010/11 Canterbury earthquakes, and a few months after the 2013 Seddon quakes.
Yet Youi's head of communications Trevor Devitt has told interest.co.nz it is part of its "business practice" not to implement a blanket freeze after a natural disaster. It has taken the same approach in Australia, as this is part of its "philosophy".
Devitt says Youi, which entered the New Zealand market in late 2014, has a relatively small exposure in the central part of the country, as the bulk of its business comes from in and around Auckland.
The problem with the insurance freeze implemented by the rest of the insurance market, is that those trying to secure mortgages are running into issues without adequate insurance cover.
Grafton says: "Our advice to people who are in the process of buying a new property where settlement is subject to insurance and finance, is to check with the vendor's insurer to see if they will provide cover as that is a common solution."
While Youi received a surge in calls straight after the quakes, Devitt says it hasn't noticed a spike in business due to the position it's taken in regard to the freeze.
Youi has been fined $100,000 by the ICNZ for using misleading sales tactics. It is due to be sentenced in the Auckland District Court on December 15, further to pleading guilty to 15 Fair Trading Act charges brought against it by the Commerce Commission.