Insurance Council says the Government consulting on how to levy insurance to fund new fire and emergency service shows how complicated and costly the regime is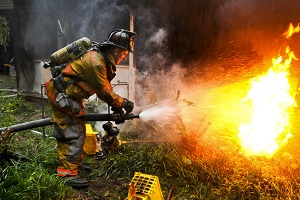 Insurers are taking another swipe at the Government for "applying nineteenth century thinking" to the way it proposes to fund the new amalgamated fire service.
The Department of Internal Affairs is seeking feedback on the nitty gritty of how the levies on insurance policies should be changed to fund Fire and Emergency New Zealand (FENZ) when it's established on July 1.
FENZ will see the New Zealand Fire Service, National Rural Fire Authority and 38 other rural fire authorities merge into one organisation.
Currently all individuals and businesses pay a levy on the insurance they have to protect their assets against fire damage. This levy funds 95% of the Fire Service.
The New Zealand Fire Service Commission has proposed this levy be increased by 39% from July 1 to fund the formation of FENZ.
Thereafter, from July 1 2018, the levy will be reviewed again and its base will be broadened to include insurance on material damage and third party motor insurance.
Complications calculating levies
Internal Affairs Minister Peter Dunne acknowledges the complication with this regime is: "Different types of property, including residential property, non-residential property and motor vehicles, may have different levy rates or caps. Some property will be exempt from the levy."
In other words, you could have one insurance policy to cover a building you own, but will have to pay different levies if some of this space is used for offices and others for apartments, for example.
"Regulations will clarify how the levy will be calculated on insurance policies that cover these different types of property," Dunne says.
The Government is seeking feedback on what these regulations should look like; on Tuesday releasing a discussion document for consultation; 'Proposals for Fire and Emergency New Zealand levy regulations'.
The Insurance Council of New Zealand's (ICNZ) CEO Tim Grafton says: "The very fact that the government has to consult to understand how you should apply the tax on insurance, shows just how complicated and costly it is to administer, and demonstrates why it would be far better to fund FENZ from direct taxation.
"This just highlights the complexity of the whole situation. Why on earth you'd do it this way, rather than use the IRD, which is a very effective tax collector, just beggars' belief."
Grafton says that while the proposed regime will be relatively straight forward for domestic insurance policyholders, it could be more costly and time-consuming for businesses and their brokers to implement.
What's more, individuals/businesses, insurance brokers and insurance companies would be liable for making sure they accurately figure out which levy rates apply to which parts of the asset they've insured.
"We [insurers] are the tax collector, and under the Bill, we and insurance brokers, and the insured, all have liability for paying the right amount at the right time, and face penalties for not doing so," Grafton explains.
Size of levies still unknown
As for the size of the new levies, these are yet to be determined.
But Grafton is urging the Government to hurry up and make a call on whether it accepts the Fire Services Commission's suggestion to have these raised by 39% from July 1, until the full new regime (with the broader levy base) is introduced in July 2018.
He says insurers and brokers need sufficient warning to get their computer systems up to date, so they add the right sized levy to their clients' premiums.
Relief for one will sting another
The Department of Internal Affairs, through its discussion document, is also seeking feedback on how best to help those most affected by the new regime transition to it.  
"Regulations may provide full or partial exemptions from [the] levy for policyholders who face an unreasonable burden as a result of the changes to the levy regime. This transitional levy relief can apply for up to seven years," Dunne says.
The document proposes entities that will have to pay over $100,000 in levies a year under the new regime, and face a 300% increase, should qualify for relief.
"That may seem fair and reasonable, but nothing in this is fair and reasonable because as soon as you smooth it out for one, it means that everybody else will bear the cost," Grafton says.
'Politicians let us down at times'
Fundamentally, the ICNZ has for years argued it's unfair that those with insurance are paying for a service everyone in New Zealand benefits from.
"This is nineteenth century thinking still being applied today. Everywhere else in the world has moved away from it. This will come grinding to a halt and we'll be back again in a few years' time, saying, 'how stupid could we have been?'" Grafton says.
He maintains the levy regime is going to become an issues as insurance as we know it evolves with technology.
For example, he points to the fact Tesla is looking at bundling insurance cover in with the sale of its driver-less cars.
"So when you get a product like that coming in to the market, is FENZ then going to knock on the door of Elon Musk, and say: 'Can you just unpick all of this so that we can apply a tax?'"
Grafton recognises this issue isn't a "vote winner per say" in that it hasn't been debated a whole lot in Parliament, but says New Zealand First has been the most responsive to the ICNZ's concerns.  
"Politicians let us down at times," he says.
The consultation period on the discussion document released on Tuesday closes on April 19.
The legislation establishing FENZ is still before Parliament. The Government expects the Bill to be enacted later this month or in April.