Michael Stiassny says bidders eyeing a Tower takeover will need to pay at least $1.40 per share; Says the Board's considering a capital raising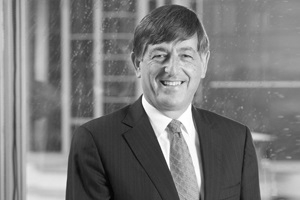 Tower's chairman is reassuring shareholders he is committed to getting more than what's been put on the table from two bidders, each keen to buy all the insurance company's shares.
The Canadian giant, Fairfax Financial Holdings, at the beginning of February entered into a 'Scheme Implementation Agreement' with Tower, in which it offered to buy all its shares for $1.17 each.
The New Zealand arm of Suncorp, Vero, later in February made a non-binding indicative proposal to buy all of Tower's shares for $1.30 each. It bought 13.3% for this price and another 6.7% for $1.40 per share, bumping its shareholding up to just below 20%.
Making his bid (which turned out to be successful) to be re-elected as Tower's chairman at its AGM, Michael Stiassny said: "We currently have two parties who want to buy Tower.
"My job, as I see it in the very short term, is to ensure whomever is the party that is lucky enough to be successful here, has got to pay $1.40, or more than $1.40, for the shares in Tower before we will engage with you again."
He said both Fairfax and Vero's bids "validate the Board's view that the market has significantly undervalued Tower, as well as the value of the opportunity the Tower business represents to other industry players".
While Tower's share price was only 79 cents before the deal with Fairfax was announced, it slumped as low as 69.5 cents at the end of November.
It's the Government's fault
Stiassny reiterated his view that the Earthquake Commission's (EQC) handling of claims in the wake of the 2010/11 Canterbury earthquakes is largely to blame for the company's woes.
The Minister Responsible for EQC, Gerry Brownlee, in February told interest.co.nz this criticism was "complete rubbish", and said Tower's share price reflected how the company had been run.
Continuing to receive large numbers of over-cap claims from EQC, Tower's loss widened to $21.5 million in 2016. Stiassny said the velocity of over-cap claims coming in from EQC isn't slowing.
Tower CEO Richard Harding added: "The ongoing claims development situation is being faced by all insurers. Unfortunately, as the only listed pure New Zealand general insurer, it is most visible with us. We are the canary in the coal mine."
Speaking to interest.co.nz, Stiassny said neither Fairfax nor Vero were "idiots, and therefore we feel very vindicated that the share price before they got involved was clearly too low, and we still have a view that it's still too low, but at least it's moving in the right direction. I think history speaks for itself."
Tower's share price rose as high as $1.37 earlier this month. It's fallen 4 cents to $1.26 today.
Capital raising being considered  
Stiassny also said the company was considering a capital raise.
"Given the likelihood of a protracted process, the Board may look to raise capital to ensure a prudent level of capitalisation and solvency to protect the ongoing business from contingencies during this period."
Asked by interest.co.nz what sorts of conversations he's been having with the Reserve Bank, which sets minimum capital requirements for insurers, he explained: "We are not talking about this for Reserve Bank issues. We're talking about it because we think it is something that we would look at…
"It is not something the Reserve Bank has either asked us or engaged with us on."
In terms of a timeframe around a potential capital raise, Stiassny said: "It depends on where we think we're going."
Having two different share prices 'abhorrent'
Responding to shareholders' concerns that Vero has been able to buy some shares for $1.30 and others for $1.40, he said: "At the present time, it is very clear that Suncorp and Vero have done nothing that would be in contravention of the law…
"Whether the law is right or wrong is a completely different story…
"From a personal perspective, it seems abhorrent that we could have two different share prices…
"As yet, we don't know what Suncorp's, or Vero's, final position is on it either, but we hope we will end up with an offer that is equal to all shareholders."
From here, Vero can pursue two options to keep increasing its stake in Tower.
It can make an official takeover bid, which would mean it would have to offer all shareholders the same share price.  
Otherwise it could enter into a scheme agreement, like Fairfax has, which would technically mean it could offer shareholders different prices. However it is unlikely it would do so, as this probably wouldn't be well received by shareholders who would have to vote on the agreement.
Its agreement would need to be supported by at least 75% of shareholders who turn out to vote at a special meeting. These voters would have to represent more than 50% of the total voting rights of the company.
Tower's board, as well as Salt Funds Management and ACC, which collectively hold 18.1% of Tower shares, in February committed to voting in favour of Fairfax's proposal.
If Vero goes down the takeover path, more than 50% of the company's shareholders would have to accept its offer (unless it stipulates for more), for it to go ahead.
Vero has made an application with the Commerce Commission to acquire 100% of Tower's shares. 
Stiassny said the Tower board was considering all its options.
"In the meantime, shareholders do not yet need to take any action in response to either of these offers," he said.