Tower Chairman says the company would have a higher sale price if the EQC system wasn't 'broken'; Government says the law has nothing to do with the risk the insurer takes on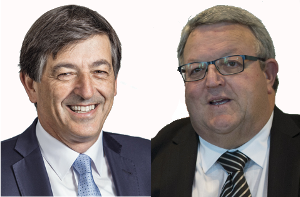 Tower Chairman Michael Stiassny is blaming the "broken" Earthquake Commission (EQC) model for the insurer's share price plunge, as the company has struggled to get on top of 2010/11 Canterbury earthquake claims.
He says Tower shares would be worth more than the $197 million a Canadian insurance giant, Fairfax Financial Holdings, wants to buy the company for, had the EQC Act created a better environment for private insurers to operate in.
Speaking to interest.co.nz, Stiassny says: "I think we can say that Fairfax, or anyone buying this company, would not be paying $1.17 [per share]. They would be paying a significantly better price."
The NZX-listed company's share price fell as low 69.6 cents after its annual results were announced in November. Two years ago, it was as high as $2.38.
"Our performance would not be held back by our legacy in Christchurch and it would be a satisfying position to be Chairman of this company," Stiassny says.
The Minister Responsible for EQC Gerry Brownlee has dismissed Stiassny's criticism as "complete rubbish".
"I'm not happy that I'm answering questions about Tower and their share price. Their share price will always be affected by how well the company has been run and the risk profile that they have taken," he says.
"It misleads people to suggest that had the Government changed the law, Tower would have faced less expense over Canterbury. That is completely wrong."
Stiassny: Christchurch isn't something NZ can be proud of
Having taken a swipe at the EQC model in November, Stiassny reiterates: "The most significant issue facing all insurance companies is the very simple fact that six years on, we're still getting claims out of EQC."
Tower received 297 new claims worth $22 million from EQC in the year to September.
"We are still having actuarial reviews which show an increase in provisioning is necessary."
Stiassny also acknowledges the fact Tower is taking EQC to court over a dispute over how land damage should be valued.
There's $6.1 million at stake with this disagreement, and another $51.1 million at stake with other land damage and building cost disputes the insurer has with the government agency.
"It is about an environment that's unclear," Stiassny says.
He maintains this is a "big issue" for investors, while for policyholders in Christchurch it "isn't a good look".
"Christchurch is not something we can, as New Zealanders, be proud of."
Brownlee: Changes to the EQC would not have altered the risk Tower took on
Brownlee says: "Michael Stiassny is a lone voice in this regard. The EQC has worked, and I have particularly made sure this has happened with the Insurance Council and all other insurers.
"This is one of the world's biggest insurance events… So you would expect there would be claims that do run on for a period of time."
Brownlee denies the continuous flow of over-cap claims from EQC to private insurers has had a material impact on private insurers' financials.
"The risk that's taken by any insurer in any given year, is laid off against reinsurance and often other financial instruments, and confined to that year. So the risk is the risk. Changes to EQC would not alter the risk that Tower, or any other insurer, had chosen to take on at the time of the sale of the policy," he says.
Tower has used its $735 million of reinsurance for Canterbury, so has dipped $135 million into its own reserves. It still has around 564 quake claims to settle (as at September), and has a legal dispute preventing it from receiving $43.7 million from one of its reinsurers, Peak Re.
Stiassny: The Tower Board isn't to blame  
Yet Stiassny is "very comfortable" with the way his Board has managed the insurance company in the wake of the 2010/11 Canterbury earthquakes.
Asked what responsibility he will personally take for the company's performance, he says: "Sorry - what does your question really mean?"
Asked specifically whether he accepts Tower didn't take out enough reinsurance, which meant it has had to dig into its pockets to cover the remaining claims, he says: "No, not at all.
"We get an actuarial review. We have our accounts audited. These numbers are moving. We are further through the process than anyone else. We're very comfortable with everything we have done. We have done everything within out power to be on top of this."
Stiassny says the amount of reinsurance Tower took out is "driven by external advice of very reputable people".
He recognises all insurers have had to take out more Adverse Development Cover (ADC) further to the quakes.
For example, IAG in November announced it was buying another $900 million of ADC.
"I don't believe that we were any different to anyone else," Stiassny says.
Asked whether Tower should have ensured it had additional cushioning, as it can't fall back on a better capitalised Group, like IAG and Suncorp can, Stiassny says: "We have a significant amount of reinsurance. We're very comfortable with that amount… We also are a public company. We have the ability to call on our shareholders."
He is also "comfortable" with the level of dividends paid to shareholders, saying, the Board has acted "prudently".
Stiassny: Private insurers, not EQC, need to handle claims
Stiassny maintains things have improved since Canterbury.
He acknowledges the memorandum of understanding between EQC and private insurers, formed in the wake of the Kaikoura quakes, is a "much better way of doing things". The MOU allows claimants to lodge their home and contents (not land) claims with their private insurers rather than EQC in the first instance.
The Government is currently addressing this claims handling issue as it reviews the EQC Act 1993.
A discussion document released by Treasury in July 2015, acknowledges the claims settlement process is slowed when both EQC and private insurers handle claims. Yet it notes a number of safeguards would have to be put in place if the legislation specified private insurers were to always settle claims on behalf of EQC.
It concludes: "Attempting to capture those agreements in an Act or regulation would create an excessively prescriptive and unwieldy legislative environment for EQC and insurers. For this reason, the Government does not intend that the EQC Act require EQC to outsource all claims handling. Instead, the legislation would continue to allow claims handling responsibilities to be outsourced."
Stiassny, with the backing of the Insurance Council of New Zealand, is a strong proponent of insurers having a first look at claims.
Brownlee: We're moving forward 'cautiously'
Acknowledging the fact this is being "trialled" with the Kaikoura quakes, Brownlee says: "Remember, the first risk sits with the taxpayer.
"We have an obligation and a duty to protect that, just as much as Mr Stiassny and other directors of insurance companies have to look after their shareholders' interests. Often, what's good for one, is not so good for the other."
Furthermore he points out: "There's no need, in actual fact, for a legislative change to let insurers be the first assessor."
A MOU under the current law has enabled private insurers to do so.
Pushed on whether it would still be more beneficial to have this matter dealt with through the law, rather than bringing EQC and insurers around the table in the event of a major disaster, Brownlee says: "Remember that EQC actually has that liability right now.
"I don't see insurers stepping up and saying, 'We'll take full liability for earthquake'. When they do, then that will change the circumstances quite a bit. In the meantime, we will just cautiously move forward in the interests of every New Zealand policyholder… to make sure that we do ensure that people are going to be properly treated at the time that they have their claims."
Insurance and reinsurance heavyweights have expressed their frustrations over the EQC Act review, which began in 2012 and was intended to be completed in 2013, being in limbo. 
The CEO of Lloyd's of London, Inga Beale, in November told interest.co.nz she wanted the Government to get the review done "quicker rather than slower".
Swiss Re's Asia Pacific head of Property Casualty Facultative, Mike Mitchell, in October said the Government should get on with amending the Act before insurers are forced to start paying a premium for the uncertainty caused by the delay.
Yet Brownlee refuses to be rushed.
"We will get to a point where we have a piece of law… But rushing to it, or being persuaded somehow that had we moved earlier, it would have made a difference to the risk profile that Tower insurance had in Christchurch is just not realistic."
*This article was first published in our email for paying subscribers early on Monday morning. See here for more details and how to subscribe.