IAG and Tower demand EQC coughs up the cash, having allegedly short-changed thousands of Canterbury quake claimants with land damage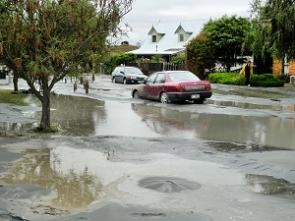 IAG and Tower are accusing the Earthquake Commission (EQC) of short-changing 2010/11 Canterbury quake claimants, whose properties have suffered land damage.
They have filed separate cases in the High Court, which if successful, could cost EQC tens if not hundreds of millions of dollars.
However, at the heart of the dispute is the fact that claimants who have had certain types of land damage settled directly by EQC, have essentially been paid out less than those who have had this damage dealt to by their private insurers on behalf of EQC.
The only reason these double standards are being brought to light in court, is because they are leaving private insurers out of pocket.
The issue is: EQC covers land damage. But in order to get things in Canterbury moving, private insurers have been dealing to land damage on behalf of EQC, as they've cash settled, repaired or rebuilt their clients' properties.
Yet EQC and private insurers have been using different methods to calculate the cost of land damage, with EQC's approach being much cheaper.
IAG and Tower therefore want the courts to make a call on the matter, in the hope of getting reimbursed the larger amount they believe they're entitled to.
Interest.co.nz believes the amount of money in dispute is in the order of tens, and possibly hundreds of millions of dollars, as there are hundreds of claims in dispute between IAG and Tower. 
What's more, if successful, the case will give other insurers in the same position as IAG and Tower a leg to stand on, when they ask EQC to reimburse them more for the land damage they've paid for. A Vero spokesperson says: "Vero is in discussion with EQC regarding this issue. We have not joined any legal action at this time."
It's particularly crucial for Tower to receive this money, as it doesn't have a robust parent company to fall back on, so plans to ring-fence its embattled quake-related business from the rest of its business.
It flagged the importance of recouping these funds in its annual results, when it said EQC still owed it $57.6 million. For legal reasons, Tower can't confirm how much of this figure is attributable to this land damage issue. 
How have EQC and private insurers treated land damage claims differently?
The type of land damage we are talking about here is land that is more vulnerable to liquefaction in future earthquakes.
EQC has settled 6,540 such 'increased liquefaction vulnerability', or ILV claims, and has 1,750 claims to settle.
EQC settles its ILV land damage claims by cash.
It assesses its customers' losses by calculating the extent to which the ILV decreases the market value of the land. It refers to this deprecation-type method as 'Diminution of Value', or DoV.
In some cases it also considers the cost of repairing the ILV land under and immediately around the house.
Private insurers on the other hand, haven't used DoV. Rather they have been calculating losses by assessing the actual cost of repairing the land so it can be built on.
IAG's head of corporate affairs, Craig Dowling, says the idea behind this is to ensure "long term habitability".
EQC's DoV settlement doesn't mean the land will necessarily be repaired, as it doesn't oblige claimants to use the cash they're given to mitigate the effects of any future liquefaction. Rather they can use the money for whatever they like.
EQC's interim chief executive, Bryan Dunne, has told interest.co.nz the Courts have okayed the DoV approach.
"EQC proactively [in 2014] sought confirmation from the Courts through a declaratory judgement that confirmed ILV was damage covered by the EQC Act and confirmed the Diminution of Value (DoV) was an appropriate settlement method in certain circumstances," he says.
Nonetheless, the disagreement between the public and private insurers remains.
IAG's Dowling, says: "A legal ruling will confirm EQC's liabilities and private insurer's recoverable costs in this situation, and help all parties avoid such confusion in future."
What do the court cases mean for claimants?
IAG and Tower have told interest.co.nz they won't come knocking at their customers' doors, asking them to pay back parts of their settlements.
"Customers can also be confident that this court action in no way prejudices or impacts their Tower settlement. We are simply seeking to have EQC fairly reimburse Tower for costs incurred responding to ILV in settlements already reached," Tower CEO Richard Harding says.
Dowling goes further to say: "All customers that IAG has settled by cash or reinstatement for enhanced foundations in an ILV area are part of these proceedings and we have written to them to inform them of this.
"We believe this action is in their interests as they may ultimately receive higher payouts for land around their homes (land 8m beyond a home's footprint that EQC is also responsible for) if this legal action is successful."
As for those claimants who have been paid directly by EQC, so have possibly received less than those who have been paid via their private insurers, EQC's Dunne maintains nothing will change.
"While EQC is reviewing its response to the litigation, I can reassure our customers in Canterbury who have already received an EQC settlement for ILV land damage that your settlement will stand."
As for those Cantabs who haven't yet had their claims settled, Dunne says EQC will keep evaluating their losses "in accordance with our current ILV settlement policy".
Tower says Harding has "reiterated that customer settlements would not be affected by the court action".
However interest.co.nz believes the cases may cause delays for claimants still waiting for their ILV land damage to be dealt to by IAG and Tower.
Here is a document IAG has sent out to its clients, and here is a statement from Tower.