Tower announces plan to ring fence troublesome quake claims; says industry model is 'broken'; widens loss to $21.5 million; share price at record low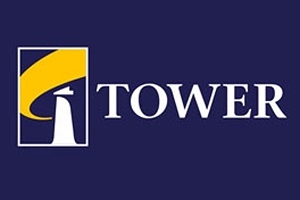 Tower is planning to ring-fence the part of its business still grappling with 2010/11 Canterbury earthquake claims, by forming a new company.
The insurer has announced its intention in its annual results for the year to September 30, released to the NZX on Tuesday morning.
Tower chairman Michael Stiassny says the legacy of the Canterbury earthquakes continues to overshadow the rest of the business, so the Board wants to create a separate company, RunOff Co.
"In our view, the industry model is broken with claims inflation continuing unabated, construction far slower than anticipated and little effective co-ordination between the EQC and insurers," Stiassny says.
"These are all symptoms of a system that can no longer do right by the people, communities or insurers it is supposed to serve."
Loss creep and litigation
Stiassny says claims over EQC's $100,000 cap are continuing to flow through to the insurer at a pace.
At the beginning of the financial year, Tower had 703 property claims remaining. By the end of the financial year, it had closed 534 of these claims. But in the interim, it received 297 completely new claims worth $22 million, and had to reopen 98 claims.
Furthermore, "An entire litigation industry has sprung up to agitate disenfranchised customers to demand not just fair resolution, but a windfall," Stiassny says.
Tower is currently facing, or expecting litigation on up to 100 claims.
Over the course of the financial year, this loss creep and litigation has seen Tower's gross claims costs increase by $78 million to reach $870 million.
This has had a net impact of $25.3 million after tax, which has largely contributed to Tower widening its loss to $21.5 million in the 2016 financial year, from $6.6 million in 2015.
Drawing a line under Canterbury
"We have therefore resolved to draw a line under the Canterbury legacy to benefit both policyholders and shareholders' interest, enhance the prospects of our strong underlying business and enable Tower to accelerate its journey to become a high performing general insurer," Stiassny says.
"Separation will enable the market to more transparently value Tower. The component parts - RunOff Co and New Tower - are undoubtedly worth more than the whole. Separation provides a vehicle to unlock that value."
Both entities will be separately managed, with RunOff's two objectives being to settle the remaining 564 Canterbury claims and recoup its "disputed recoveries".
Tower claims one of its reinsurers, Peak Re, owes it $47.5 million, while EQC owes it $57.6 million. Securing these recoveries are vital.
Stiassny says the Board has "begun recovery action" and "will not resile from litigation, should it prove necessary to recoup what is rightfully owed to Tower shareholders.
"The successful resolution of these disputes will support capital returns for RunOff shareholders in the longer term," Stiassny says.
'Stakes are high'
He acknowledges the "stakes are high", but believes the separation will enable New Tower to take on its Australian competitors that dominate the New Zealand market – namely IAG and Vero.
Tower has had preliminary discussions with the Reserve Bank about the separation.
"They have consented to the creation of two separate licensed entities subject to licensing criteria being satisfied," Stiassny says.
Tower will also need approval from its shareholders. It hopes to present them with a proposal in March.
Tower's full year dividend will be suspended as the Board is "evaluating a number of potential sources for capital - including strategic sources".
'Canary in the coal mine'
Speaking to investors in a conference call, both Stiassny and Tower's chief executive Richard Harding point out Tower isn't the only insurer that's had to increase its quake claims provisions.
The likes of IAG, Southern Response and MAS have had to do the same.
"Unfortunately, as the only listed, pure New Zealand general insurer, it is most visible with us. In some respects, we are the canary in the coalmine," Harding says.
"Six years on [from the Canterbury quakes], insurers like ourselves still do not have clarity on the number and value of claims that remain," Stiassny says.
"We're not the only ones concerned that the system is broken."
Referencing an interest.co.nz interview, he says: "The world's second largest reinsurer, Swiss Re, has fired a shot across the Government's bow, pointing out how vulnerable the New Zealand economy is to the risk of reinsurers increasing premiums due to the uncertainty caused by the delayed EQC Act review.
"[Swiss Re] urged the Government to get on with the review to provide certainty to insurers and reinsurers alike. In turn, we want to provide certainty to our customers…
"Concluding this review and sorting out the EQC is critical if New Zealand homes are to remain cost-effectively insurable.
"In the wake of the Kaikoura earthquake... [this is] even more critical. The Prime Minister has signalled the Government is wanting to take a different approach to the Kaikoura recovery and we support this entirely."
While the insurance industry has been calling for the Act to be amended in such a way that private insurers rather the EQC is a claimant's first point of contact after a natural disaster, the Minister Responsible for the Earthquake Commission Gerry Brownlee has shot this idea down.
A bill for the review is expected to be introduced to parliament next year.
Kaikoura expected to reduce Tower's solvency capital by $13 million
Tower has a solvency ratio of 214% and excess capital of $14.3 million above regulatory requirements. At a Group level, is has excess capital of $23.8 million.
It also has $12.2 million of cash that can be used for solvency capital if required, and has access to a $50 million undrawn liquidity facility.
Yet the Kaikoura quakes are expected to put a dent in its solvency capital.
Tower reports: "Tower's reinsurance programme is expected to limit the impact of the Kaikoura earthquake to a $13 million reduction in solvency capital.
"Adjusting for this and other operational movements, as at 28 November, Tower Insurance Limited is expected to have $3.6 million of capital above regulatory minimums, and Tower Insurance Group would have $16.0 million..."
Looking at the insurer more broadly, its gross written premium is down 0.8% to $303.2 million, while its underlying profit after tax is down 33.6% to $20.1 million.
Its claims ratio – the amount it pays in claims as a proportion of the amount it receives is premiums – is up from 47.7% to 50.3%.
By late Tuesday afternoon Tower's share price had fallen to 70.5 cents, a drop of 4% from 75c on Monday. It has plummeted about 60% over the year and is at a record low.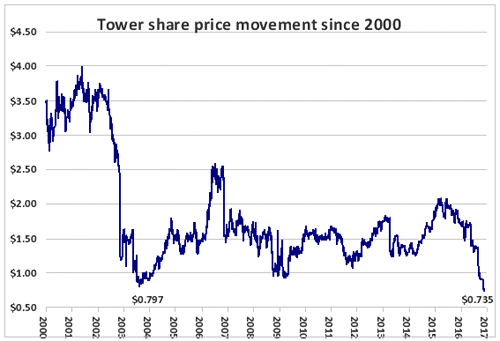 For background, see these stories interest.co.nz has written on Tower in recent months.