NZ economy vulnerable to risk of reinsurers charging insurers a premium for uncertainty caused by delayed EQC Act review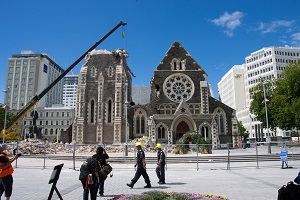 By Jenée Tibshraeny
The world's second largest reinsurer says the Government should make hay while the sun shines, and get on with amending the Earthquake Commission (EQC) Act before insurers are forced to start paying a premium for the uncertainty caused by the legislative review being delayed.
In a world awash with capital, Swiss Re says reinsurers' risk appetites are relatively high.
So they aren't noticeably penalising insurers, unsure about how they and the Government will share the burden of natural disaster damage in the future, with the EQC Act review still up in the air three years after it was meant to be completed.
Yet things can change quickly, warns Swiss Re's Asia Pacific head of Property Casualty Facultative, Mike Mitchell.
"Inevitably market cycles wax and wane and I think strategically for New Zealand it's quite important to use the window that there is currently in the post-event environment - where the issues are front of mind, but also where reinsurance capacity is relatively freely available - to fix the challenges there are in the current operating model."
Speaking to interest.co.nz, he says New Zealand shouldn't be "lulled into complacency by the fact there is reinsurance capacity".
"If either the reinsurance market cycle were to turn - which could happen in a number of circumstances outside of the New Zealand environment - or if there were to be another large event without there having been any real rectification of the structural issues that are causing challenges at the moment, then that could put New Zealand, from a reinsurance capacity perspective, in quite a difficult position."
NZ economy 'rather vulnerable'
Why does this matter?
Mitchell explains New Zealand is very well insured against natural disasters compared to other developed countries.
While insurers recovered around 80% of economic losses after the 2010/11 Canterbury earthquakes, they only recovered around 25% of losses after the 2011 Tohoku quake in Japan.
With so much at stake, the way EQC is structured has a huge impact on the insurance industry.
For example, Mitchell points out EQC's claims management structure has resulted in 400-500 new over-cap claims (claims worth more than EQC's $100,000 cap) continuing to trickle from EQC to private insurers every quarter.
"Six years on from an event - that's really quite unparalleled," he says.
"The structural challenges that there are in terms of the formulation and execution of coverage under the EQC Act with the private sector coming in, just creates a significant degree of uncertainty as what the end game will look like.
"One thing that insurers and reinsurers are very wary of is uncertainty.
"That I think makes the New Zealand economy, which is very significantly reliant upon transferring this significant risk burden and diversifying it globally, rather vulnerable."
Reinsurance costs more likely to go up than down
Expanding on what's happening globally, Mitchell says: "With the current levels of extremely low interest rates, there's a lot of capital looking for yield and some of that capital is finding its way to the reinsurance industry."
Furthermore, the reinsurance market is being propped up by there being a relatively low level of losses suffered around the word.
In order for there to be a change in the cycle, Mitchell says these two factors will need to change.
Asked about how a pending interest rate rise by the US's Federal Reserve may affect the reinsurance market, he says the question is whether capital will stay in the reinsurance market, or "ebb and flow" elsewhere, in a "more normal yield environment".
"We're certainly at a historically low level of market pricing in the cycle and the upside risk is certainly much greater than the downside risk from here on."
NZ needs to align with global norms
Mitchell says the move by most New Zealand insurers to ditch their full replacement policies, in favour of sum insured, has gone some way to giving reinsurers the certainty they need and aligned New Zealand with what's done around the world.
"I know it's a change for the New Zealand consumers, but they [full replacement policies] were very unusual."
As the EQC Act is reviewed, he says: "We do believe there needs to be a more normal approach to the challenge around land cover, which again is not normally insured in the private insurance market.
"If New Zealand as a society is going to provide coverage for land [through EQC], then that should be separated from the commercial or private insurance proposition as cleanly as possible."
As a member of the Insurance Council of New Zealand, Mitchell is on board the industry body's call for private insurers, rather the EQC, to manage claims in the first instance.
"We would see some urgency for there to be something changed," he says.
"There should be a single point of claims handling, which is transparent to whatever stakeholders might potentially become involved in that claims settlement."
According to Treasury, officials expect an EQC Bill to be introduced to Parliament next year, but no timeline's been set in concrete.
A Treasury spokesperson says the review has "taken longer than expected due to the complexity of the issues and ongoing engagement with insurance industry stakeholders".
*This article was first published in our email for paying subscribers. See here for more details and how to subscribe.