Agreement reached to see private insurers receive, assess and settle Kaikoura quake claims on behalf of EQC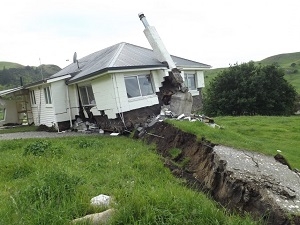 Insurers are pledging to make it easier for those affected by the Kaikoura earthquakes to have their claims settled, by reducing the Earthquake Commission's (EQC) involvement in the process.
Most of the country's general insurers have signed a memorandum of understandings (MOU) with EQC, which will see them act as agents for the government agency.
So people who have had their homes or contents damaged in the November quakes, will have their claims received, assessed and settled by their private insurers, who will then be reimbursed by EQC.
EQC will assess land damage as land isn't covered by private insurance policies.
While people are encouraged to lodge their claims with their private insurers first, the claims that have already been lodged with EQC will be passed on to claimants' insurers. These claimants won't have to do anything.
Up until now, EQC has assessed claims and then passed those over its $100,000 cap for home and $20,000 cap for contents, on to claimants' private insurers.
The Canterbury experience 
Yet six years on from the Canterbury earthquakes, EQC is still firing new claims on to private insurers.
This has slowed the process for claimants, as insurers are now still having their first look at claims lodged in 2010/11.
It has also forced insurers to increase their claims provisions, and thus pay exuberant fees to buy additional reinsurance to cover these costs.
IAG for example has in the past year bought another $900 million of expensive reinsurance, known as Adverse Development Cover. Meanwhile Tower has largely attributed its financial woes to the fact it has received another 297 completely new claims, worth $22 million, from EQC in the last year.
The Insurance Council of New Zealand's chief executive Tim Grafton has for years been calling for the Government to review the EQC Act in such a way that private insurers deal with claims in the first instance, rather than EQC. However the review has been delayed, with a Bill now expected to the brought before Parliament next year.
The Minister Responsible for EQC, Gerry Brownlee, has in the past disagreed with this idea.  
Today he welcomes the MOU, saying: "This new and simplified approach recognises we listened to some of the issues raised by customers in the wake of the Canterbury earthquake sequence." 
Insurers: 'We are approaching this in the spirit of good faith'
While IAG's chief risk officer Karl Armstrong, earlier in the month told interest.co.nz IAG had started dealing with Kaikoura quake claims on behalf of EQC, the MOU has today finished being signed by nearly all insurers that deal with domestic claims.
Grafton says: "We are approaching this in the spirit of good faith to benefit homeowners who will have their own insurer manage their claim from beginning to end. 
"This will deliver efficiencies for everyone by reducing double handling and speed up settlements." 
He believes around 90% of Kaikoura quake claims will be under the EQC's cap.
EQC's Chief Executive Ian Simpson says: "This approach draws on the experience we have gained from settling hundreds of thousands of claims following the Canterbury, Eketahuna, Cook Strait and February 2016 earthquakes.
"The new approach will be more efficient and will mean we can make the best use of the country's loss adjusting expertise to deliver a better result for customers."
Brownlee says: "I want to assure all New Zealanders that this new approach does not change customers' entitlements under their insurance policies or under the EQC Act."
EQC will audit claims from time to time to ensure insurers comply with the EQC Act.
A Steering Group, including senior members of EQC and insurers, will also have oversight the claims management process, and establish and monitor appropriate key performance indicators (e.g. settlement timeframes).
A protocol will be developed to address how customer complaints will be handled. At present both EQC and insurers have existing but separate complaints processes. The new process will mean the customer will continue to have access to free, independent dispute resolution.
The insurers that have signed the agreement include IAG (State, AMI, Lumley, NZI, Lantern brands), Vero, AA Insurance, Tower, Farmers' Mutual Group and FMG, MAS, QBE and Youi.