Banks don't know how vulnerable they are to underinsurance; Insurers don't see major underinsurance risks post-Kaikoura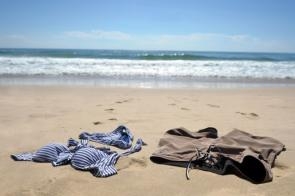 Question marks remain over whether banks will be caught swimming naked if the tide goes out and New Zealand is hit with another major earthquake.
Following insurers' move to sum-insured from full replacement insurance after the February 2011 Christchurch earthquake, banks can't say exactly how exposed the current level of underinsurance in New Zealand leaves them.
"We're not able to answer this question [because we don't hold the data]," the New Zealand Bankers' Association's (NZBA) chief executive Karen Scott-Howman says.
"Following the move to 'sum-insured' home insurance we raised concerns about the likelihood of underinsurance. Those concerns remain in the context of recent events [Kaikoura quakes]."
Why banks care about underinsurance
The NZBA, in its 2015 submission on Treasury's proposed changes to the Earthquake Commission Act, explains:
"Under the terms of most banks' mortgages, home owners must hold sufficient home insurance to rebuild or replace their home in the event of a total loss. The insurance protects the asset the bank has taken as security, to make sure that if the home owner is unable to repay their loan, the bank can recover the money owing by selling that home.
"Importantly, the insurance also protects the home owner by ensuring they retain the wealth (i.e. the equity) they have in their home.
"If the home owner is underinsured and their home is destroyed or seriously damaged, the bank carries a credit risk as the value of the bank's security is impaired and the bank may not be able to recover the lending.
"Of greater concern, the home owner could face a situation of nil or negative equity resulting in serious adverse change to their financial circumstances."
Insurers don't see major underinsurance risks post-Kaikoura
The ICNZ's chief executive Tim Grafton doesn't believe underinsurance has been a problem in the wake of the Kaikoura quakes.
"I don't have any information on that with respect to the earthquakes. What I do know is that we can expect 90% of claims to be under the EQC's $100,000 cap.
"It's a question of what proportion of those might be underinsured. You then have to look at the proportion of those that are total losses. Because it's only in a total loss situation where underinsurance is likely to occur.
"If you have a $500,000 house, you've insured it for $300,000 and you've got major repairs - the major repairs may well fall within the $300,000…
"Whatever it is, [the level of underinsurance] is going to be a very small number of the total number of damaged properties as a result of the earthquake."
Grafton doesn't support Treasury's research, which found that up to 85% of New Zealand homes could be underinsured by an average of 28%.
Supposedly worth $184 billion, Grafton believes underinsurance isn't this high.
"I think they put a large number on what that could mean, but it was absolutely meaningless, simply because we don't get everything total loss."
In other words, total losses will be a very small percentage of the total number of damaged residential properties.
The Reserve Bank, in its Financial Stability Report released this week, says: "The recent magnitude 7.8 Kaikoura earthquake is not likely to present a risk to financial stability."
Banks not declining mortgage applications due to insurance freeze
Scott-Howman says banks are continuing to provide home loans in quake-affected areas.
"There may be issues around insurance. In line with previous practice, banks will continue to require insurance for the properties they lend on," she says.
The freezes insurance companies have implemented in the upper parts of the South Island and lower parts of the North Island, which prevent people from taking out new home insurance or increasing the level of cover of their existing insurance, have meant those buying properties have had to adopt the insurance cover of the vendor.
"Some banks may also require structural assessment building reports. That's to ensure customers are adequately protected and not put in a position where they purchase a damaged home with insufficient insurance to fix it. The bank may cover the cost of that report if it's needed," Scott-Howman says.
Asked whether banks have (yet) declined any mortgage applications on the basis the applicant hasn't been able to secure their own home insurance and the bank has deemed the vendor's level of insurance too low, she says: "At this stage we're not aware of any such cases."
Buy property with your 'eyes wide open'
Grafton says: "If you were purchasing a house, for which you could not get sufficient insurance to satisfy yourself that you are covered, ought you to be buying that house?
"If you've now made a decision that you want to take that huge risk on yourself, then you've got to go to the bank and say, 'I'm taking on this risk and we'd like you to take it on as well'. At that point the bank is going to have to ask itself the same question…
"If you then proceed with a purchase, because the bank's prepared to fund it, then you should go into that with your eyes wide open."
Insurers unwilling to spoon-feed banks information about their clients
The NZBA has previously asked insurers if they're willing to partner with banks to create a database detailing what insurance people have on their properties.
Asked how useful this sort of registrar would be in the current environment, and whether the NZBA will approach the ICNZ on the matter again, Scott-Howman says: "The ICNZ is aware of our view."
Grafton confirms the discussion hasn't been reignited.
"Insurers are fully focussed on responding to the Kaikoura earthquakes, rather than busying themselves with the needs of the banks," he says.