Tower gets $30 million cash advance from BNZ as quake costs see it only $5 million away from breaching the RBNZ solvency requirements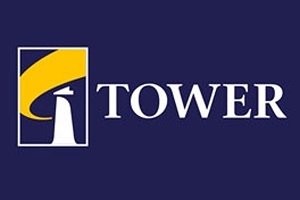 Tower Insurance has effectively taken out a $30 million loan to prevent it dipping below the Reserve Bank's (RBNZ) solvency requirements.
It confirms, in its 2017 Half Year results released today, that earlier this month it drew down $30 million on a $50 million "Cash Advance Facility Agreement" it has with BNZ.
This has seen its surplus margin, or amount of capital above what the RBNZ requires it to have to keep its licence, increase from $5.2 million as at March 31, to a forecasted $37.4 million as at May 31. As at September 31, its surplus margin sat at $14.3 million.
Put another way, the cash advance has bolstered Tower's solvency ratio to 255%, from 198% in March and 214% in September.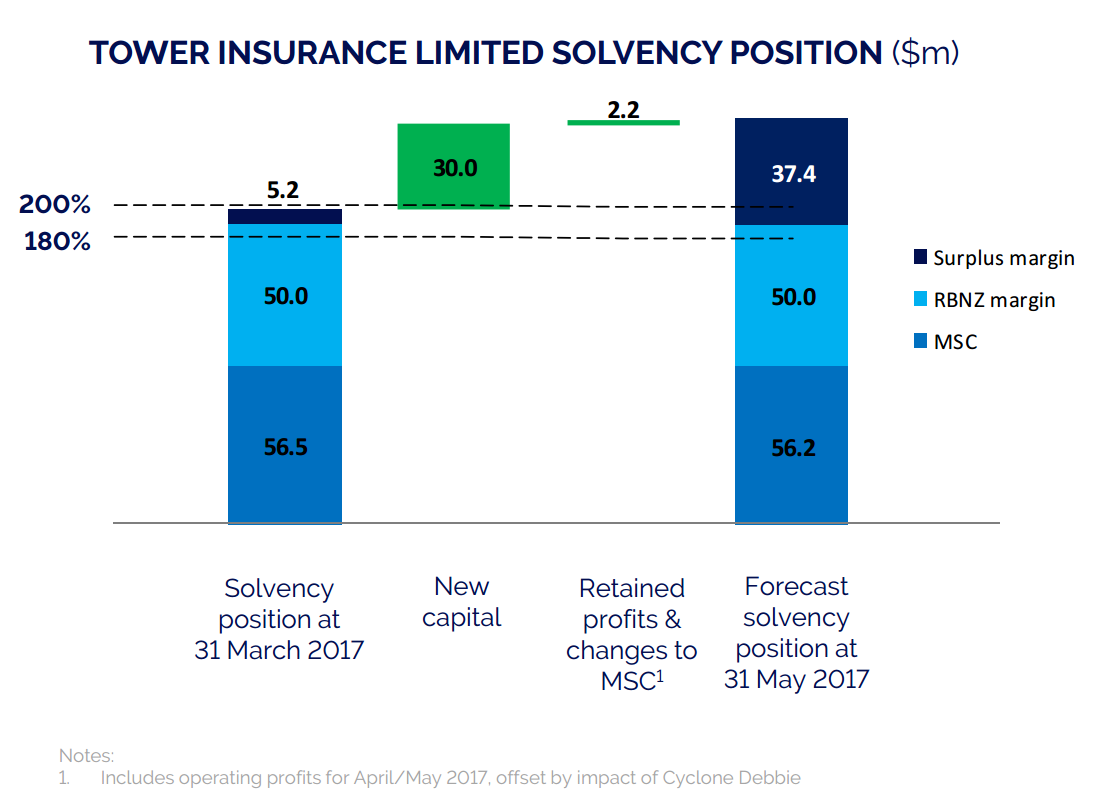 Note: MSC in the graph stands for Minimum Surplus Capital. 
$9.8m sting for increased quake provisions
Tower says its solvency capital has taken a knock from its lingering 2010/11 Canterbury Earthquake hangover.
Its Appointed Actuary from Deloitte has asked it to further increase its provisions for the event, reducing its post-tax profit by $9.8 million. The Kaikoura Earthquake also had a $7.2 million impact on Tower's profit.
This has largely contributed toward Tower suffering an $8.2 million loss in the half year. It made an $8.7 million loss in the first half of 2016.
Deloitte advised Tower to increase its provisions due to the potential for it to receive more over-cap claims from the Earthquake Commission (EQC), the potential for increased litigation and litigation costs, and an increase in risk margins.
"The net result of the Appointed Actuary's recommendations is that Tower's IBNR [claims incurred but not reported] and risk margin allowance have increased from 60% to 89% of underlying case estimates," Tower says.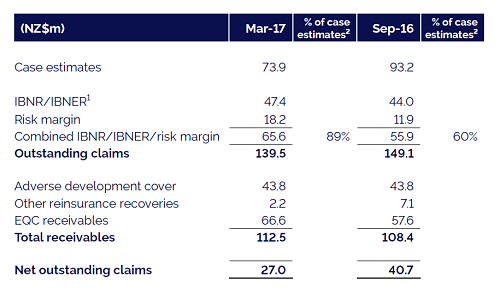 $43.75m of reinsurance in dispute substantial in the scheme of things
Adding to the uncertainty, Tower has accounted for $43.8 million of reinsurance recoveries for the quakes, it doesn't yet know whether it will receive.
It has recognised Adverse Development Cover (ADC) from Peak Re in its net claims expense calculations for the Canterbury earthquakes, even though it will begin arbitration with the reinsurer over a dispute around these funds later in the year.
While Tower says it's confident it will recover all the money, it warns "the process of legal redress has risk and collection of the $43.75 million receivable cannot be certain".
This figure is substantial given Tower's forecast solvency position at May 31 is $143.6 million, with $37.4 million of this being above the RBNZ's minimum required amount.
Tower's dividend payments also continue to be suspended.
Potential takeover plans on hold pending ComCom decision
Tower says any equity raising it may do to "ensure a prudent level of capitalisation and solvency" is on hold until it knows whether the company will be sold to Canadian giant, Fairfax.
Shareholders will vote on Fairfax's proposal to buy all of Tower's shares for $1.17 each, at a yet to be determined date after the Commerce Commission on June 30 releases its decision on Suncorp's non-binding indicative proposal to buy the shares for $1.30 each.
Tower says its board continues to "unanimously recommend" the Fairfax proposal, "in the absence of a superior offer".
Salt Funds Management and ACC, which collectively hold 18.1% of Tower shares, have also committed to voting in favour of the Fairfax Proposal.
Yet Tower, in its results says: "There is considerable uncertainty surrounding the acquisition proposals from Fairfax and Suncorp.
"There is uncertainty around completion and timing of either acquisition proposal – specifically satisfaction of conditions precedent including regulatory approvals… and shareholder approval and in the case of the Suncorp proposal, any contractual agreement."
Suncorp (or its New Zealand arm, Vero) has since February paid $1.30 and $1.40 per share to acquire 19.999% of Tower's shares.
If it chooses to further increase its stake, it has to either make an official takeover bid and offer all shareholders the same share price, or enter into a scheme agreement like Fairfax has.
Tower's Chairman, Michael Stiassny, at the company's AGM in March said: "My job, as I see it in the very short term, is to ensure whomever is the party that is lucky enough to be successful here, has got to pay $1.40, or more than $1.40, for the shares in Tower before we will engage with you again."
Tower's share price has today increased 3.11% to $1.16. 
Its results show its underlying profit after tax was up 7.6% to $8.1 million in the half year compared to the same period last year. 
Tower's gross written premium was down 0.2% to $145.8 million.