Tower's share price drops to record low of 64c as it unveils discounted share offer to address 'inherent uncertainty' via a $70m capital raise; Insurer reduces its annual loss to $8m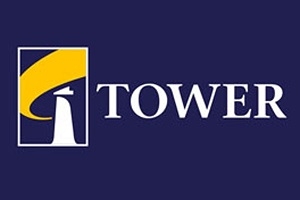 Tower's share price has dropped to a record low as the insurer has released its full year results, unveiling how it plans to raise $70.8 million of additional capital.
Tower hopes to "address the inherent uncertainty" it faces, repay a $30 million BNZ loan and enable more investment in the business, by making a "pro-rata renounceable entitlement offer at a ratio of 1 new share for every 1 existing share held".
At 42 cents per share - the issue price gives investors a 45% discount on the 76 cents Tower shares were trading at before a trading halt was enforced on Monday afternoon, pending the announcement of its capital raise.
Since the halt has been lifted on Tuesday morning, Tower's share price has sunk as low as 64 cents. While it's now (at 1.30pm) back up at 68 cents, the last time it was this low was when it hit 69.5 cents after the release of the insurer's 2016 financial results. 
Vero to partake in capital raise 
Tower has also announced Vero will participate in its equity raise, committing to take up its full entitlement under the offer.
Vero already owns a 19.9% stake in Tower – a piece of the pie large enough to prompt the Commerce Commission to investigate potential competition issues raised by this under section 47 of the Commerce Act. While this investigation is still underway, the Commission in July declined Vero's application to take over Tower.
Tower says if applied to its solvency position as at September 30, $70.8 million of additional capital would see it hold about three times its required minimum solvency capital (MSC) under Reserve Bank enforced rules.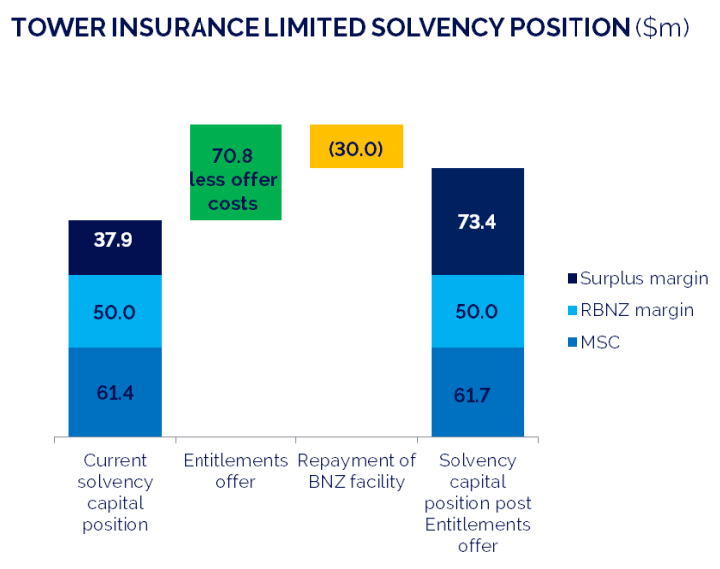 The capital raise process will begin on November 21. The offer will close on December 13 with new shares allotted and trading commencing on December 20.
While Tower recognises the need for capital in the medium-term, it will also look to resume paying dividends in the 2018 financial year.
Reinsurance recoveries in dispute
In announcing a capital raise, Tower has also highlighted a number risks that could have a material impact on its business - for the better or worse.  
Two of the big ones remain the $108.85 million of 20110/11 Canterbury quake recoveries in dispute with Peak Re and the Earthquake Commission (EQC).
Tower expects it will begin arbitration with Peak Re in March, with a decision expected by mid-2018. If unsuccessful, it notes it could lose all $43.75 million of the recoveries that have been recognised in the calculation of its net claims expense.
As for the dispute with EQC, Tower explains: "To date, Tower along with IAG, have issued proceedings against the EQC seeking compensation for remediation of land damage with a court hearing expected in late 2018.
"Further litigation in regards to land is expected... Based on legal advice to date Tower is confident in its position in regards to its recovery program."
It estimates the gross amount receivable is significantly higher than the $65.1 million value its actuary put on it.  
It also notes it's accounted for the fact $17.7 million of this EQC amount is payable to reinsurers.
Bank insurance business dwindling
Among the other risks facing its business, Tower recognises: "The insurance industry is competitive, which may impact Tower's ability to acquire and retain business.
"Concentrations of risk occur due to relationships with partners, who may choose to put their business with other insurers.
"Kiwibank domestic general insurance business will transition into runoff in April 2018.
"ASB conducted a tender process for their credit card and retail travel insurance portfolios that Tower were not successful in retaining, this relationship will cease in April 2018.
"Tower is currently participating in a competitive RFI [request for information] process with TSB to retain their domestic general insurance business and secure their retail travel insurance program."
Furthermore, it says: "Risks exist around the implementation of Tower's IT simplification plan which, if not successful, may result in failure to achieve desired operational performance improvements and medium term financial target."
Tower also notes that while bids to take over the company from Vero and Fairfax Financial Holdings have been unsuccessful, there is still a chance Tower could be bought out by a third party.
Loss narrowed
Looking at Tower's results for the year to September 30 more broadly, it reported an $8 million loss – a $13.5 million improvement on the prior year.
Provisions for the Canterbury quakes had an $11.4 million impact, the November 2016 Kaikoura quake a $4.1 million impact, "corporate transaction activity" a $3.1 million impact and an additional risk margin for Canterbury a $7.2 million impact.
Tower says "given the complexity of the Canterbury claims situation and the ongoing uncertainty in finalising these"; it will create an additional risk margin of $10 million over the provision recommended by its actuary.
Premium hikes
Like its two main competitors, IAG and Suncorp, Tower says it's increasing premiums to at least offset a spike in claims costs – particularly in the motor sector.
It has reviewed its pricing and made "targeted rate changes" across all its New Zealand portfolios. It has also made changes to excesses.
Tower's 'business as usual' claims expense therefore only increased by 0.2% to $124.2 million, while its gross written premium increased by 3% to $312.4 million.
As well as premium increases, Tower added 12,441 policies to its core New Zealand book and improved its retention rate.