Martin Hawes wonders how many KiwiSaver members are really in the right fund type and will be badly exposed when the economic tide inevitably recedes. He counsels against simplistic positioning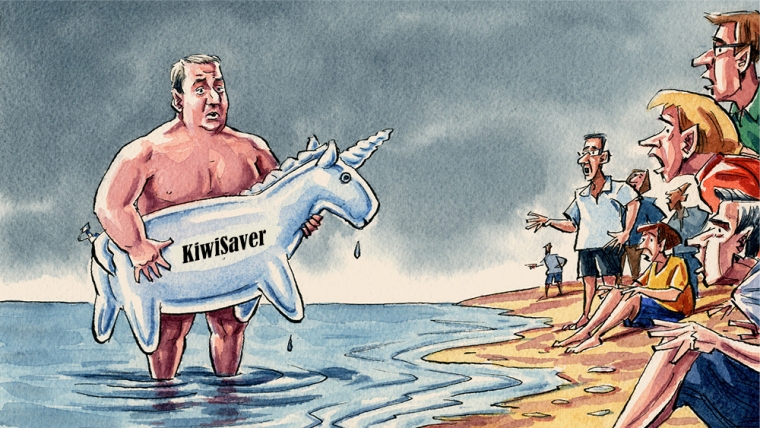 We know that lots of KiwiSavers are in the wrong funds and have the wrong level of risk.
There are over 400,000 people in default funds for a start and chances are very few of these really need to be in such conservative funds. Many other KiwiSavers will have given little thought to how they should be invested and, unwittingly or through lack of care, have ended up in a fund either too aggressive or too defensive.
Most commentators and experts talk about people being in funds that carry too little risk – they say that KiwiSavers should amp up the risk and get better returns. But hold on a bit: we should also spare a thought for those whose KiwiSaver accounts are invested too aggressively. There will come a time when they also will lose out.
In fact, people need to be in a Goldilocks fund – not too hot and not too cold, a fund that is just right and that gives the best returns for a comfortable amount of risk.
Finding the right fund is not as simple as some suggest. Those who advocate a "life stages" approach to fund selection over-simplify because they think that fund selection is solely about years until retirement. This "life stages" approach works on age and the fund is then selected on that basis; no other factor is taken into account.
That is a very blunt instrument and ignores how investors will feel when they see their KiwiSaver balances plummet in the next major market slump. Of course, it is not just how they feel: more importantly, it is about how they will behave. In market slumps, many investors find that they are significantly more risk averse than they thought and end up so uncomfortable that they lower risk in the middle of the slump – i.e. at the very worst time.
Being rattled out of the market like this is almost always a disaster: effectively, lowering risk means that you will sell growth assets (shares and property) when the market is down and prices are low.
We are meant to buy in gloom and sell in boom, but most people do the exact opposite: they load up on risk as the market nears its peak and are panicked out in the bottom of the slump.
KiwiSaver has been going for 12 years and over that time KiwiSaver members have not really been put to the test of a good market crash. Sure, KiwiSaver was up and running when the GFC struck but account balances were so minuscule then that no-one cared.
With account balances now much higher, we just do not know how the 3 million KiwiSaver members will react when they see that their $40,000 KiwiSaver balances go to (say) $25,000.
As Warren Buffett said, it is only when the tide goes out that we find out who has been swimming naked.
Sure, there will be a lot of KiwiSavers who have not taken on enough risk. KiwiSaver is mostly a long-term retirement savings scheme and more risk ought to give more money and better retirements.
But better returns will not happen if people take on too much risk and are rattled out of the market at just the wrong time. Such a thing seriously disrupts returns.
It is possible that the next slump sees a sustained and synchronised fall in value of both shares and some fixed interest investments. That could see a granddaddy of a fall in KiwiSaver values; usually when shares fall, the value of fixed interest investments rises and provide something of a cushion for the overall portfolio. But the next major slump could be different and many KiwiSaver members will have had no experience of such a thing.
 We do not know what will trigger the next major slump, nor which asset classes will be worst affected. But my guess is when it happens, the fall and people's reaction to the fall will not be pretty.
As KiwiSaver balances grow and KiwiSaver becomes more important, finding your Goldilocks fund becomes critical. This is not difficult: there are plenty of on-line questionnaires where you answer a few simple questions and get given your risk profile. Five minutes of your time (or less) and it's done. It just could be that little bit of time is the best investment you ever make.
---
*Martin Hawes is the Chair of the Summer Investment Committee. The Summer KiwiSaver Scheme is managed by Forsyth Barr Investment Management Ltd and a Product Disclosure statement is available on request. Martin is an Authorised Financial Adviser and a Disclosure Statements is available on request and free of charge at www.martinhawes.com. This article is general in nature and not personalised advice.