Migration policy linked to inflated housing prices, Government spending and low savings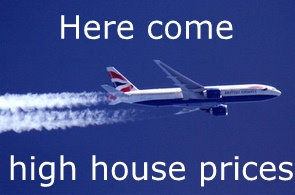 By Amanda Morrall
High immigration to New Zealand has contributed to the country's national savings woes by increasing Government spending, business borrowing costs and pumping up house prices, according to a taskforce charged with finding solutions to rising foreign debt.
Among a raft of other recommendations aimed at boosting the country's flagging savings rate, both nationally and at a household level, the Savings Working Group (SWG) suggests Government give the matter of immigration some "serious consideration."
In its 160-page report to Finance Minister Bill English tabled this week in Wellington, the SWG suggests greater control of migration could be a means of reducing house prices and ramping up national savings.
"In a country with a relatively low national savings rate, rapid population growth will put sustained upward pressure on real interest rates and, in turn, the real exchange rate, making it harder to achieve the per capita income gains that people (and the government) aspire to,'' the report states.
Group member Andrew Coleman, an economics lecturer and consultant, said despite obvious sensitivities the issue warranted attention amid what is shaping up to be a national debate on how to deal with New Zealand's mounting foreign debt.
"We're not anti-immigration but we are saying it's something we need to look at," Colemand said. "If we are concerned about disruptive change caused by debt levels in response to natural outcomes of migration, then we want to make sure it is occurring at a rate that isn't getting us into trouble,'' he said.
In its report , the SWG theorises that if net immigration flows were held at 1980- levels, the country's net foreign liabilities could be 20% lower than its current rate of 85% debt to GDP. See the full report here.
"This is a critical difference in terms of vulnerability and growth and arises because new residents require new capital stock immediately, which must be paid for...increasing the need for foreign borrowing.''
The report goes on to blame higher levels of migration in the past two decades for pushing up house prices.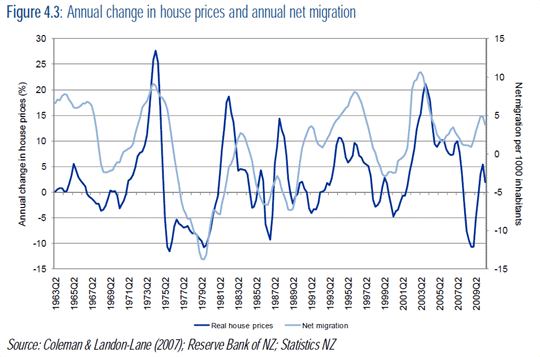 "Given the tight constraints applied to the supply of land for housing, less immigration might also have left New Zealand less exposed to the damaging house price booms experienced in the 1990s and the case decade.''
New Zealand's average net migration rate (including New Zealand-born citizens and non-New Zealand migrants) is reportedly higher than other OECD countries. The net number of non-New Zealand migrants has been rising strongly since 1992, following a shift in policy on migration.
The migration rate is New Zealand is also believed to be one of the most volatile in the world, second only to the Czech Republic.
Housing prices a casualty of rapid growth.
According to Coleman's research, a net immigration flow equal to 1% of the population (10 per 1,000 inhabitants) is associated with an approximately 10% jump in house prices. It was a trend that was evident for 50 years, he added.
Coleman was quick to point out that the immigration issue was but one of many ideas raised by the group (for more see Alex Tarrant's report) and said the group had not made any specific recommendations on the subject. Nevertheless, the report's authors wrote that limiting immigration swings could "lead to a substantial reduction in future house prices and housing debt."
New Zealand Manufacturers and Exporters Association CEO John Walley said he doubted whether financial pressures created by immigration outweighed the national good.
"I wonder whether in light of immigration, savings would be the major consideration. Immigration, particularly skill-based immigration means the real economy in New Zealand needs those skills. Whether you're pro or anti-savings, I would have thought the skill gaps are more pressing and important than any impact good or bad in regard to savings," Walley said.
New Zealand's change in immigration policy dates back to the early 1990s when the gap in productivity with other nations became pronounced between the years 1970 and 1990. Higher immigration was intended to fix the problem.
In its report, the SWG claims the move backfired.
"The policy choice that increased immigration, given the number of employers increasingly unable to pay First-World wages to the existing population and all the capital requirements that increasing populations involve - looks likely to have worked almost directly against the adjustment New Zealand needed to make and it might have been better off with a lower rate of net immigration.''
The Savings Working Group also underscored the need to remove tax distortions that heavily favoured property investment. Failing the adoption of capital tax, it suggested the only way to reduce the tax distortion on property prices would be "at the very least to reduce taxes on financial assets,'' which it identified as the "main investment alternative.''