Personal finance editor Amanda Morrall opens the books and finds a financial horror story of her own making. Your advice for Amanda?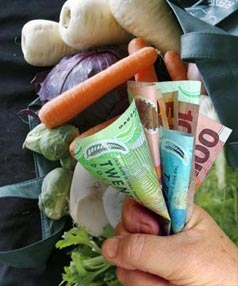 At the risk of a demotion (or possibly worse at work), I have a confession.
I hate budgeting and I'm no good at it. Actually, I've probably overstated the latter, I'm a Virgo, ergo highly skilled at beating myself up when things go wrong.
Like most people, I tend to keep a running budget in my head, I just sometimes get outpaced by those dollars.
I don't know what's worse the confession or that fact that I've deliberately made myself look a financial fool. In any case, the upside of public ridicule is that it can provoke change.
I knew moving to Auckland from Christchurch would be expensive, particularly as a single working mother with an ex whose aptitude for personal finances makes me look a CFO.
In anticipation of the move, I secured a flat-mate, an experience that  was short-lived when I gave the poor chap the boot to make room for a dear friend who needed a safe after-shock free refuge from Shaketown. Well, it's been a few weeks now since her departure and the spare room sits empty as my bank account grows dim.
I tried to justify the expense as a home office but that experience was also short-lived when the boss suspected me of eating bons-bons and indulging in three-latte lunches with my invisible friends.
So, I'm back in the office five days at week, berating myself for being a negligent mother and now a full-fledged member of Auckland's working poor.
But enough self-pity. I have boiled my options down to three:
1) suck it up and get a flat mate (one who doesn't make god awful sounds in the shower and isn't scared to push a broom); 2) get a second job; 3) re-partner.
Emotionally speaking, I don't think economics should entirely dictate matters of the heart or home but rationally speaking what choice do I have? The budget calculator doesn't lie. I've just been informed that my outgoings exceed my incomings by more than $7,000 a year. Life can be so cruel.
Having been spared the unpleasantness of living in a disaster zone, I have unwittingly put myself in the poor house in Auckland.
Okay, so I'm not living in the coldest, leakiest house on the block but nor am I living in a Ponsonby flash pad. My rent is average by Auckland standards, I seldom go out, I don't eat meat, I'm not a big drinker and I buy most of my clothes and furniture second hand, I have one of the most fuel efficient cars on the market and ride my bike when possible. For kicks and sanity I do yoga and that's my single biggest indulgence.
Food and rent just eat up a hugely disproportionate amount of my income; a shocking 75% to be exact.
It's fat by any calculation and I'm skinny.

So the search is on. TradeMe's on notice, I've hung up my yoga teacher shingle, and I'm trying to keep an open mind and open heart about partnerships that constitute more than an economic convenience or a gap filler.
There's a fourth option of course and that's hitting the ejection button on NZ. The thought of kissing goodbye to green lip mussels, blue cod and Central Otago Pinot makes me sad so I'll hope for financial redemption in another form.