Five-fold Friday: Peak coffee; cheap creditor threats ; rent relief; KiwiSaver tax cuts; Impotence and the thinking man's drug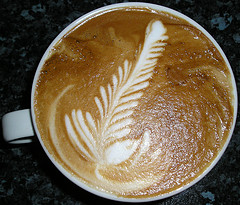 1) Savings and spending
Never mind this conjecture about $4 a litre petrol. Try sipping on a $8 latte instead and see what kind of bitter aftertaste that leaves. How well prepared are you for that heart stopping shocker?
Okay, it's a crude calculation but here's the underlining equation inputs. Benchmark ICE arabica futures have more than doubled in the past nine months to 34-year highs. How long before that filters through to the price board?
Call it the triple C factor: Climate Change and China. Poor harvests are affecting high-grade arabic beans and China's growing middle class has acquired a taste for and is getting hooked on the bean. Brazilians, Indians and Indonesians are also embracing the coffee culture in growing numbers. Coffee handlers also have been hit hard with margins up 150 % in the six months to October 2010, increasing the cost of hedging coffee purchases in the futures market.
Time to give up the bean? Perish the thought. I'd sooner give up my car, wine and my left kidney before I forfeit my favourite addiction.
At the risk of depressing yourself, you can read more on the brewing storm in this Reuter's article.
2) Credit and Debt
I had two separate cases of consumer rage this week. One, when I found out the CEO of the financial institution where I bank earns an eye popping NZ$6 million a year.
It was a few days after I got stung NZ$25 by Westpac on an international draft for C$135 so the news didn't sit so well with me -- even if George Frazis comes from humble roots. It's a bit steep for a fancy paper cheque that requires a simple currency exchange calculation also bent in favour of the bank.
My second WTF moment was when a telephone operator at Telecom threatened to send the credit sharks after me for being a few weeks late on my phone bill. Now I could understand if I was regularly late but in more than four and a years with Telecom, I have not once defaulted or been late on a payment. Just so happened I got busy this month. I spat the dummy and let her have it.
How about instead Telecom offer me a nice juicy rebate for all the faithful years of paying on time and also a big fat apology to the public for gouging them on mobile phone prices? In the name of consumer justice when is this country going to introduce a positive credit rating system that rewards faithful and prompt payers with meaningful merits or cash rebates that give us a reason to stay loyal when the 12 month contractual handcuffs come off?
When I have a free moment, I'll be hanging up on Telecom -- and cutting the cord.
3) Real Estate
Landlords avert your eyes, this one's for renters of which I am one. A rare bit of happy news for us saps this week. Apart from two bedrooms flats in Auckland. April rents softened across the board in all main centers.
To read more on real estate market shifts see Bernard Hickey's article here.
Time for a rent renegotiation perchance? 
4) Death and taxes
A lot of speculation lately about whether Government will take the axe to KiwiSaver during next month's budget announcement.
What's going to go? The $1,000 kick-starts, $20 a week member tax credits or options on first-time home withdrawals?
Another possibility, and one you're not likely to have heard about is the removal of the current tax exemption on employer's contributions.
At present, KiwiSavers enjoy the full benefit of the 2% top up to their retirement fund from the boss. Not something you probably spent much time thinking about but it's a bonus.
So how bad is the tax bite if Government helps itself to that as well? Take an average salary of NZ$50,000. Government taxing the employer contribution would effectively mean you'll end up paying an additional NZ$320 a year in taxes, reducing your take home pay. Whereas if Government revoked member tax credits you'll end with NZ$1,043 less in a year in investable retirement savings money -- a blatant broken promise.
Hard to say which way they'll go, but if Government wants the continued buy-in of Kiwis, they're best taking their axe to another tree to give this one a proper chance to grow. Mind you, one way or another we'll still pay. Government's cumulative contributions to KiwiSaver are more than NZ$3.3 billion to date.
KiwiSaver at a glance (March 2011):
| | | |
| --- | --- | --- |
| Payments to providers (gross) | March 2011 ($) million | Financial year 2010-2011 ($) million |
| Employee deductions | 110.0 | 854.6 |
| Employer contributions | 70.9 | 543.6 |
| Voluntary contributions | 0.9 | 9.9 |
| Total member contributions | 181.8 | 1408.1 |
| Member tax credit (MTC) | 0.2 | 662.8 |
| Kick-start | 23.6 | 256.8 |
| Fee subsidy | 0.0 | 0.0 |
| Interest | 0.5 | 2.8 |
| Total crown contributions | 24.3 | 922.5 |
| Total payments to providers | 206.1 | 2330.6 |
5) Books and Film
Sticking with the coffee theme, beanaholics and readers will undoubtedly relish the latest from the Philosophy For Everyone Series "Coffee: Grounds for Debate."
This series of essays looks at the long standing love affair between coffee and philosophy. Editors Scott F Parker and Michael W Austin say the pair share an undeniably close and highly evocative relationship.
"The appropriate analogy is that coffee and philosophy go together like foreplay and sex. You can have one without the other, but the latter is better with the former and the former often leads to the latter.''
I was sold immediately on the book on the strength of this brilliant review by Guardian Weekly's Stuart Jeffries who questions whether one of coffee's downsides is impotence. Coffee a marriage wrecker? And to think I thought it was a salve.
Apparently one of the pernicious side-effects of the bean is that it steala a man's libido and worse yet turns the otherwise sharp witted philosopher's sperm into over-caffeinated, turbo-boosted projectiles that fail to hit the target.
Whaddya reckon gentlemen? Any truth to this deflating aspect of coffee? Or maybe that's a question better directed at  the opposite sex. Gals, your thoughts? Is coffee a relationship killer?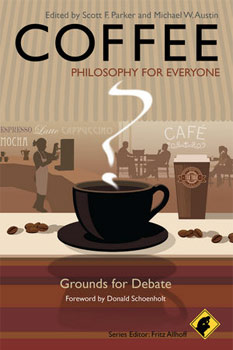 Non-caffeinated, non-financial, just a totally irrelevant but visually stunning tour of our planet captured by BBC.
Full screen viewing recommended.