KiwiSavers shouldn't sweat the sharemarket slide; equities are a necessity in a long-term low interest rate environment, says Tower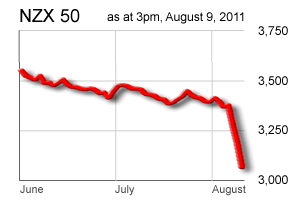 By Amanda Morrall
As U.S. debt-driven panic continues to hammer sharemarkets worldwide, including New Zealand where the benchmark NZX50 has dropped 10% in the last week, KiwiSavers will have no other choice but to wait out the storm, says one fund manager.
Despite the pessimism and fear sweeping through the markets,  Tower Investment CEO Sam Stubbs sees reason for calm and optimism.  That's because when the sell-off slows, Stubbs believes there will be good buying opportunities in the equities markets where underlying corporate balance sheets show a much cheerier picture.
"We actually see this as an opportunity. We'll be net buyers of shares over the next couple of weeks in this environment,'' said Stubbs.
As a default provider of KiwiSaver funds, Stubbs said Tower is more conservative than most, so its funds will come through relatively unscathed as a result of recent events. Those with higher exposure to equities will take it harder, he admits which is decidedly bad news for older investors in growth funds, particularly if they are anywhere close to their 65 birthday.
"If you were heavily weighted in equities, and needed to get your money out, it's probably too late,'' to change or modify the fund to minimise real damage to savings.
Mind the gap (to gauge your exposure to equities and other higher volatile assets check out our KiwiSaver section showing a Growth Asset Percentage ratio
While global economic uncertainty and recent sharemarket volality may have some KiwiSavers looking for safety in the form of conservative funds -- comprised of cash and bonds -- Stubbs says equities are necessity for anyone who wants to make real returns, above inflation.
"Right now in the U.S. you're getting paid .25% if you invest in two years government bonds. People can't live on that. They will be looking for higher yielding securities, companies that have strong balance sheets and have the ability to pay good dividends. So that's where we think ultimately money will flow.''
Like many others in the financial sector, Stubbs does not see interest rates rising for a long time. (See also Bernard Hickey's opinion piece on The Great Repression).
Stubbs suggested that the sharemarket sell-off was primarly driven by spooked retail investors, following the herd. He said institutional investors and other large holders of equities are holding the course through the mayhem.
"It's far from being the end of the world.''
Fisher upbeat
Fisher Funds Manager Carmel Fisher was similar upbeat, particulary with respect to KiwiSaver.
Speaking at the New  Zealand Shareholders' Association annual general meeting in Tauranga this past weekend, Fisher told investors KiwiSaver was a good reason for optimism. She said 30% of her clients were first-time investors that admitted they would not have saved, were it not for KiwiSaver.
Another benefit of KiwiSaver, which has more than 1.7 million members with more than $8 billion in funds now, is the regular savings design, she noted.
Regardless of what markets were doing, investors are channeling money on monthly basis into retirement savings. The locked-in aspect, however disagreeable to investors who want flexibility, protected savers from exactly the kind of thing that is happening now.
John Body, managing director of ANZ Wealth, said while current conditions were cause for concern, increased vigilance and careful management, "fundamental portfolio composition" among the provider's funds remain unchanged.
Body also emphasised the long-term nature of KiwiSaver and the fact that one size in KiwiSaver does not fit all.
"Investors need to make their fund choices based on their own individual circumstances. For this, they need to seek the appropriate professional advice. During the course of a twenty or thirty year lifespan in KiwiSaver,  investors are likely to experience periods of market volatility.''
Body said fund managers were tasked were delivering "consistent returns over a variety of market cycles.''
(Updates with comments from ANZ Wealth's managing director John Body)