Opinion: Bernard Hickey warns the developed economies have begun a Japanese-style Great Repression of interest rates to protect borrowers and bankers at the expense of savers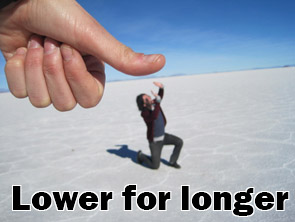 By Bernard Hickey
This week's near 10% slump on global stock markets is all about fear the world's largest economies, the United States and the Eurozone, are about to slide back into recession.
Some of the more excited commentators are even saying this 'triple-dip' recession will turn into another Great Depression. I'm not so sure about that. I think we're headed for something that some people are calling 'The Great Repression'.
Here's how it works. Governments in America, Europe and Japan are heavily indebted, as are many households. The pressure of all this debt is weighing on spending in these economies. Many governments and households are trying to dig themselves out from under this debt.
There are three ways to do it.
The first way is to simply stop spending and repay the debt as quickly as possibly. Many households are doing this anyway and some governments are being forced to do that by taxpayers worried about how these high debts will be repaid in the future by their children. In those markets such as Portugal, Italy, Greece, Spain and Italy where governments aren't trusted or don't control their central banks, they are being forced to do it by markets.
But there is a problem with quickly repaying debt. It makes sense when it's just one household doing it, but when most households slash spending and governments both cut spending and increase taxes at the same time it can create a type of negative feedback loop. Some people refer to this 'paradox of thrift' phenomenon as a debt spiral. Households and governments reduce spending, which reduces jobs, which reduces incomes and taxes, which in turn increase the burden of the debt as a percentage of income because incomes have fallen.
The second way is for the debt to be restructured and for investors and bank shareholders to take losses in 'haircuts'. That largely hasn't happened as banks and their shareholders have been bailed out by governments and taxpayers because of the fear that financial collapses like Lehman Brothers would cause a Depression.
There is a third way for any country to dig itself out from under debt. It can inflate its way out while suppressing interest rates.
It's clear now that this what America and Europe are doing. They are turning Japanese. The Japanese government and its central bank have been holding interest rates down since the early 1990s to try to keep Japan from sliding into a depression. The Bank of Japan has set short term rates at nearly 0% for almost 20 years, while the state-owned Post Office and pension funds have been forced to buy government bonds with the savings from an ageing population, keeping long term rates low too.
Acclaimed US economist Carmen Reinhart has written extensively about this strategy of 'financial repression'. She says this tactic was used in the 1940s to help keep interest rates low while inflation was allowed to rise above those interest rates. This reduced the real value of the debt and allowed the US government to dig itself out from under its debt load from the Depression and World War Two. Savers were encouraged or forced to buy low interest rate war bonds. Term deposit rates were regulated at low levels.
Fast forward 60 years and the world finds itself in a very similar position.
The US Federal Reserve has held its cash rate at nearly 0% for nearly three years. It has also printed more than US$1.45 trillion to buy US Treasury bonds and mortgage bonds, both of which have repressed long term interest rates.
Meanwhile inflation has crept up well above interest rates in both America and in New Zealand.
It's clear now that governments and central banks around the world are comfortable with a moderate inflation and don't want to (or can't) put up interest rates because they fear turning long term recession into depression. It does mean interest rates stay lower for longer and stay below inflation. This makes floating mortgage rates more attractive than fixed rates.
These low rates will help avoid a disorderly collapse, but it does mean savers are being punished for the past sins of borrowers and the developed world faces a grinding, Japanese-style recovery.
Welcome to The Great Repression.