KiwiSaver funds up 42% from 2010 with slightly more money invested in NZ than outside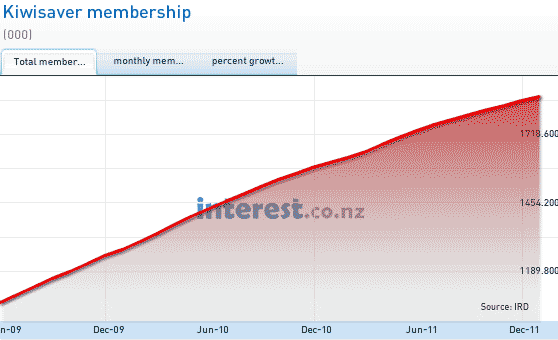 Reserve Bank of New Zealand figures on the managed funds sector show KiwiSaver accounts have shot up to more than NZ$11.2 billion in value, a 42% increase from 2010.
At the end of the December quarter for 2011, KiwiSavers funds under management totalled NZ$11.293. "Other" superannuations funds stood at NZ$18.5 billion.
Unit trusts and other non-retirement managed funds made up an additional $31 billion.
A breakdown of the KiwiSaver funds shows that 53% of New Zealander's retirement savings are invested in assets held outside the country with the remainder domiciled here.
Looking deeper into the numbers, approximately 60% of the total exposure within Kiwisaver Funds is to fixed income assets which includes; deposits, Government stock, corporate bonds and offshore bonds.  This exposure to traditionally lower risk assets is a reflection of the general global economic environment following the fall out from the Global Financial Crisis (GFC). 
The next largest exposure within Kiwisaver funds is to global equities (approximately 27%).  
It is expected, a large proportion of the exposure to fixed income assets is within the default fund providers who have more conservative mandates. 
Interestingly, the default fund providers on the whole have out-performed a majority of the other Kiwisaver options available.