KiwiSaver has now been going long enough to clearly show that over a long timeframe, more 'risk' can deliver 'better rewards'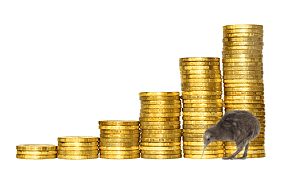 Our KiwiSaver regular savings methodology has identified the top funds in each risk category, showing clearly who has the best track record since April 2008.
After seven years, KiwiSaver now has over 2.4 million members and approximately $24 billion in funds under management spread across 19 institutions.
Those seven years include turbulent times for fund managers, with lows and highs, but it is long enough for a realistic sorting out among managers.
Our regular savings model based on a 28 year old who started KiwiSaver in April 2008, who earns an average wage, who is contributing the minimum along with their employer, and who receives all the government contributions, could have a balance after accounting for tax and fees of close to three times that member average.
By saving regularly and being willing to accept fluctuations in capital values from month to month, KiwiSavers who stuck with an aggressive strategy in the face of the overwhelming doom and gloom have ended up considerably better off compared to those who chose a more conservative strategy.
The difference between the best performing aggressive fund and the best performing conservative fund over the last six and a half years is an impressive 6.8% p.a.
Our review of all funds also shows a wide variation between the best fund and the average of the bottom five. As you might expect the largest gap is for the aggressive and growth fund categories. Perhaps less expected is that the gap is less but very similar for the other three categories, balanced, moderate and conservative. In these categories the best and worst varies by only about 2%. Your choice of fund is less likely to make a huge difference if you take a more cautious approach than if you chase aggressive returns. For aggressive and growth categories, it is important to choose wisely, and a fund's long term track record is one important aspect of that choice.
Over all categories some managers are performing better over the last six and a half years and there are some who are dragging the chain.
Some names that keep appearing in the top handful of managers across the various categories over the longer term are AON, AMP, ANZ, Mercer & Milford. Other notable mentions go to KiwiWealth and Staples Rodway.
The KiwiWealth portfolios showed some of the best improvements and regular savings returns over the past three years, while the Staples Rodway Balanced Fund is ranked 5th in the growth category, which is highly commendable given the relatively small investment team compared to other fund managers and consulting firms.
While the bouquets go to these select managers, the brickbats go to Craig's Investment Partners (Craig's IP), Grosvenor & SmartKiwi.
With respect to Grosvenor they have recognised they were dragging the chain and had got their strategy wrong. Since March this year the company's asset allocations have changed and moved back towards a more mainstream approach which is not too dis-similar to their competitors.
It is also worth noting that one Craig's fund, the Craig's IP NZ Equity strategy, is currently performing very well - although it has not been invested over the full period so the returns are somewhat embellished compared with funds who have been there from the start. Craig's IP seem very good at picking domestic equities, but no where near as good when it comes to other assets and asset classes. 
Across the various categories we have observed there is a relatively wide range of returns between the top five and bottom five managers in each class. The table below highlights the best fund in each main class and the range of returns between the top and bottom performers. We also list the top fund as at September 30, 2014 based on our regular savings return model. For the purpose of comparison we have only used those managers who have been in existence for the entire six and a half year period.
Category
Number of funds
Top long-term return
after fees
after tax
The Top Fund
Average of Top Five
after fees
after tax
Average of Bottom Five
after fees
after tax
Aggressive
28
13.6%
Milford Active Growth
13.0%
7.9%
Growth
23
11.2%
Mercer SuperTrust Growth
10.1%
6.5%
Balanced
16
8.6%
AON Russell Lifepoints 2025
8.3%
7.1%
Moderate
16
7.6%
AON Russell Lifepoints 2015
7.4%
5.7%
Conservative1
11
6.8%
Mercer Conservative
6.2%
4.7%
Default2
5
6.8%
Mercer Conservative
6.0%
n/a
1. The Conservative Fund data in the table excludes cash funds.
2. There are now nine default funds, however only five have been in existence for the full period of our analysis.
For explanations about how we calculate our 'regular savings returns' and how we classify funds, see here and here.
The right fund type for you will depend on your tolerance for risk and importantly on you life stage. You should move only with appropriate advice and for a substantial reason.
Our September review of aggressive funds is here, growth funds here, balanced funds here, moderate funds here, and conservative funds here.