We review the regular savings returns as at December 31, 2014 for Moderate funds, identifying who has the best long-term returns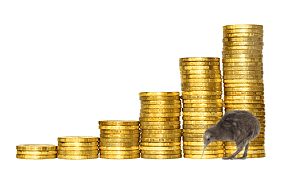 Moderate funds are delivering good consistent returns with only modest risk and our review of the performance of these funds to December confirms this.
Over the full term of our regular savings analysis, Moderate funds have delivered an extra $2,118* of returns; that is they have delivered $8,380* in returns over and above the contributions compared with the $6,242* for Default funds.
While no single fund in the Moderate category has achieved a double digit return either over the long term or the last three years, these funds do deliver consistent results much better than bank term deposits and with much less risk than aggressive and growth funds.
However, Moderate funds have delivered $2,965* less after-fees, after-tax returns than Growth funds and $7,750* less than Aggressive funds over the same period.
Lower returns for Moderate funds are hardly surprising as the investment strategies will have much less than half of the total fund invested into growth assets (shares) with the balance spread across more defensive holdings such as cash and fixed interest.
With Moderate funds investors can make a loss in the capital value of their investment during times of extreme volatility or when interest rates rise which may lead to capital value losses on the fixed income investments.
It is reasonable to expect to see your capital grow steadily over time but with the possibility of a few small hiccups along the way. You can see how we classify funds here.
From the data we see Aon, ANZ and Mercer continue to dominate the top spots. The same three managers have shown an ability to appear in the top spots across a number of sectors for the past few quarters and we believe a reflection of the institutions' skills in either managing the money themselves or selecting those managers with superior track records. The manager's asset allocation strategy will also play a part in generating superior returns.
There have been some changes to the table since the last review with both FirstChoice and Fidelity funds having been wound up.
Consistency in returns each year is something investors should expect to see within this category given the higher exposure to assets carrying lower levels of volatility (risk).
There is some dispersion in terms of returns from the best to worst performing funds over the longer time horizon, however, comparing the last three year's returns the top performing funds have been able to eek out better returns, which have enabled them to retain their places at the top of the table.
Approximately half of the funds in this category have achieved returns in the past three years above the average achieved since April 2008 and the balance have either underperformed or performed in line with long run returns. Those that fall into the latter are: Aon Russell Lifepoints Conservative Fund , Fisher Funds Two Conservative (formerly Tower), ANZ One Answer Conservative, ANZ Conservative (same return as long run), AMP Conservative Fund (same return as long run), Mercer SuperTrust Conservative (same return as long run), Grosvenor Conservative Fund and Craig's Conservative Fund (same return as long run).
The lowest three year return was 5.1% from the Grosvenor Conservative Fund, closely followed by Craig's Investment Partners Conservative Fund return of 5.4%. 
We noted in the September review of these funds that the Grosvenor funds in general have been underperforming due to asset allocation decisions that had not worked out as expected. With the asset allocations for the Grosvenor funds now being more or less in line with others in the market we should see some realignment in the long term performance of these funds.
Here is the comparison as at December 2014 for Moderate Funds:
Moderate Funds
 
 
 

Effective*

cum return

since April 2008
X
Y
Z
to December 2014
 
 
 

% p.a.

 
 
 
 

 

 

 

 

 

Aon Russell LifePoints 2015
M
C
M
22,218
9,371
8.3%
31,589
8.5%
Aon Russell LifePoints Conservative
M
C
C
22,218
9,125
8.1%
31,343
8.0%
ANZ OneAnswer Conservative Balanced
M
B
M
22,218
8,918
8.0%
31,136
8.8%
ANZ Conservative Balanced
M
B
M
22,218
8,846
7.9%
31,064
8.8%
ANZ Default Conservative Balanced
M
B
M
22,218
8,538
7.6%
30,756
8.3%
Fisher Funds TWO Conserv
M
C
M
22,218
7,419
6.7%
29,637
6.6%
AMP Moderate
M
B
M
22,218
7,402
6.6%
29,620
6.8%
ANZ OneAnswer Conservative
M
C
C
22,218
7,348
6.6%
29,566
6.5%
ANZ Conservative
M
C
C
22,218
7,296
6.6%
29,514
6.6%
Westpac Conservative
M
C
M
22,218
7,166
6.5%
29,384
6.7%
AMP Conservative
M
C
M
22,218
6,908
6.4%
29,126
5.7%
Mercer SuperTrust Conservative
M
C
M
22,218
6,732
6.0%
28,950
6.0%
SmartKiwi Conservative
M
C
C
22,218
6,640
6.0%
28,858
6.7%
Grosvenor Conservative
M
C
M
22,218
6,477
5.8%
28,695
5.1%
Craigs Conservative
M
C
 
22,218
6,008
5.4%
28,226
5.4%
Fisher Funds Conservative
M
C
M
19,399
3,675
5.6%
23,074
6.6%
Column X is interest.co.nz definition, column Y is Sorted's definition, column Z is Morningstar's definition
 
 
B = Balanced, C = Conservative

,

M

 = Moderate

 
 
 
 
 
 
 
 
Those funds that have recently launched and do not have a long enough track record to be included in the main table above are shown below:
Moderate Funds
 
 
 

Effective*

cum return

since April 2008
X
Y
Z
to December 2014
 
 
 

% p.a.

 
 
 
 

 

 

 

 

 

Generate Conservative
M
 
M
5,997
1,633
12.7%
7,630
n/a
BNZ Moderate
M
B
M
6,217
1,309
8.2%
7,526
n/a
The Generate Conservative Fund has achieved above market returns over the past 12 month period on a regular returns basis. One contributing factor to the outperformance of this specific fund within the Conservative sector has been the allocation to global equities (approx 30%), which is higher than many other managers in the same sector, which average around 21%. 
For explanations about how we calculate our 'regular savings returns' and how we classify funds, see here and here.
There are wide variances in returns since April 2008, and even in the past three years, and these should cause investors to review their KiwiSaver accounts especially if their funds are in the bottom third of the table.
The right fund type for you will depend on your tolerance for risk and importantly on your life stage. You should move only with appropriate advice and for a substantial reason.
Our December review of Conservative and Default funds can be found here.
---------------------------------
* These numbers are the average of the top five funds