Our comprehensive review of Default KiwiSaver fund performance to June 2015, identifying who has the best long-term returns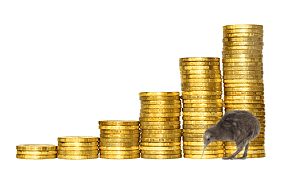 By Craig Simpson
Did you know that KiwiSaver Default funds are randomly assigned to investors by Inland Revenue when you first sign up? That's right, your future retirement nest egg is randomly assigned to one of the government appointed Default schemes if you or your employer do not have a preferred scheme.
You therefore only have a 1 in 9 chance of investing into the best performing fund in the sector at any one point in time - not great odds are they!
The purpose of this review is to highlight that not all Default managers are the same, some are in fact providing their members with a much better experience than others.
In fact some of the individual Default funds are performing better than some of the investment options that come with higher risk.
One observation we have made is there continues to be a wide variance in returns between the best performing funds and the rest of the peer group.
The variance is outside we would have reasonably expected given the investment mandate is restricted to a large degree and the investment parameters for each asset class are fairly tight.
The individual managers do have some freedom to express their individual views but overall being too far away from what your competitors strategy, as one manager found out earlier this year, can severely impact your performance versus your peers.
Our performance table below looks specifically at the performance of the current nine Default options available. There are four new options which were recently added and do not have the same long-run track record.
The data for the new Default funds is since inception of the respective funds. Comparing a new entrant with an old hand should be done with caution as the new funds have not proved themselves over a full market cycle or stock market correction as occured when KiwiSaver first launched in 2007.
The difference in returns between the Mercer Conservative (Default) fund and the average of the Cash funds that have been going for the same period is a massive $3,582. This is lower than for our last review of this sector but is still a meaningful reason not to be in Cash funds over the long-term nonetheless.
Cash fund returns have averaged a pitiful 3.2% since April 2008 and well below what our model investor could have achieved via a bank term deposit.
Since inception, on a regular savings basis, the average compound average annual return of the five Default funds that have been in operation since April 2008 has been 6.1% p.a. (previously 6.5% p.a.). Investors should not scoff at a 6.1% after-tax after-fee return from what is essentially a low risk (cash and bond) investment.
The reduction in overall performance compared to other review periods is consistent with data we are seeing reported and highlighted in our summary here.
Over the past three years, that return has been marginally higher at 6.4% p.a. (previous review was 6.6% p.a.). This return reflects the generally positive tone of markets over the past three years but is below what some funds have achieved due to the absence of substantial share exposure.
Assuming you had been invested for the period April 2008 to June 2015, the difference between the average return of the top and bottom Default fund is approximately $1,700. While this amount may not sound much now, over time as it compounds it will become substantial.
 The clear 'best in class' performer in the Default category is the Mercer Conservative fund.
To be awarded this honour the fund must be the top performer over the full period of the review and at the same time provide investors with a three year return that exceeds the long-run return.
Overall across the default funds not a lot has changed in terms of rankings from the last summary of the category. Mercer and ANZ continue to be the stand-out performers.
Over the shorter three year period a majority of Default funds exceeded their longer term return numbers with the exception of the Fisher Funds Two Enhanced Income Fund which only just managed to track its longer term performance.
We would not consider just tracking the longer-term performance as being bad per se, as it demonstrates consistency in returns which is often considered to be a positive feature.
Here are the full comparison as at June 30, 2015 for Default Funds.
Default Funds
 
 
 

Effective

cum return

since April 2008
X
Y
Z
to June 2015
 
 
 

% p.a.

 
 
 
 

 

 

 

 

 

 Mercer Conservative
C
C
C

23,747

8,627
6.8%
32,374
7.2%
ANZ Default Conservative
C
C
C

23,747

8,153
6.4%
31,900
7.0%
ASB Conservative
C
C
C

23,747

7,763
6.1%
31,510
6.4%
Fisher Funds Two Cash Enhanced
C
D
C

23,747

7,255
5.7%
31,003
5.6%
AMP Default
C
C
C

23,747

6,911
5.4%
30,658
5.7%
 
 
 
 
 
 
 
 
 
BNZ Conservative
C
C
C
7,266
1,698
5.8%
8,965

n/a

Kiwi Wealth Default
C
C
C
2,994
1,187
6.4%
4,181
n/a
Westpac Defensive
C
C
C
2,994
1,156
5.4%
4,150
n/a
Grosvenor Default Saver
C
C
C
2,765
1,166
6.5%
3,930
n/a
---------------
 
 
 
 
 
 
 
 
Column X is interest.co.nz definition, column Y is Sorted's definition, column Z is Morningstar's definition
C = Conservative, D

= Defensive
For most default funds, the last three year's return are on a par with the lifetime returns and the long run returns are proving to be stable with low levels of volatility.
KiwiSaver default funds are only part a broader range of conservative funds available. Many of the 'traditional' Conservative and Cash funds are underperforming the Default funds. We will look at the rest of the Conservative funds in another article.
For explanations about how we calculate our 'regular savings returns' and how we classify funds, see here and here.
There are wide variances in returns since April 2008, and even in the past three years, and these should cause investors to review their KiwiSaver accounts especially if their funds are in the bottom third of the table.
The right fund type for you will depend on your tolerance for risk and importantly on you life stage.
You should move only with appropriate advice and for a substantial reason.