Fund returns remain strong; investors in Default funds getting better returns than other riskier funds; wide dispersion of long-run returns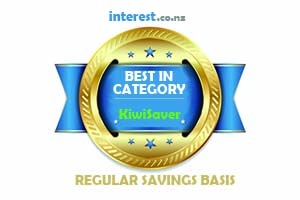 By Craig Simpson
The last quarter has proven to be one of the most active for funds moving up and down our various performance tables.
Across the various sectors, we've noted Fisher Funds Two (formerly Tower) has been one of the biggest improvers along with AMP.
Aon has firmly entrenched itself as one of the leading managers in KiwiSaver across most of the sectors. ANZ remain a strong proposition despite some of their returns slowing. ANZ's single sector funds continue to rank highly.
Mercer remains the best Default fund based on our regular savings return calculations.
Milford, Generate, and QuayStreet (formerly Craigs Investment Partners) are all leading managers in various categories and over different time periods. These schemes are not eligible to receive our 'best in class' award as they have not been going for the full period of our analysis.
Overall, returns over the long term remain strong across the leaders. Those with KiwiSaver funds in the bottom quartile will not be so happy as their returns continue to lag. The gap between the top and bottom in each sector is still wider than you would expect from a competitive market. This is shown graphically in the chart below.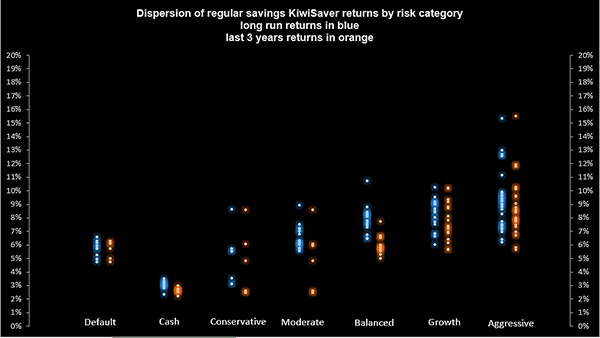 In some of the more conservative sectors of KiwiSaver, the difference between the top funds and the equivalent Default funds has shrunk. Investors in schemes with a risk profile of Balanced or below (i.e. Conservative or Moderate) are facing the prospects of not being rewarded for taking on additional risk.
The top performers continue to be those with exposure to NZ shares, listed property, and bonds.
Hedging has also played a part in this quarter's returns. Funds which have a majority hedge back to NZ dollars received some additional return pick up as the NZ dollar firmed against many of the major currencies.
Our September 2016 reviews of the Default, Conservative, Moderate, Balanced, Growth and Aggressive funds can be found here, here, here, here, here and here.
Best of the best
The funds to be awarded our special 'best in class' badge across all the various categories are listed below. These funds are the best-of-the-best as at the end of September 2016 based on our regular saving return calculations.
This is the list of the top funds at September 30, 2016, based on our regular savings return model. For comparative purposes, we have only used those managers who have been in existence for the entire analysis period of April 2008 to September 2015.
Default: Mercer Conservative Fund
Conservative: ANZ OneAnswer NZ Fixed Interest
Moderate: Aon Russell LifePoints Conservative
Balanced: AMP Nikko AM Balanced
Growth: Aon Russell LifePoints Growth
Aggressive: ANZ OneAnswer Australasian Property
The table below highlights the best funds in each main class and the range of returns between the top and bottom performers.
1. The Conservative Fund data in the table excludes cash and default funds.
2. There are now nine default funds, however, only five have been in existence for the full period of our analysis.
3. Insufficient number of funds to provide data.
For explanations about how we calculate our 'regular savings returns' and how we classify funds, see here and here.
The right fund type for you will depend on your tolerance for risk and importantly on your life stage. You should move only after receiving appropriate advice and for a substantial reason.