Financial statements reveal The Opportunities Party continues to attract donations but needs more to put up a real fight in the 2020 election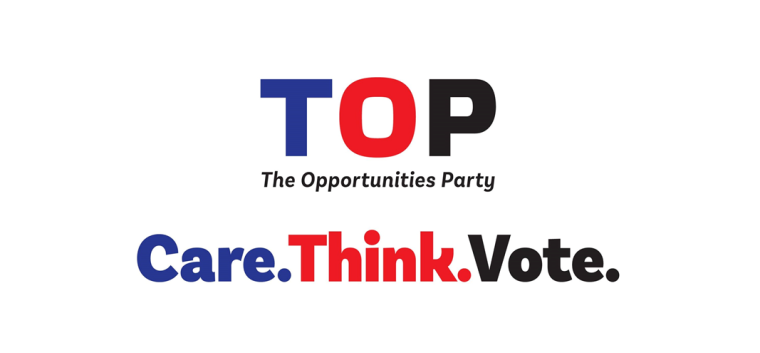 The Opportunities Party (TOP) is keeping its head above water – just – without founder Gareth Morgan bankrolling it.
Its financial statements, released ahead of its AGM on August 10, show it reported a deficit of $5,389 in the six months to June.
Yet adding funds accumulated the previous year to the mix, TOP's total accumulated funds were $33,469.
Leader Geoff Simmons acknowledged the party didn't at this stage have enough money to mount a strong campaign going in to the 2020 election, but was continuing to talk to party members and other potential funders.   
TOP received $50,640 in donations in the first half of the 2019 calendar year, and $65,757 in 2018 – excluding a $50,000 donation made by Morgan and later returned to essentially get him out of the party's affairs.  
TOP received $2.36 million in donations in 2017 – at least $2.14 million of which was from Morgan.
A messy year
Morgan in July 2018 called the party off, then about a week later said he'd fund a successor, who would be "personally liable" if they didn't implement all his policies.
Simmons was in August named Leader – a title affirmed in December after he won an official leadership election.
While Morgan remained the chair of TOP's policy committee, he in March this year said "bugger that" to politics and left the party altogether.
With party members, including Simmons, rejecting Morgan's top-down approach, the divorce ended up messy.
Morgan continued to lob insults at TOP while travelling abroad, as the party contended with internal politics.
Board member Donna Pokere-Phillips in May sent members an email, saying: "I am constantly concerned we will struggle to pay our monthly outgoings, the greater part of which was going to pay the General Manager/ leadership role."
Simmons responded saying the board had agreed to pay the leader a salary of about $60,000 a year – funds he needed for it to be viable for him to do the job.
Indeed, Simmons was paid just over $26,000 in the six months to June.
The future: evidence-based policy with heart
Speaking to interest.co.nz he said TOP was re-focussing and "setting forward a new path" that would be distinct from the party seen in the 2017 election.
Simmons said TOP's policy offering would remain, but the messaging would be simplified.
He was of the view the party should not only be an intellectual one, where members talk from their "minds", but they were also encouraged to talk from their "hearts".
Asked how this approach fitted with TOP's "evidence-based policy" tagline, Simmons said: "You can't really ever claim to just have agnostic evidence based policy."
He said TOP has always had values, they just weren't explicit.
Simmons wouldn't give away, ahead of the AGM, the policy areas the party would focus on going in to the election.
Asked whether radical tax reform (IE the introduction of an equity tax and universal base income) would remain its signature policy, despite there proving to be little political and public appetite for change, Simmons indicated he'd focus his campaign on housing affordability in acknowledgement that tax plays an important role in this.
"Tax doesn't' really resonate with voters, but housing affordability does," he said.
In the short-term Simmons' goal was to get the party polling back where it was ahead of the 2017 election where it received 2.4% of the vote.
He remained open-minded to working with either Labour or National.
He made the comment that doing a deal with a major party to get an electorate seat, like Act has done, was a "path to irrelevance" even though United Future's Peter Dunne had a good run in the Ohariu seat.