Auckland's Penlink and Mill Road corridor not prioritised for funding or delivery in the next 10-30 years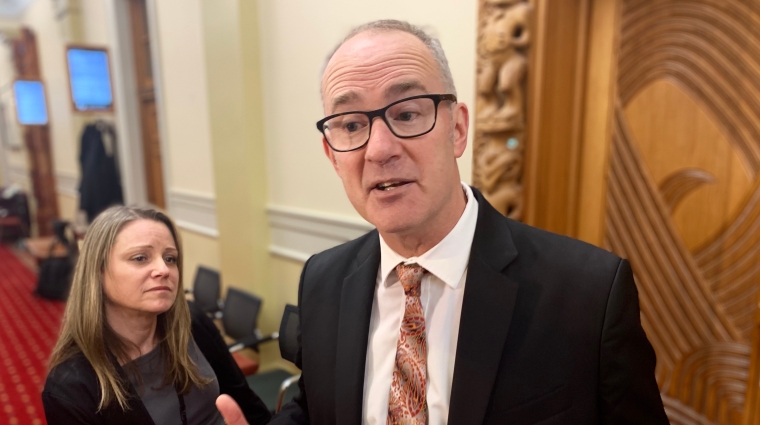 National Party Transport spokesman Chris Bishop says that roading projects such as Auckland's Mill Road Corridor and Penlink are under threat through a lack of funding and won't happen before 2030.
Bishop says the Government's focus on public transport and trains has affected the transport budget funding for the next 10 years.
"Over the next decade, $5 billion less will be available to build the safer, high-quality highways this country desperately needs," Bishop says. "This has stalled NZTA's building programme for up to 18 months, prompting warnings from Treasury that there won't be any projects ready to go when National's roads are finished."
Bishop claims Auckland's Mill Road Corridor and Penlink, as well as other roading projects around the country including the Tauranga's Northern Link could now be cancelled or delayed until after 2030. The Mill Road Corridor would provide a strategic alternative route from Manukau to Drury, running parallel and to the east of State Highway 1 (SH1).
Twyford's response
But Transport Minister Phil Twyford says both Drury's Mill Road and the Penlink project, which will link Whangaparoa Peninsula directly to State Highway 1, won't be delayed until after 2030.
"Both the Mill Road and Penlink projects are funded parts of the 10-year Auckland Transport Alignment Project," Twyford says. "Chris Bishop either doesn't understand the way transport projects are funded or he is being deliberately misleading. Our Government Policy Statement (GPS) has rebalanced spending away from investing 40 percent of the transport budget in a few handpicked highways to investing more than ever before in local and regional roads, rail, public transport, and walking and cycling. Chris Bishop is quite wrong to suggest $5 billion less will be spent on transport infrastructure."
Twyford has also hit back at claims by Auckland Council that it had identified a $2 billion transport funding shortfall for projects in the Drury and Pukekohe areas. The council says affected projects include the Mill Road Corridor, rail electrification to Pukekohe, new rail stations and improvements to State Highway 1 that it says need to be addressed before major development plans can go ahead.
This month the council voted to sign off two structure plans which are expected to see over 34,000 homes built in the Drury and Pukekohe areas over the next 30 years and see the total population grow in the two areas grow by over 100,000 people.
"The $2 billion funding shortfall Auckland Council has identified is on transport projects over the next 30 years. In many cases these projects haven't had detailed business cases completed on them. It is quite wrong to suggest it is causing a delay in major infrastructure projects in Auckland," Twyford says.
Projects not prioritised for funding
But a series of maps released last month by the Supporting Growth Programme (a collaboration between Auckland Transport and the NZTA) outlines all of the future major transport projects planned in the Pukekohe and Drury areas, as well as other Auckland projects like Penlink and state:
"Projects described in these maps have been identified by indicative business cases and will require further technical investigation, engagement with communities and landowners and statutory approvals before their final detail, location or land requirement is confirmed. They are also yet to be prioritised for funding or delivery over the next 10-30 years."
They are earmarked as long term projects that may not be funded or delivered before 2030.
But a spokesperson for Twyford says just because the projects haven't been prioritised for funding yet, doesn't mean they won't be.
"ATAP is a 10-year programme and 2030 is 11 years away."
Despite Twyford's criticism of Bishop the NZTA is still reviewing its funding and is looking for savings from the National Land Transport Fund (NLTF). NZTA director of regional relationships Steve Mutton has previously stated it is conducting a funding review which will affect four category classes in Auckland, including public transport, walking and cycling, local road improvements and regional improvements. He said there was now limited finance remaining to commit to new projects.
According to Auckland Mayor Phil Goff this was because the NLTF had been over-subscribed. The NLTF is administered by the NZTA and provides funding for transport projects around the country and is made up of money collected from road user charges, fuel tax, vehicle and driver registration, licensing, state highway property disposal and leasing and road tolling.