Auckland Council says $2 billion in transport funding is needed before large scale development plans for Drury and Pukekohe can take place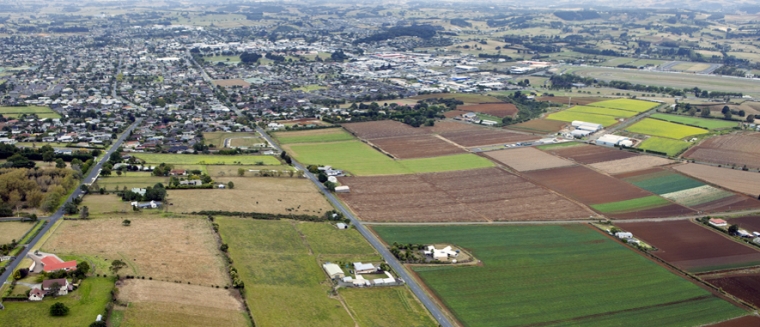 Auckland Council has identified a $2 billion transport funding shortfall for projects in the Drury and Pukekohe areas that it says needs to be addressed before major development plans can go ahead.
The council this week voted to sign off two structure plans which are expected to see over 34,000 homes built in the Drury and Pukekohe areas over the next 30 years and will see the total population grow in the two areas by over 100,000 people.
Both plans also include sites designated for light industry and retail development and the council reports says the development is expected to create 12,000 new jobs in Drury-Opaheke and 5000 new jobs in Pukekohe-Paerata. 
The affected areas will cover about 1900 hectares of land immediately surrounding Drury-Opaheke and 1300 hectares surrounding Pukekohe-Paerata that have been zoned as future urban areas in the council's 2016 Auckland Unitary Plan.
But before the ink had dried on the decision, the council released a statement saying there's a serious need for transport infrastructure in the two areas and it has identified a funding shortfall.
Growth pressures
Auckland Council's Director of Urban Growth and Housing Penny Pirrit says feedback from the affected communities is that existing traffic issues need to be addressed before more people move to the area.
"We want to see more homes delivered in south Auckland so we sought advice from the NZTA and Auckland Transport (AT), via the Supporting Growth Programme, about what transport infrastructure would be needed to accelerate urbanisation around Drury."
The Supporting Growth Programme was established by AT and the NZ Transport Agency to help plan transport investment in Auckland's future urban zoned areas over the next 10 to 30 years.
"Their initial analysis has supported residents' views that a number of major projects including rail electrification to Pukekohe, rail stations and improvements to Mill Road and State Highway 1 are necessary to alleviate the current problems before further growth happens," Pirrit says.
According to the council there's a significant funding gap for the projects of over $2 billion. It says over the next nine months it will work with the Ministry of Transport to develop an integrated transport delivery programme plan with funding options.
Pirrit says this means Auckland Council has paused Unitary Plan changes to bring forward live zoning of land near Drury until there has been progress to fix existing transport problems.
"We've now got the evidence to show there's a significant transport problem already in Drury and surrounding areas. We have a duty to not make things worse for the people that currently live and work in the area. It would be irresponsible to encourage new development in areas without the infrastructure that communities need."
Finding the funds
All three projects (excluding the new rail stations) are listed in the Auckland Transport Alignment Project (ATAP) which was unveiled by Transport Minister Phil Twyford and Auckland Mayor Phil Goff last year.
It will see $28 billion invested in Auckland's transport over a ten year period, including rail and roading upgrades, funding for the City Rail Link and proposed Auckland light trail project.
Electrifying Auckland's rail network to Pukekohe is expected to support growth, improve network efficiency and reduce train travel times. While the proposed Mill Road corridor will provide an additional strategic north-south link road for southern Auckland, connecting Manukau and Drury to the east of the Southern Motorway. The widening of the Southern Motorway between Papakura and Drury is also expected to help handle the planned growth and development in the area.
Auckland Transport (AT) spokesman Mark Hannan says the major transport projects are needed to accommodate the future growth planned in the city's south.
"It's estimated that the total cost of the required transport infrastructure for the area will be in excess of $3 billion. There is currently $1.1 billion of funding within ATAP to fund or partially fund some of these, however there remains an estimated shortfall of $2 billion," Hannan says.
"The projects identified by Supporting Growth are a mix of AT and NZTA projects so the funding gap would need to come from multiple places. We can't provide detail yet on what funding is needed from which party at a project level – that will be done over the next few months along with how to prioritise and sequence them."
NZTA senior manager of system design Kevin Reid says the timing of infrastructure to support council's 30 year urban development programme is guided by the Auckland Council Future Urban Land Supply Strategy. This sets out a programme for urban development over 30 years to enable infrastructure investment to work alongside its release.
"The opportunity being put forward for Drury central would be to bring forward the current schedule for the release of housing, and this would require a change to current plans for transport funding to support growth in this area over the next 10 years."
NZTA's funding review
In June a meeting between Auckland Council, NZTA and AT to talk about funding for a number of major transport projects was cancelled at the last minute.   
Mayor Phil Goff said the National Land Transport Fund (NLTF), which is administered by the NZTA and provides funding for transport projects around the country, had been oversubscribed. The fund is made up of money collected from road user charges, fuel tax, vehicle and driver registration, licensing, state highway property disposal and leasing and road tolling.
NZTA director of regional relationships Steve Mutton said it was conducting a funding review which would affect four category classes in Auckland, including public transport, walking and cycling, local road improvements and regional improvements. He said there was now limited finance remaining to commit to new projects.