NZTA will announce this week how $313 million in funding originally earmarked for Auckland's light rail proposal will be reallocated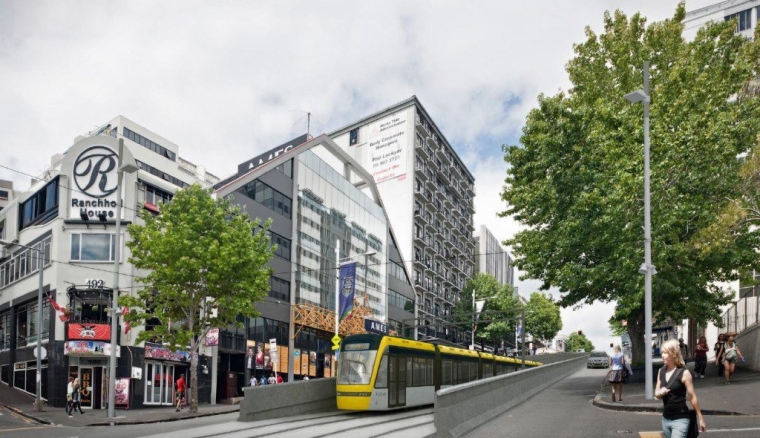 The NZ Transport Agency (NZTA) will announce this week which transport projects will now get a share of $313 million in funding that was originally earmarked for the Auckland light rail project.
It follows ongoing delays with the light rail proposal and an announcement last month by Transport Minister Phil Twyford that none of the construction work will now take place until 2021.
NZTA spokesman Andy Knackstedt says he can't provide any more details at this stage on which projects will receive the funding, but confirms an announcement is expected this week.
"The NZTA has considered the re-allocation of $313 million from the rapid transport activity class in the 2018–21 National Land Transport Programme (NLTP) to other activity classes, including state highway improvements, public transport, walking and cycling, road policing, and local road improvements," he says.
In the run up to the 2017 election Twyford said a Labour led Government would deliver light rail from the CBD to West Auckland and to the Auckland International Airport within a decade, with longer term plans to extend the network to the North Shore. He estimated that the Auckland project would cost about $6 billion, making it the biggest transport project in New Zealand history.
But the focus has since shifted from including the CBD to West Auckland line, to initially just targeting the city to airport link.
National Party transport spokesman Chris Bishop says the NZTA's reallocation of the funds is clearly due to the ongoing delays with the Auckland light rail project.
"Minister of Transport Phil Twyford has received five papers since February about reallocating money from light rail to highways and admitted in Parliament on Tuesday [last week] the NZTA is looking at $313 million being reallocated. This can't happen quickly enough given the infrastructure crisis created by the Government's inept handling of the transport portfolio and broken promises around light rail," Bishop says.
"While Kiwis have been paying more at the pump through increased fuel taxes, critical roading projects around the country have been delayed or cancelled. Some of them were already ready to go when National left government in 2017."
A spokesperson for Twyford says they can't announce which projects will receive funding but an announcement is due shortly.
Twyford announced last month that he would make a decision on who would build the Auckland light rail project early next year and signalled that he had shortlisted two potential partners - NZ Infra and the NZ Transport Agency (NZTA).
NZ Infra is a joint venture between the NZ Super Fund and Canada's CDPQ Infra group.
The two parties are now expected to develop their respective proposals before Twyford decides on which proposal to go with. He said it was an important project he wants to see come to fruition, but it's important that he has all the information first to make the right decision.
But the Auckland light rail project proposal has been hamstrung by delays. The NZ Super Fund first approached the government with an offer to build to fund, design, build and operate the light rail network in partnership with Canada's Caisse de depot et placement du Quebec in May last year.
Meanwhile, Twyford announced last week a clean-out of the NZTA board. He announced the appointment of five new board members who would work under chairman Brian Roche who took up the position in June. There are still two vacancies on the NZTA Board, which Twyford says will be filled in due course. 
NZTA chief executive Fergus Gammie resigned in December last year after a scandal over the agency's poor management of licence and WoF issuers. Then chairman Michael Stiassny said in December that he expected more resignations to follow, and they have, with board members Adrienne Young-Cooper, Chris Ellis and deputy chairwoman Dame Fran Wilde all stepping down since.