Ports of Auckland chief executive Tony Gibson says it has been a 'challenging but productive' 12 months for the port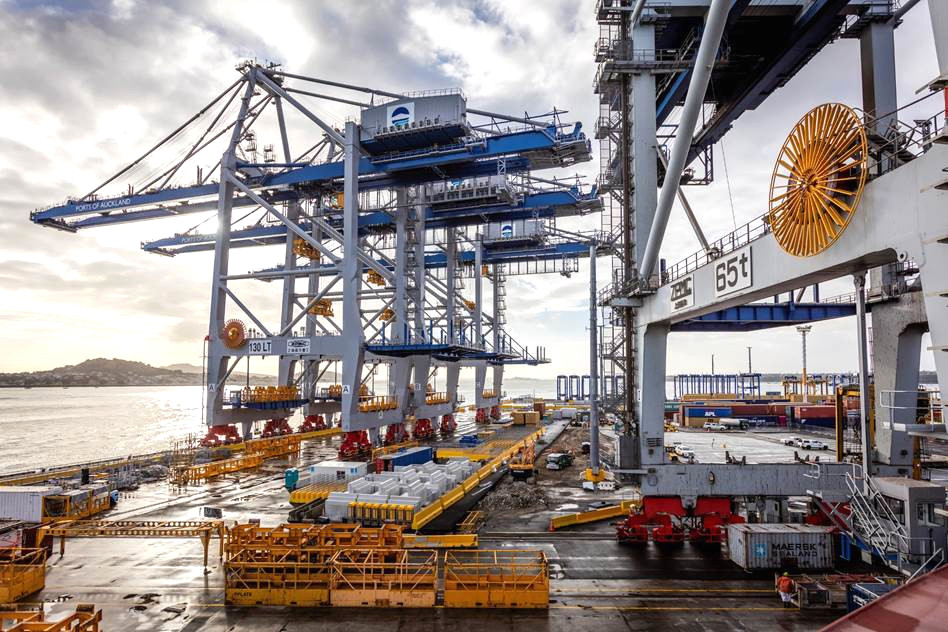 The Ports of Auckland's 2019 Annual Report shows a 30% drop in profits and a fall in overall freight volumes as it continues with a capital investment programme to expand its operations.
The report covers the period July 1, 2018 to June 30, 2019. Chief executive Tony Gibson says it's been a challenging, but productive 12 months for the port.
A statement accompanying the annual report says carrying out the automation of its container terminal and carrying out the necessary testing at a working port has been difficult and has led to reduced capacity, increased congestion and fall in productivity.
The Ports of Auckland net after tax profit is $53.9 million, compared to $76.8 million for the same period in 2017/2018.The company's capital expenditure has increased from $96.5 million to $104.8 million, reflecting its work to increase its capacity and productivity and improve safety.
Container volumes were down 3.5% and car and light commercial vehicle volumes fell 14% to 255,252 units, compared with 297,678 units in 2018.
Debt levels
He says the Ports of Auckland currently has approximately $500 million in borrowings, an increase of 30% since last year's annual report. But Gibson says he's not expecting its debt levels to increase markedly over the next couple of years.
The port has made significant progress in transforming its operations and future proofing the business, he says.
"We have completed most of the infrastructure work for automation and we are in the final stages of testing before going live next year," Gibson says. "Automation brings significant productivity and sustainability benefits, but it also impacts some of the traditional roles in our industry."
He says the port is expecting to eventually see a drop in the number of contractors as the changes come into effect.
Technology and automation
Last year the Ports of Auckland bought three cranes from Chinese engineering company ZPMC for $60 million. Standing 82.3 metres high and weighing 2,100 tonnes each, the cranes can lift four 130 tonne containers at once. They were delivered in October last year and the port originally hoped to have them up and running within five to six months. But commissioning the massive cranes and automating the ports operations to work with them hasn't been easy and they aren't now expected to be fully operational until February next year. 
But Gibson says it's a step in the right direction for the port.
"The successful implementation of this project will have a massive impact on our business. It is also a game changer for the Auckland and upper North Island supply chain."
Declining returns
The Ports of Auckland is also forecasting a reduction in the annual dividends it pays to the Auckland Council, which has 100% ownership of the port.
A statement accompanying the Annual Report says: 
"To fund our investment programme, no final dividend has been declared. An interim dividend of $18.6m was paid. For the financial years ending 30 June 2020 and 2021 Ports of Auckland anticipates paying a dividend of 20% of after-tax profits, reduced from 80%, in order to fund the investment programme."
The Ports of Auckland's Statement of Corporate Intent (SCI) was released last month and covers the period from July 1, 2019 to June 30, 2022. It has projected dividends to the Auckland Council of just $8.7 million in 2020 and $9.4 million in 2021 before increasing again to $64.3 million in 2022. Auckland Council received an annual dividend of $51.1 million in the 2017/18 financial year.
Gibson says the company "is in good shape and good heart".
"The projects underway are a significant investment in our future and they are going well. We look forward to the year ahead, as automation comes on stream and we begin to see the results of the hard work of the last few years." 
Other projects in the pipeline include construction of a new car handling facility which is expected to be completed in August next year, plans to build  a new wharf on the north end of Bledisloe Terminal and further dredging of the Waitemata Harbour to allow larger vessels to access the port.