Treasury's pre-election economic update: Rosier than expected short-term, more economic 'scarring' to set in medium-term; Housing market the bright spot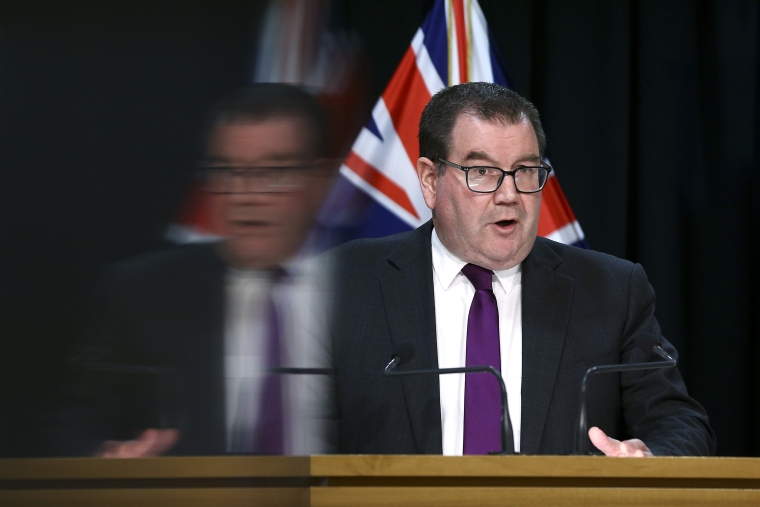 Treasury is forecasting near-term growth to be less negative than it thought when it released its last set of forecasts at the May Budget.
This is in part due to the country moving down Covid-19 alert levels faster than expected.
But looking to the medium-term, Treasury saw the economy taking longer to recover, as the effects of Covid-19 are expected to be more persistent and take a larger toll globally.
Treasury, in its Pre-election Economic and Fiscal Update (PREFU) released on Wednesday, forecast the economy contracting by -16.0% in the June quarter.
While this by far exceeds previous records, it's an improvement from the -23.5% contraction forecast at the May Budget.
But looking ahead, Treasury saw annual growth averaging at 2.8% over its forecast period out to 2024, compared to 3.9% in March.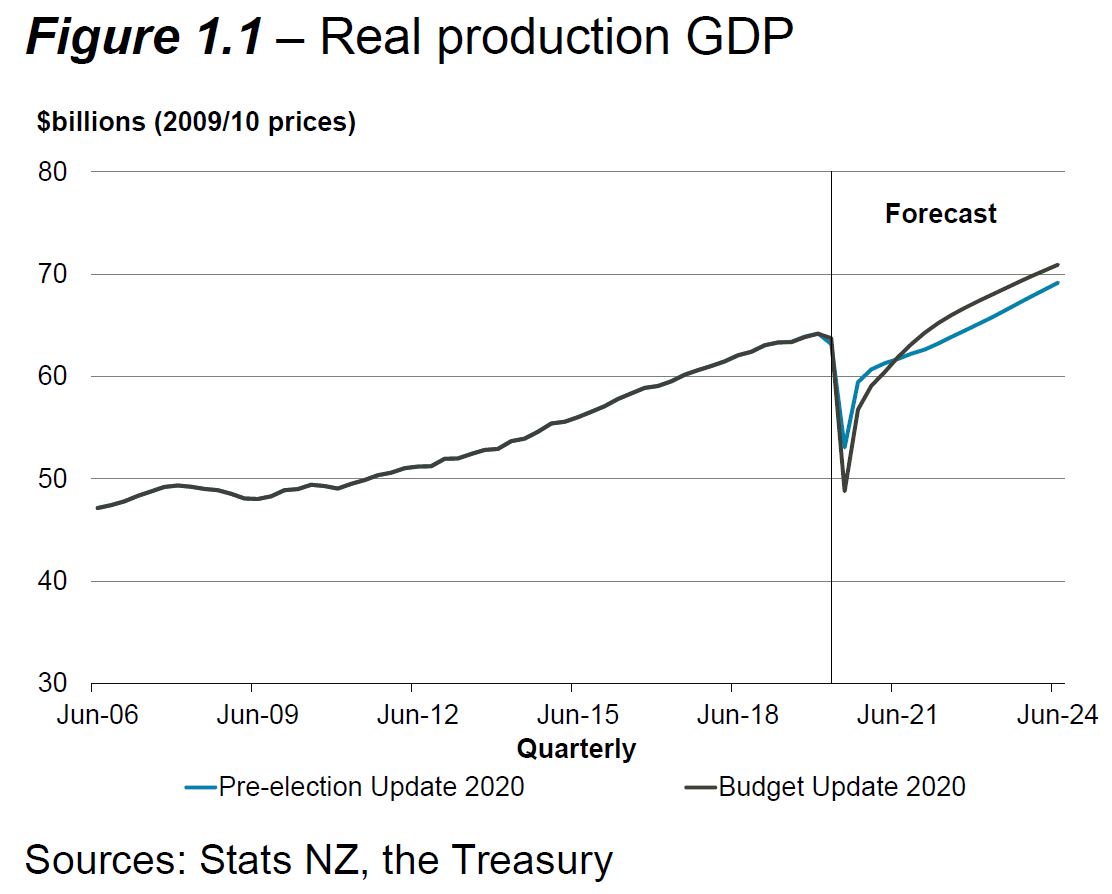 It saw the unemployment rate peaking at 7.8% in the March 2022 quarter. This is a lower peak, and one that comes later, than the peak of 9.8% forecast, in the Budget, to hit in the September 2020 quarter.
"Government support, and a faster move to lower alert levels, has helped to cushion the initial impact on unemployment. However, unemployment is expected to rise over the coming quarters as border restrictions weigh on activity and fiscal support is eased," Treasury said.
"Even when borders are reopened fully in early 2022, demand for labour remains subdued, particularly if travel behaviours and preferences change in the aftermath of the pandemic. The persistent effects of the COVID-19 pandemic are expected to lead to a degree of economic scarring, leading to structurally higher unemployment."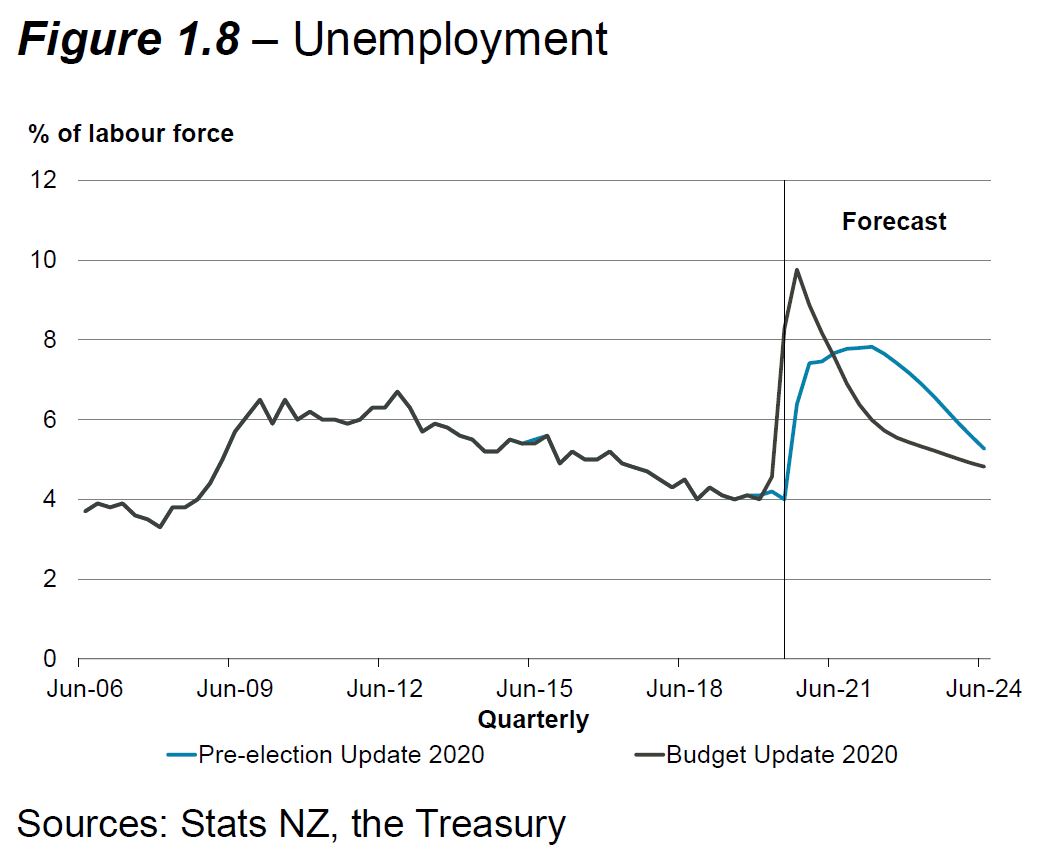 "A slower domestic recovery in the medium term, together with weaker commodity prices and a higher exchange rate, is expected to result in lower inflation compared to the Budget Update over much of the forecast period," Treasury said.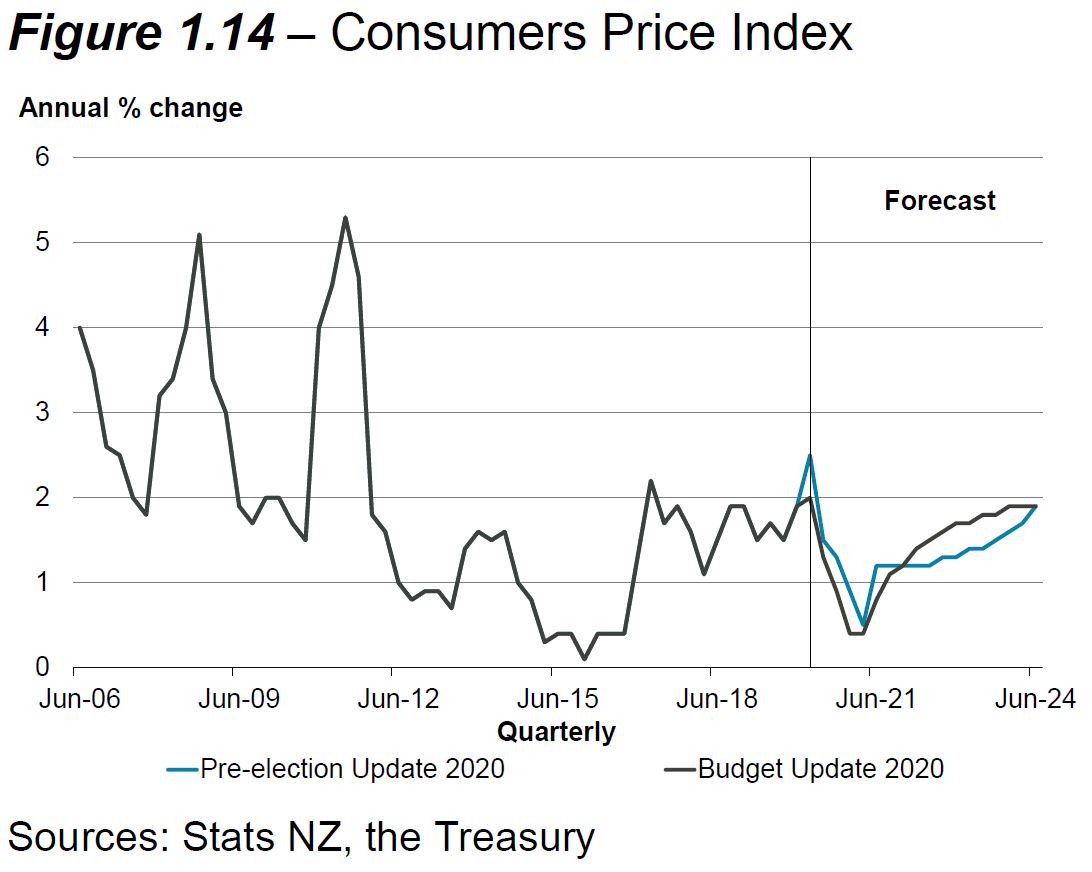 However it said the Reserve Bank's accommodative monetary policy (cutting of the Official Cash Rate and quantitative easing) would see annual inflation rise to 1.9% by 2024, hitting the midpoint of the Reserve Bank's target.
Treasury recognised the role of rising house prices in "supporting" the economic recovery.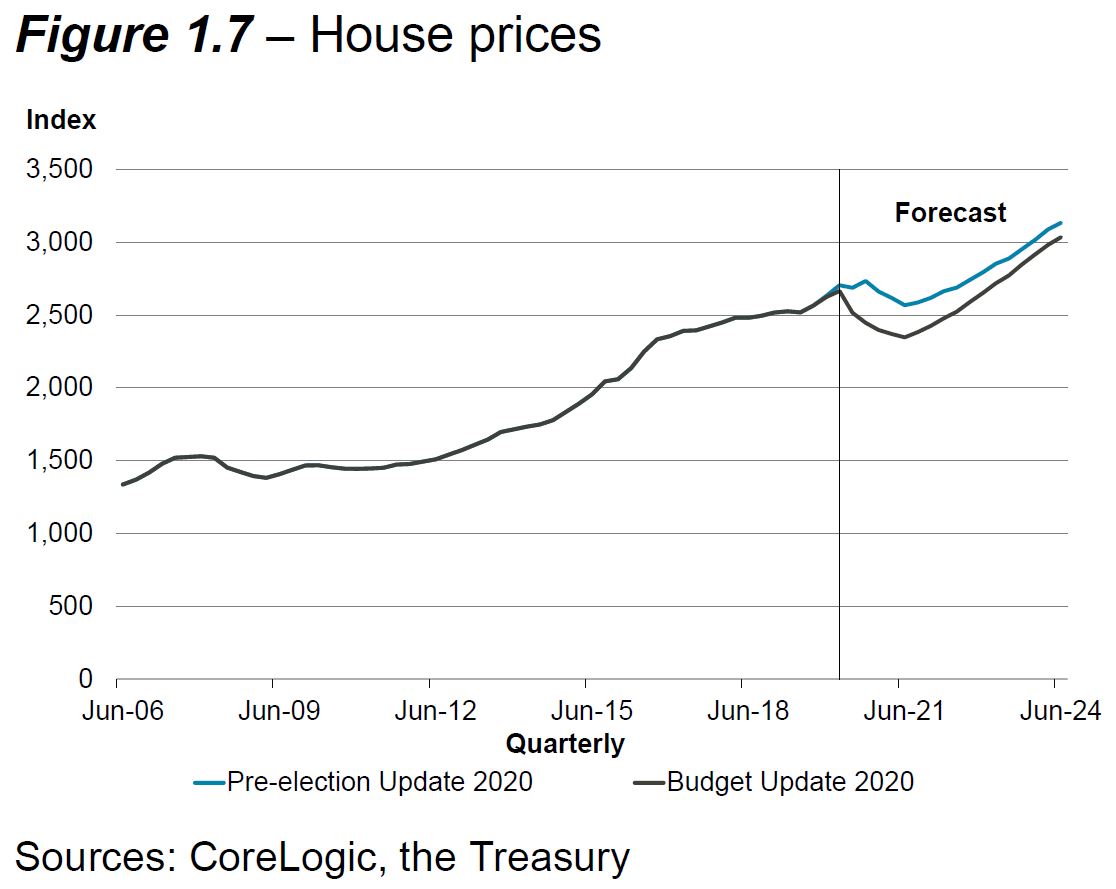 "We forecast a period of weaker house prices over the year to June 2021, with prices falling -5.1% from their March 2020 levels, dampening consumption growth," Treasury said.
"House prices then recover as net-migration rises, economic confidence recovers and monetary policy remains accommodative throughout the forecast period."
Treasury said that "given the recent resilience in the housing market, there are upside risks to our forecasts if current sentiment is maintained".
Importantly, the Secretary of the Treasury, Caralee McLiesh said there was "profound uncertainty" around Treasury's forecasts.
Treasury made a number of assumptions, including one that following a period of New Zealand being at Covid-19 alert levels 2 and 3 in the September quarter, the country would stay at Level 1 all through 2021.
It assumed border restrictions would be lifted on January 1, 2022 - nine months later than forecast at the Budget. Finance Minister Grant Robertson said he hoped they'd be lifted sooner.
Impact on the Government's books
Turning now to the impact on the Government's books, lower GDP growth in the medium term is expected to result in a lower tax take.
Tax revenue is expected to continue to fall in 2021 and 2022, but this drop is lower than forecast at the Budget.
In 2022, 2023 and 2024, tax revenue is expected to be lower than that forecast at the Budget.
Core Crown expenses increased significantly in 2020, as the Government launched a number of schemes to cushion the blow of Covid-19.
Treasury expected expenses to continue to increase in 2021, reaching $119.5 billion, before falling away as the Government's support measures wind down.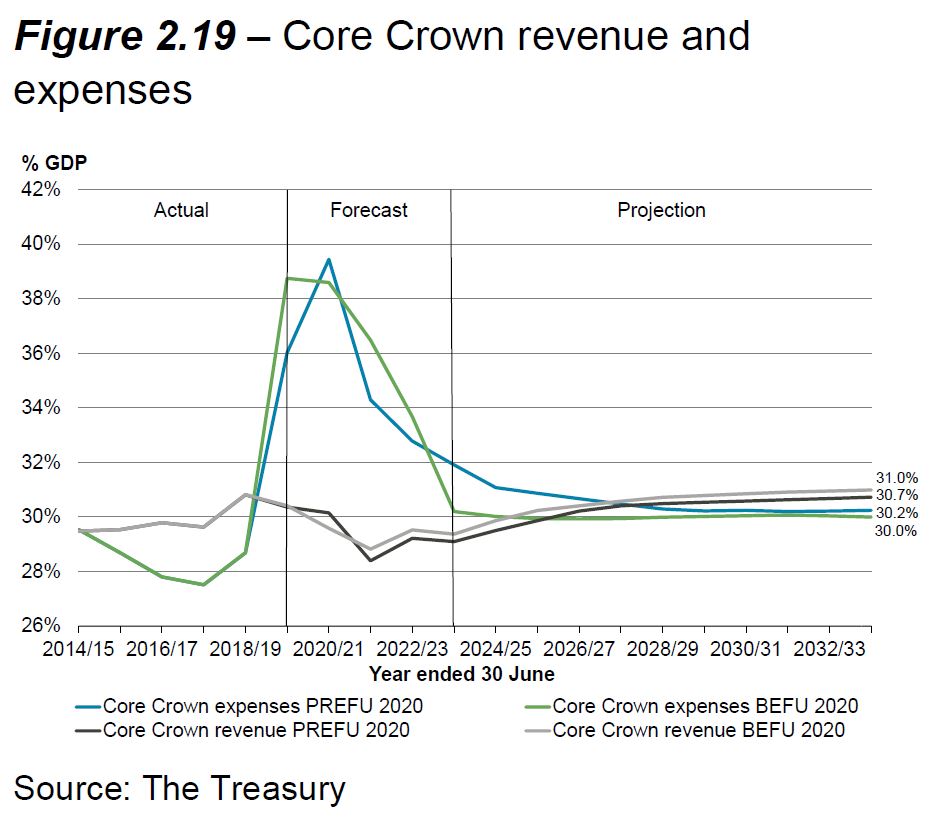 Treasury forecast the size of the Government's Covid-19 response shrinking in size a little from $62.1 billion to $58.1 billion, as the uptake of the likes of the wage subsidy, Small Business Cashflow Loan Scheme and Business Finance Guarantee Scheme have been slightly lower than expected.
Of this $58.1 billion, $14.1 billion is yet to be allocated. Robertson said he would only spend that money if he "absolutely" had to.
He stressed he would continue to take a "cautious" approach towards managing the books.
Turning now to how this affects the Budget deficit, this is expected to peak at $31.7 billion in 2021 - a higher peak than forecast at the Budget.
By 2024, the deficit is also expected to be higher at $12.4 billion - a worse position than the $4.9 billion forecast at the Budget.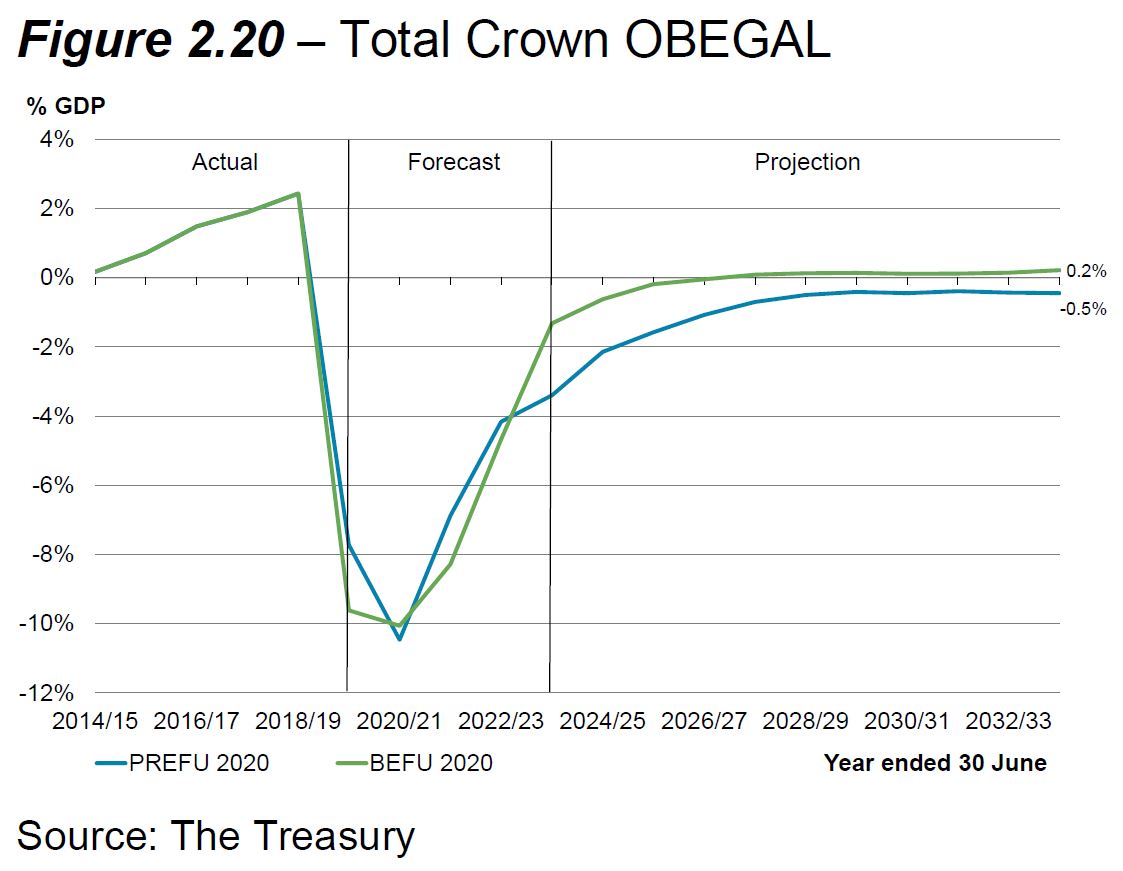 All this means net core Crown debt as a percentage of GDP is forecast to be higher come 2024, than forecast at the Budget.
It's forecast to track up from 27.6% in 2020 to 55.3% by 2024.
From there, Treasury projects it tracking downward slower than previously forecast.