Genesis CEO says Megan Woods' finger-pointing over Monday night's blackouts is 'misguided'; Electricity generators explain why they weren't operating at full capacity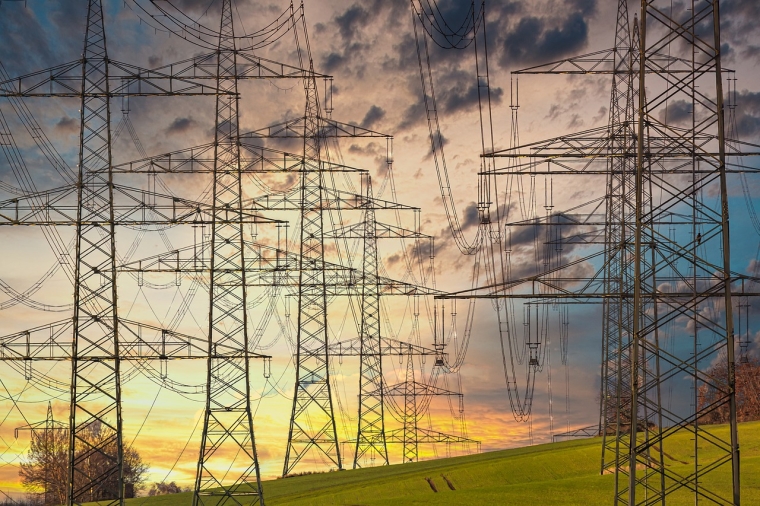 UPDATED AT 7:11PM
It has become clear tens of thousands of households had their power cut on Monday night because there wasn't enough electricity generated.
While the wind wasn't blowing, lake levels were high enough and coal was available. But there wasn't enough generation.
Energy and Resources Minister Megan Woods asked the country's generators for an explanation.
By 2pm on Tuesday, she concluded constraints were "commercial" rather than physical.
Woods lay some blame on Genesis for not turning on the third of its three coal-powered Rankines at Huntly, ahead of electricity demand reaching a record high on Monday night.
She also said Transpower, which owns and operates the country's electricity grid, asked some participants to cut back their electricity offerings by more than was necessary. 
Genesis defends its position
Genesis CEO Marc England refused to be treated as a scapegoat and told interest.co.nz Woods' comments were "misguided" for "many reaons". 
He said market conditions arose as a consequence of a number of plant and market-related issues and can't be attributed to a single cause or company. 
What's more, Rankines physically can't be turned on quickly. 
Genesis explained in a statement that by the time it became clear its third Rankine was necessary, it was too late to fire it up.
It said gale force winds pushed weeds into the intake of its hydro power station at Tokaanu, ultimately causing it to trip and lose about 115 megawatts of generation.
Around the same time, a "sudden" decline in wind affected central North Island wind generation, including at the Waipipi wind farm.
Wind generation fell from about 500MW at 5pm to 280MW by 9pm.
Genesis said the third Rankine was last operational on July 9. It was brought back in response to low hydrology and supply-side constraints in the gas market earlier in the year. These conditions have since eased.
"It was not intended that this unit would be continuously available to the market. This has been well communicated," Genesis said.
"Further, it is important to note that Rankine units are not typically used to cover short term spikes in demand and have a 6 to 10-hour lead time from a cold start to full load."
Genesis defended its decision to not fire up the Rankine after Transpower issued a Customer Advice Notice at 6:42am on Monday, saying it wasn't directly asked to increase generation until being on the "cusp" of the evening peak.
Transpower's Customer Advice Notice said: "If system conditions worsen, it could result in a WRN [Warning Notice] or GEN [Grid Emergency Report] being issued due to insufficient offers being available to cover for the largest contingency or meet demand and maintain frequency keeping reserve."
Genesis said that at that point on Monday morning it thought it had adequate generation capacity.
Transpower then issued its first Warning Notice at 1:02pm on Monday, saying there was a "risk of insufficient generation".
By 5:10pm it issued its first Grid Emergency Report, saying we were in a "New Zealand wide emergency" and there was "insufficient generation offers to meet demand".
---
Our journos are independent and unbiased. If you want to support their work, GO HERE.
---
Contact gas-fired plant couldn't be fired up quickly
Another generator, Contact, confirmed all its available generation was online on Monday night. 
However, it said its gas-fired Taranaki Combined Cycle (TCC) wasn't being used, because it couldn't effectively be switched on quickly to meet peak demand. 
"It requires 72 hours to be recalled into use and begin generating," Contact said. 
"TCC has been in use as recently as late July, but based on demand forecasts we switched it off on 30 July in order to prioritise renewable generation and use the water down south to generate at Clyde and Roxburgh to minimise water spill.
"We've always had a decision to make in 2022 around whether to go ahead with a major, necessary $80m refurbishment at TCC in 2023 in order to keep it operating."
Planned outages couldn't be reversed
Meridian said its available generation was offered to the market. However, it had some planned outages, which Transpower knew about.
"We were able to delay and then cancel a planned outage at our West Wind farm and make additional generation available," it said.
"The other outages we had in place, which in some cases are scheduled to continue for months, could not be cancelled in the time available."
Mercury said its hydro and geothermal plants were fully in use.
Although one unit out of the five at its Rotokawa geothermal plant had been out of service since May for planned upgrade work.
Capacity is there
This Transpower graph shows how at 4:51pm on Tuesday, generation from different electricity sources wasn't at capacity.
What the graph doesn't show is how much generation capacity is actually available. Some capacity may not be available due to maintenance for example.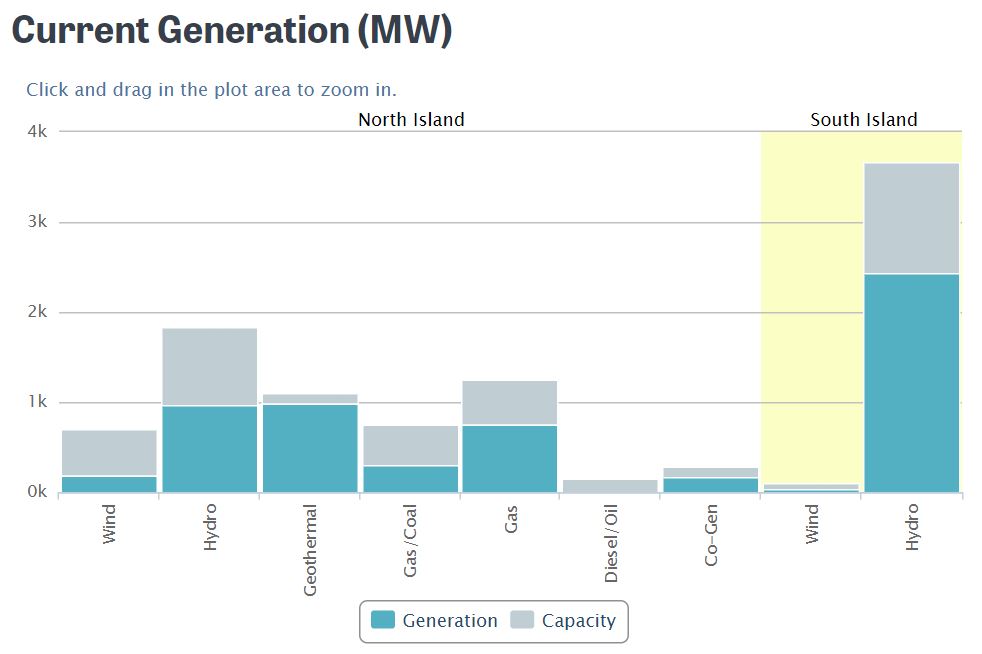 Woods, who had meetings with Transpower and the Electricity Authority on Tuesday morning, noted the HDVC cable that links the South and North Islands was also only operating at 50% capacity on Monday night.
She directed the Ministry of Business, Innovation and Employment (MBIE) to pull together information from the different parties involved and investigate.