ACT questions why the Government is preparing to let people with Covid-19 self-isolate, while overseas arrivals unlikely to be infected have to queue up for MIQ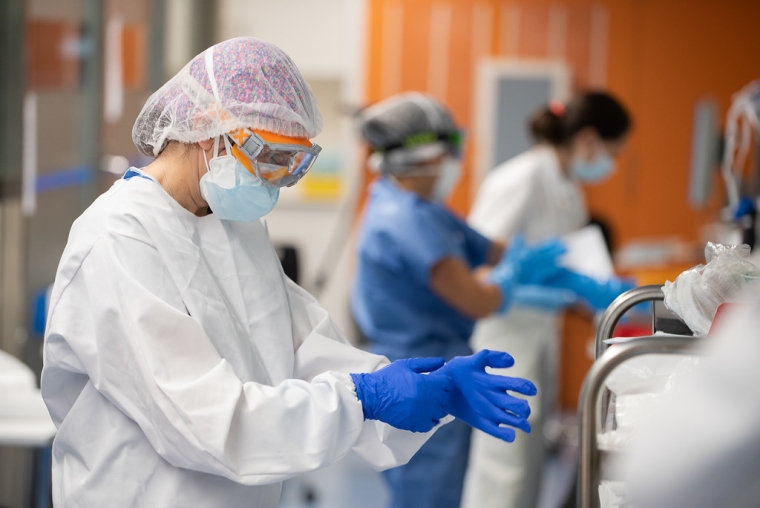 The Government is starting to talk more publicly about the capacity of the health system, as it concedes Covid-19 cases are expected to surge.
The Ministry of Health on Thursday briefed media on the health system's preparedness.
It was explicit: "When we have a vaccinated community, most patients will be safely cared for at home or in a community facility. Preparation is underway now to support those at home or in the community."
However, Covid-19 Response Minister Chris Hipkins told RNZ's Checkpoint programme we're likely to start seeing more self-isolating from as early as this week, with only 59% of over-12s fully vaccinated.
He said a "risk-based" approach was required, as there simply won't be enough beds in managed isolation and quarantine facilities to accommodate for all the Covid-19 cases.
Director of Public Health Caroline McElnay went on to say we might start having 10-20% of cases self-isolate and progress to 50-60%.
ACT leader David Seymour questioned why the Government was going to let some known Covid-19 cases self-isolate, but require all overseas returnees, who have returned negative Covid-19 test results, go into managed isolation.
"If it [the Government] was committed to managing Covid risk, it would see that a double vaccinated person from overseas, especially one that's had a negative test, is less of a threat than a case who may be vaccinated and is confirmed to have Covid," Seymour said.
"The Government could choose to be honest about the situation. The outbreak in Auckland will now be managed in the community. The benefit of keeping Kiwis out of their own country no longer stacks up."
Coming back to the Ministry of Health, it said around 108 (34%) of the country's 319 intensive care beds were available as at Wednesday. Intensive care capacity can surge to 550, but this would disrupt other health services.
As at Wednesday, there were six Covid-19 cases in intensive care, and a further 26 people in hospital. General hospital utilisation was at 83%.
Wigram Capital Advisors principal Rodney Jones, whose Covid-19 modelling has been used by the Government, has for some months been urging the Government to invest more in surge capacity.
A month ago, he told TVNZ's Q+A programme, "We now need to recognise we're in a different space."
In terms of anticipating the spread of the virus, Jones has been watching the number of new Covid-19 cases infectious in the community.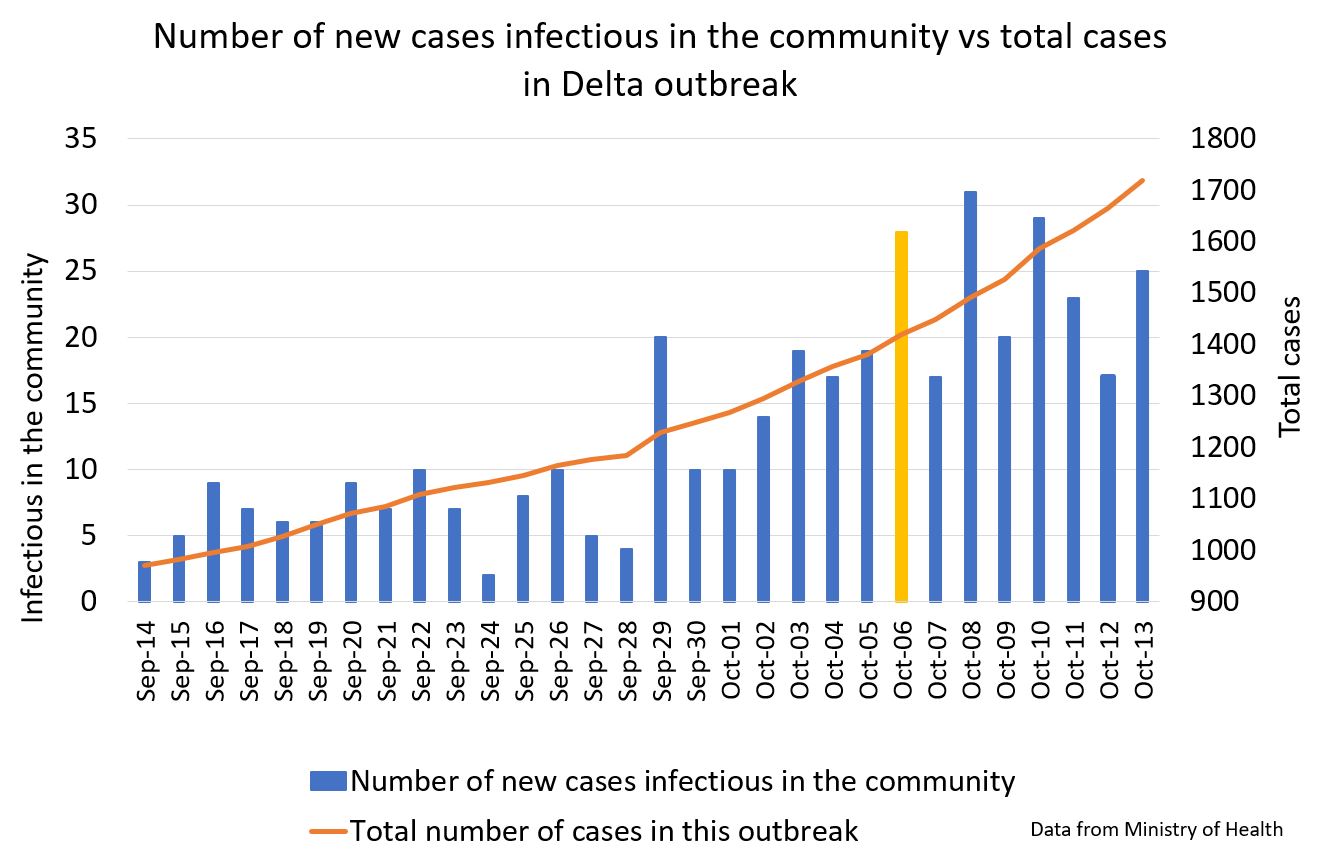 In terms of gauging how we are managing the spread of the virus, interest.co.nz has noticed the sharp uptick in the number of epidemiologically unlinked cases since Auckland moved to Level 3 with picnics on October 6.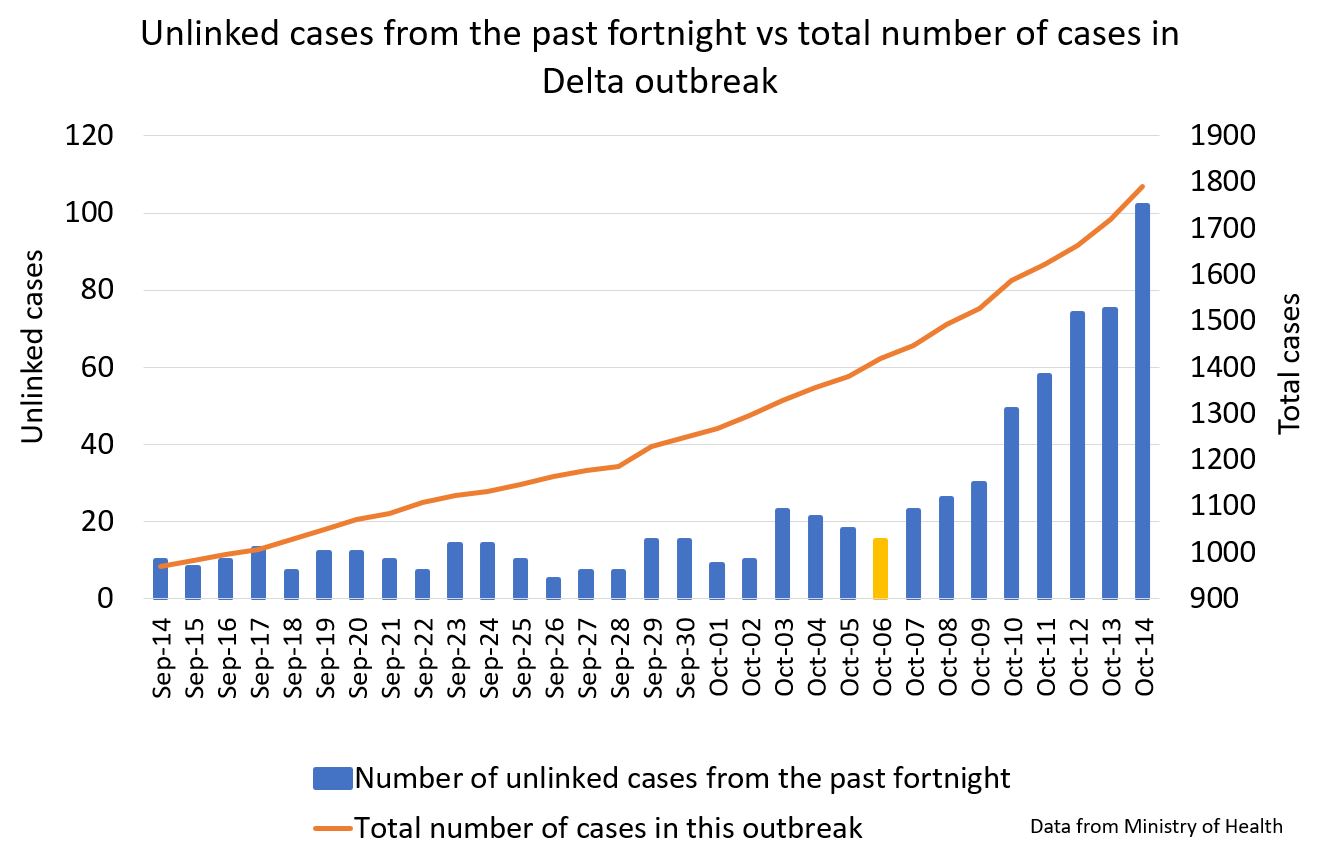 McElnay said having 170-180 new cases a day would put the contact tracing system under pressure. 
Jones told interest.co.nz he was "concerned" about rising case numbers, but wasn't panicking.
He said the Australian Capital Territory had managed to cope with an "R value" of around 1.2, meaning the average Covid-19 case passes the virus on to 1.2 others.