Landlords rushing to the exit ahead of May 20 budget, listings data show
By Bernard Hickey Listings data collected from realestate.co.nz and trademe.co.nz/property shows landlords have rushed en-masse to put their houses and apartments up for sale since late January as speculation has grown that the government will announce closures of various tax loopholes in the May 20 budget.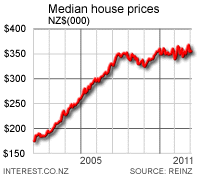 The shift in property from being listed for rental to being listed for sale is similar to the patterns seen in early 2008 as property owners moved at the peak of the market to cash out their capital gains. This created an oversupply of listings, which was a factor that drove the median price down around 10% through the rest of 2008. Median prices rebounded through mid-2009 to near record levels, encouraging some sellers back onto the market now. The government has ruled out a land tax and a comprehensive capital gains tax in the budget, but has suggested it could ringfence losses on residential property, remove the ability to claim depreciation on buildings and create a 'bright line' test to force property traders to pay tax on capital gains. This has reduced the appeal of residential property investing for many investors who are receiving yields of less than 5% from properties in major centres where prices have doubled since 2002, but rents are up around 30%. Interest.co.nz counts the number of house and apartment listings for sale on both websites every week and the surge in listings for sale can be seen in this interactive chart. The slump in listings for rent can be seen in this interactive chart . There is a seasonal aspect to these moves as universities resume, but the size of the surge in sale listings and the fall in rental listings is clearly well beyond the move seen in early 2009 and closer to the shift seen in early 2008.
Alistair Helm at Unconditional.co.nz has also noticed the surge in listings for sale on realestate.co.nz and the turnaround in the balance between buyers and sellers in recent weeks.  There were 15,129 new listings in February, with is more than triple the 4,900 or so of houses sold in the last three months. 'Buyers market' His February property report highlighted a 47% rise in new listings in February from January and how this had increased the inventory of listings compared to weekly sales to 48 weeks of inventory, near the peak of 57 weeks of inventory seen just before prices fell in early 2008.
The key focus for the market is the inventory of unsold houses which at close to 12 months means that there is ample opportunity for buyers to evaluate the property that best suits their needs in what is clearly a buyer's market. This very steep rise in inventory of unsold houses is the result of the combined effects of a surge in new listings and sluggish monthly sales over the past quarter. Whilst the current level is 15% below the level at the same time last year, unless sales volumes pick up or listings dry up then inventory could continue to rise in the coming months "" clearly signaling a buyer's market.
Our measure of rental listings shows the number of listings dropping to levels not seen since early 2008. The level of 'stress' seen in the language used in listings for sale (desperate/must sell/urgent) has surged in recent weeks to levels not seen since early late 2008 when the housing market was in its trough. Mortgagee listings have also rebounded through late January and early February, reversing a declining trend seen through late 2009.
Sellers remain bullish however, despite the signs emerging of a buyers' market. Asking prices on realestate.co.nz increased to around NZ$419,015 from around NZ$405,040 the previous month. Asking prices are now up near the levels seen in early 2008 before prices fell. Your views? What are seeing in the market?