90 at 9: NZ$ over 69.5 USc; Gold over US$1,000/oz; Oil over US$71/bbl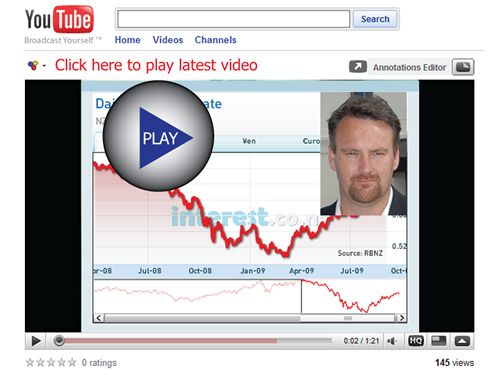 Click here for this morning's video.
Bernard Hickey details the key news overnight in 90 seconds at 9am in association with ASB, including news
The New Zealand dollar rose to 69.5 USc overnight
as the US dollar continued to weaken.
The US dollar fell to a record low vs the Euro for 2009 and the gold price rose through US$1,000 an ounce.
Oil rose above US$71/bbl. This is all about US dollar weakness and fears about inflation in a nation that is still printing money. Also, there is talk of carry traders borrowing at 0.25% in America and then lending elsewhere (including New Zealand and Australia) at higher interest rates, betting on further US dollar weakness. Almost 1 year on from the collapse of Lehman Bros,
US consumer credit fell 10.4% on an annualised basis.
This is the 6th month in a row where credit has fallen and is an ominous sign for the world's biggest economy where consumption makes up 70% of GDP. Finally,
the UK economic recession has ended according to one official forecaster, but it is set for stagnation until 2010, the OECD says.