ASB lifts 5 month term deposit rate to 4.6%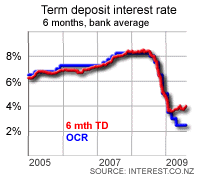 In a clear sign the market for bank term deposits is getting more competitive, ASB moved to fill a gap left by ANZ National and matched BNZ and Westpac in the five month market by raising its rate by 110 basis points to 4.6%, while lowering the minimum deposit requirement from the NZ$10,000 tier to NZ$5,000. Last week ANZ lowered its five month rate from 4.5% to 3.5%, bringing it in line with National Bank's offer. At the same time both raised their six month term deposit rates to 4.6% with a minimum investment of NZ$10,000. Both ANZ National's six month, and ASB's five month rates are the highest offered by a bank in New Zealand. SBS Bank also has a special offer of 4.6% for both five and six months, while Westpac and BNZ are offering 4.6% for five month deposits. BNZ's offer has a minimum deposit requirement of NZ$10,000 and Westpac's is NZ$5,000.
See all rates by all banks for term deposits under one year here.
ASB also raised its four month term deposit rate by 25 bps to 3.75% for a minimum deposit of NZ$10,000. Kiwibank and SBS lead the four month market with offers of 4.6%, while TSB has a 100 day offer at the same rate. ASB brought its three month offer back in line with its four month, lowering its rate by 25 bps to 3.75%. This is equal to offers from Westpac, Kiwibank and ANZ National, but below SBS's special 4.6%, Raboplus' 3.85% and offers from Kookmin and HSBC.